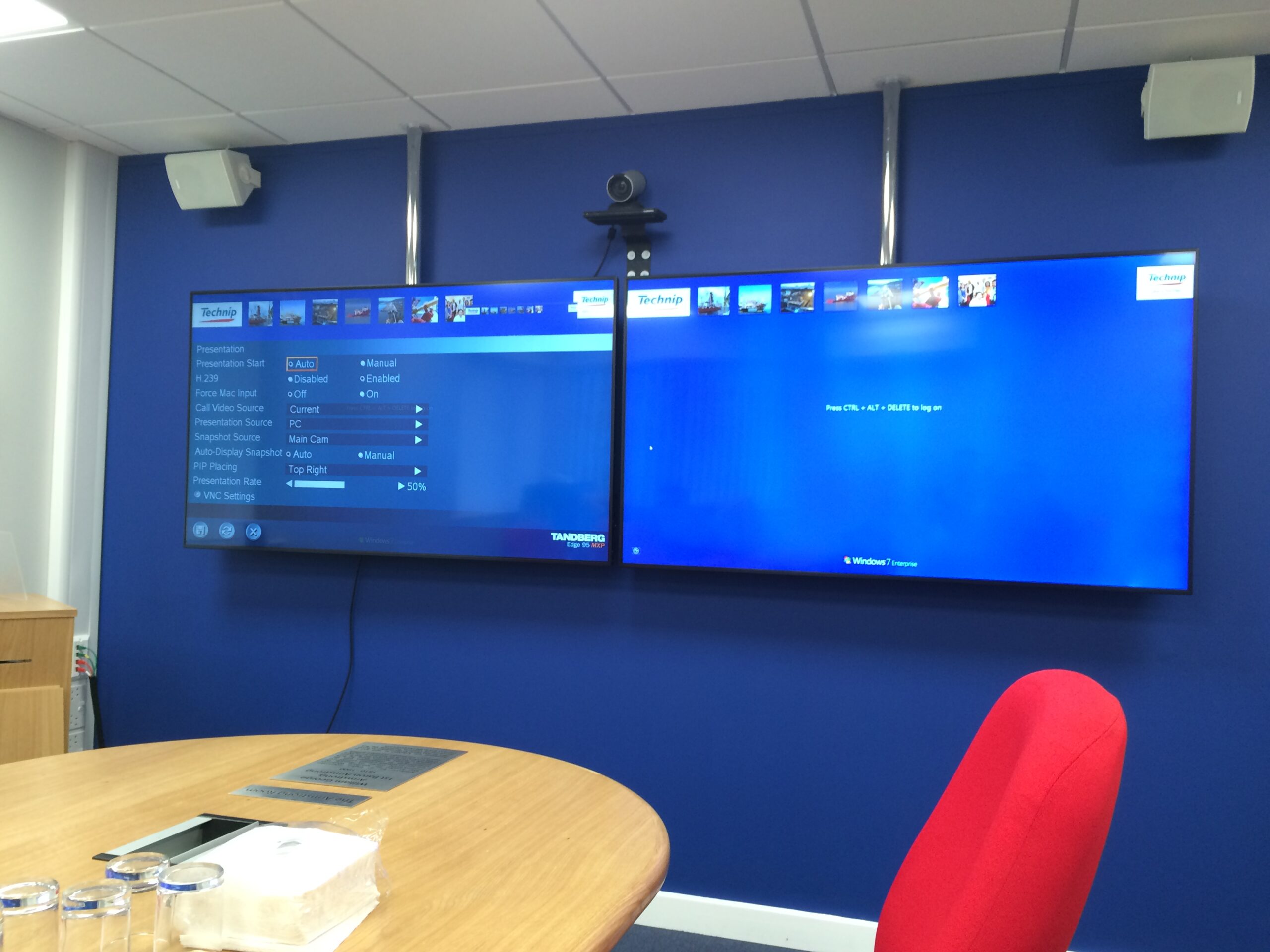 Brief
Technip Umbilcals is based in Newcastle upon Tyne and is the leading manufacturer of umbilicals – both steel and thermoplastic, providing connections between subsea equipment and platforms or floating production systems.
Oliver Atkins, IT Project Manager for Technip wanted to modernise current equipment which had serious limitations, bringing the company up to speed in terms of their presentation solutions.
Planning and Installation
Universal worked in partnership with interested parties, including the client and various trades, all of this was done to a tight deadline.
After discussing requirements with the client Universal devised a solution that would incorporate Technips existing VC system to work with a 10 inch AMX touch screen solution via two ceiling mounted Panasonic LED 65 Inch screens with PC / VC inputs routed to a Presentation switcher from a turnkey designed desk mounted AMX 9 Module connection port cable system. The room booking system was handled by a 7 inch external wall mounted Touch screen programmed to intergrate with Microsoft Outlook software allowing staff to view and book meetings more effectively.
The project was completed on time and within budget in April 2016, and cost around £27,000.
Universal loves the challenges that each new project brings, and this was no different. The main challenge of the project was duplicating the conference room Touch screen and 7 inch Wall Touch screen interface from the Technip Norway office. It was essential the look and functions were given a perfectly smooth integration which worked to full effect across the companies many international locations.
Start your project today
To discuss your audio visual needs for your next project contact us. We will work with you to devise a solution to meet your requirements and needs.
Call 01274 200280
Email sales@uniav.com
Send us a message
"*" indicates required fields