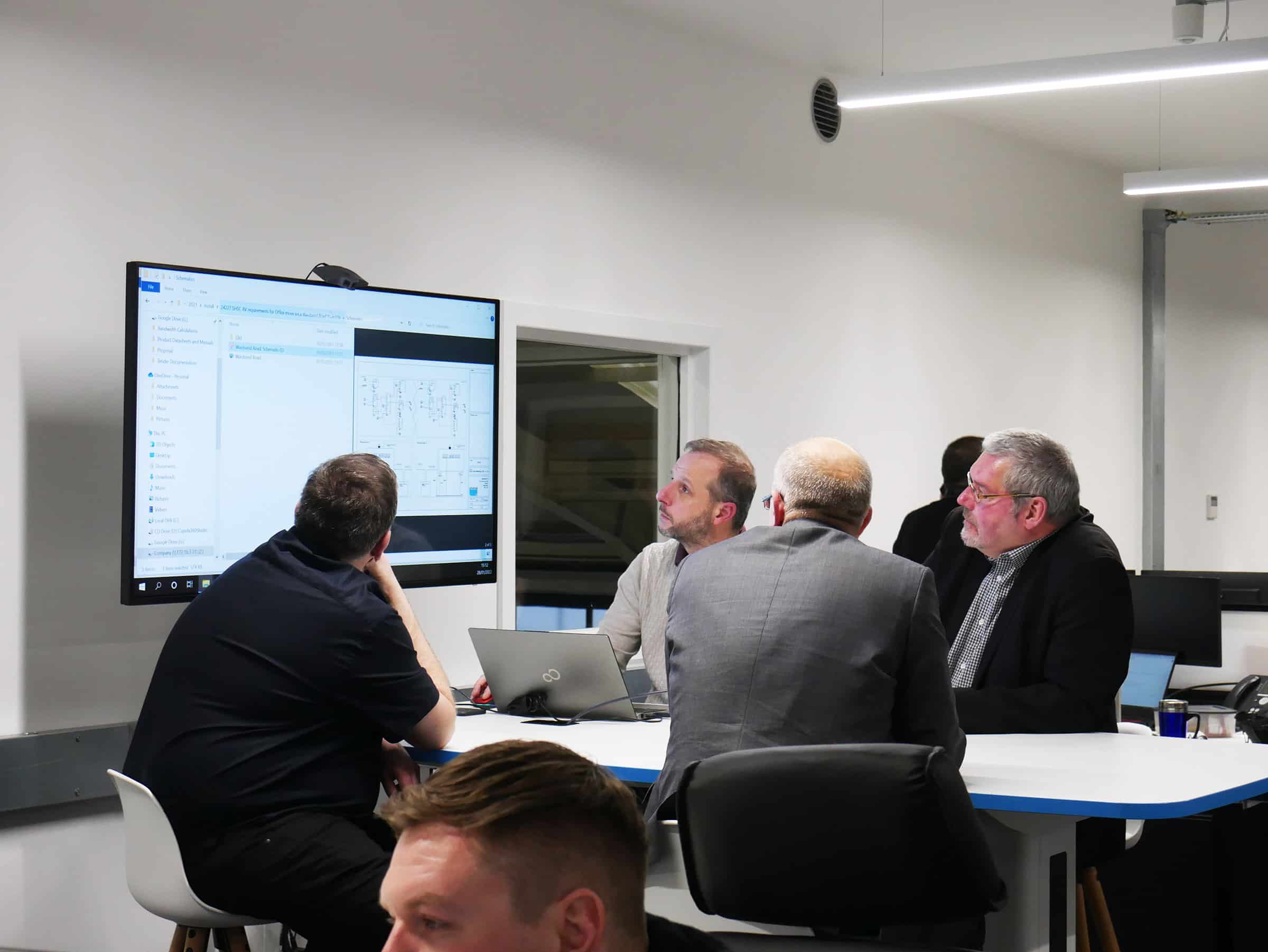 Environments:
Hybrid Working
Audio Visual Technology for the modern office.
Hybrid Working is a relatively new term that we hear a lot of now in the modern workplace, it has become an important way of working amongst employers and employees. It allows employees to work in a way, which is most effective for them and often, in turn, provides greater productivity. However, this means that offices need to be equipped with modern Hybrid Working and Meeting Spaces.
AV Environments for Hybrid Working
Hybrid Working Environments could include:
Huddle Spaces (For smaller meetings and groups to share ideas informally often using wireless presentation systems)
Collaborative rooms (Where more formal technology might be in place such as Teams/Zoom and provide a larger group collaboration environment)
Board rooms (A more formal setting to collaborate where hybrid workers might connect from home to join formal presentations)
In all hybrid environments there needs to be an element of appropriate technology to help enable work and collaboration.
AV Solutions for Hybrid Working and Hybrid Meetings
Flexibility within these spaces and meeting environments combined with the correct audio visual solutions can be a real enabler for collaboration be it in person or via a screen.
Audio visual solutions could comprise of large format displays, interactive displays, wireless presentation, and cameras for video conferencing with suitable audio such as microphones and speakers.
Many who work remotely are so used to dialling into a video call (also referred to as unified communications) on their laptop using the inbuilt camera and microphone and want it to be this simple when they enter a meeting room. The technology available should not be complicated; it should be as simple as at home.
Solutions you may find in a hybrid meeting space and environment could consist of:
Commercial Displays
Interactive Displays
Wireless Presentation
Video Conferencing
BYOD
Unified Communications
Sectors We Work With
Corporate
Since the COVID-19 pandemic, three-quarters of UK employers now offer hybrid working options to employees. Universal AV work with businesses to provide award-winning audio-visual solutions to transform their existing hybrid working framework into a cutting-edge set-up. We work with teams on the ground to provide audio-visual technology that is adapted to their specific hybrid working needs.
Why Choose Universal AV for your Hybrid Working & Hybrid Meeting Solutions?
Working with Universal AV will ensure that your hybrid working audio-visual technology is adopted specifically to your needs and meets all your team's working requirements. Where required, bespoke interactive displays can be customized to provide meeting rooms that work for those in the office, and those working remotely. The audio-visual technology should be largely inconspicuous, blending with your office space, and modernizing it to suit today's workforce. A key part of this is to tailor our solutions to the devices your team already have so that they can connect simply and quickly to your new AV hybrid working systems.
Get In Touch
Whatever your audio-visual needs, we will work with you to provide a tailored solution. Can't wait to get your hybrid working project started? Call us today on 0124200280, or email us at sales@uniav.com.
Suggested AV Solutions For
Hybrid Working
Start your project today
To discuss your audio visual needs for your next project contact us. We will work with you to devise a solution to meet your requirements and needs.
Call 01274 200280
Email sales@uniav.com
Send us a message
"*" indicates required fields