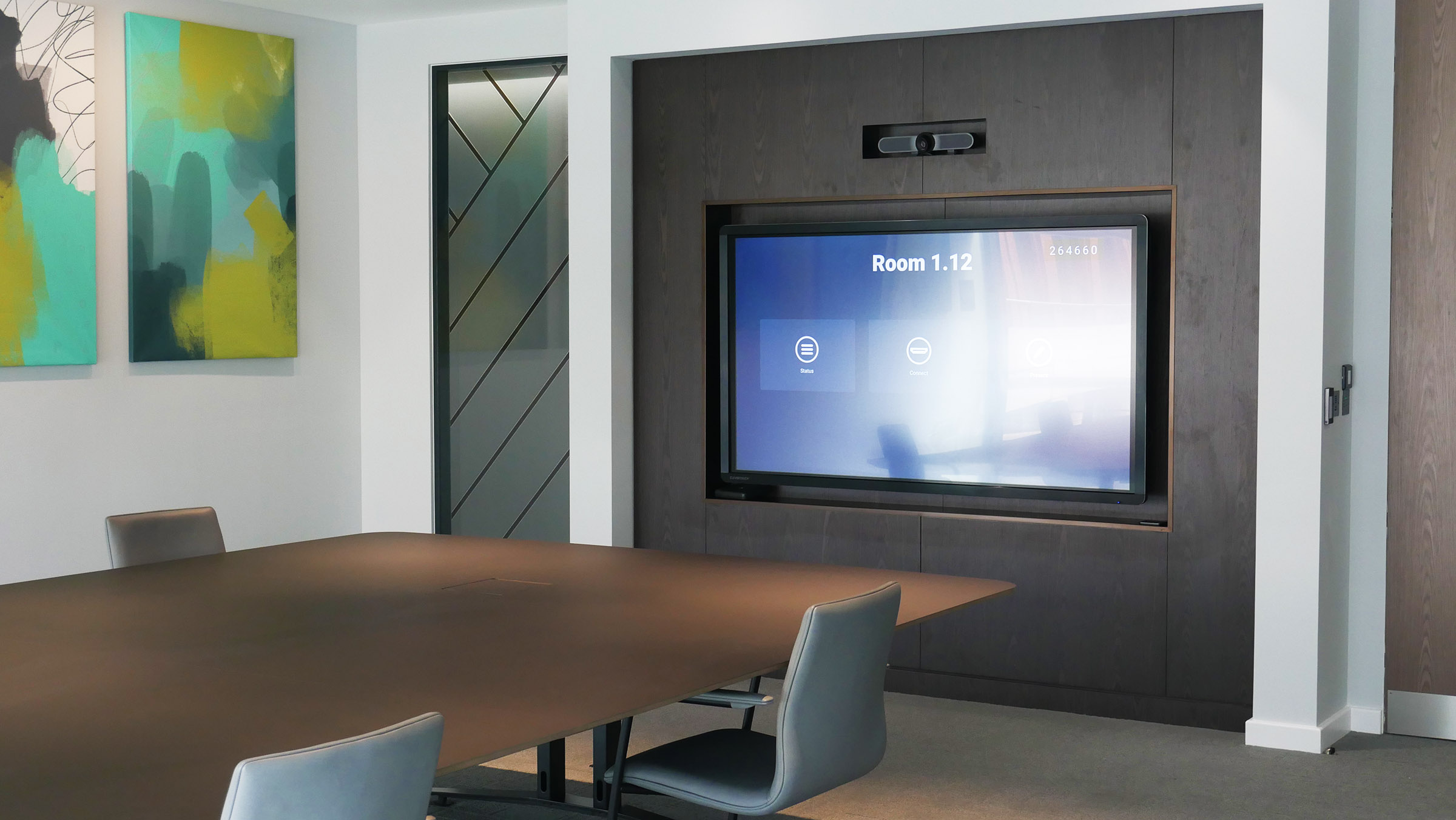 Environments:
Board Rooms
Audio Visual Technology, that when used effectively, helps strengthen decision making at the highest level.
The boardroom, a room once feared in many an organisation, not just for the meetings held there but for the inadequate boardroom AV that was placed in the room with little understanding of how or what it should be used for.
By engaging companies like Universal AV, this is no longer the case, boardrooms are now used as effective meeting spaces in which decision makers are able to collaborate, present and make effective decisions with audio-visual solutions aiding in this process.
AV Solutions for Boardrooms
AV Design
The audio-visual design and integration is key to how successful the room and technology are.  Well-designed, audio-visual solutions should enable not hinder the meeting. It should be inconspicuous in design and simple to use.  It should promote content sharing, inclusivity and collaboration. A good integrator will ensure all of these things.
Audio Solutions
Audio is so often overlooked by many when looking at the board room environment. There is so much to consider, such as; how many people will the room need to facilitate, and will additional microphones be needed to ensure all can hear and be heard? Finally yet importantly, are the acoustics in the room correct, do they need enhancing, have you listened to what you sound like at the other end of the call to be sure? Simple acoustic panels can often make all the difference.
Video Conferencing
Video conferencing/video calling is often needed in these rooms, to bring those into the room that cannot be there in person. Universal AV are able to work with you to design a solution to ensure that all can be seen in the room, the cameras and microphones are placed so all be heard, and that a call can be made simply at the touch of a button.
Room Booking Systems
How often is a meeting interrupted when someone else walks in not realising the room is in use?  A simple room booking system stops this happening. It allows users to book a room, shows outside the room that it is in use and allows you to check and book on a calendar.
Sectors we Work With
Corporate
Universal AV provides award-winning audio-visual solutions to the corporate sector, transforming outdated boardrooms into dynamic meeting spaces, where the best ideas are formed. We work with businesses to provide audio-visual technology that is adapted to their specific needs in the space.
Architectural and Construction
Universal AV's talented audio-visual integrators work with architects and contractors, to incorporate world-leading AV solutions into office builds that need state-of-the-art boardrooms. We collaborate with project managers and design professionals every step of the way, from the initial meeting to ascertain the needs of the space, right up until the build is finished.
How Universal AV Can Help Transform your Boardroom
Working with Universal AV will ensure the room is designed and the audio-visual technology adopted is specific to your needs and meets all your working requirements. Where required solutions such as room booking, can also be installed to ensure that room occupancy is always visible and utilised.
The space should be aesthetically pleasing and befitting of the top level executives and customers who will use the space. The audio visual technology should be largely inconspicuous, blending with the space.
It should enhance the meeting, but not dominate it. It should enable the user, not hinder them. The space should support any activities carried out in the room and interact with other environments in the business, connecting people through video conferencing and aiding collaboration.
Get In Touch
Whatever your audio-visual needs, we will work with you to provide a tailored solution. Can't wait to get your boardroom project started? Call us today on 0124200280, or email us at sales@uniav.com.
Board Rooms
Case Study Highlight
Walker Morris
Walker Morris is a distinctive & independent top 100 UK law firm. Valued by its clients for consistently delivering excellent results. Offering clients a single site, full service commercial law firm focused on providing a wide range of clients, nationally and internationally, with partner led high quality advice turn to Universal AV for AV solution advice.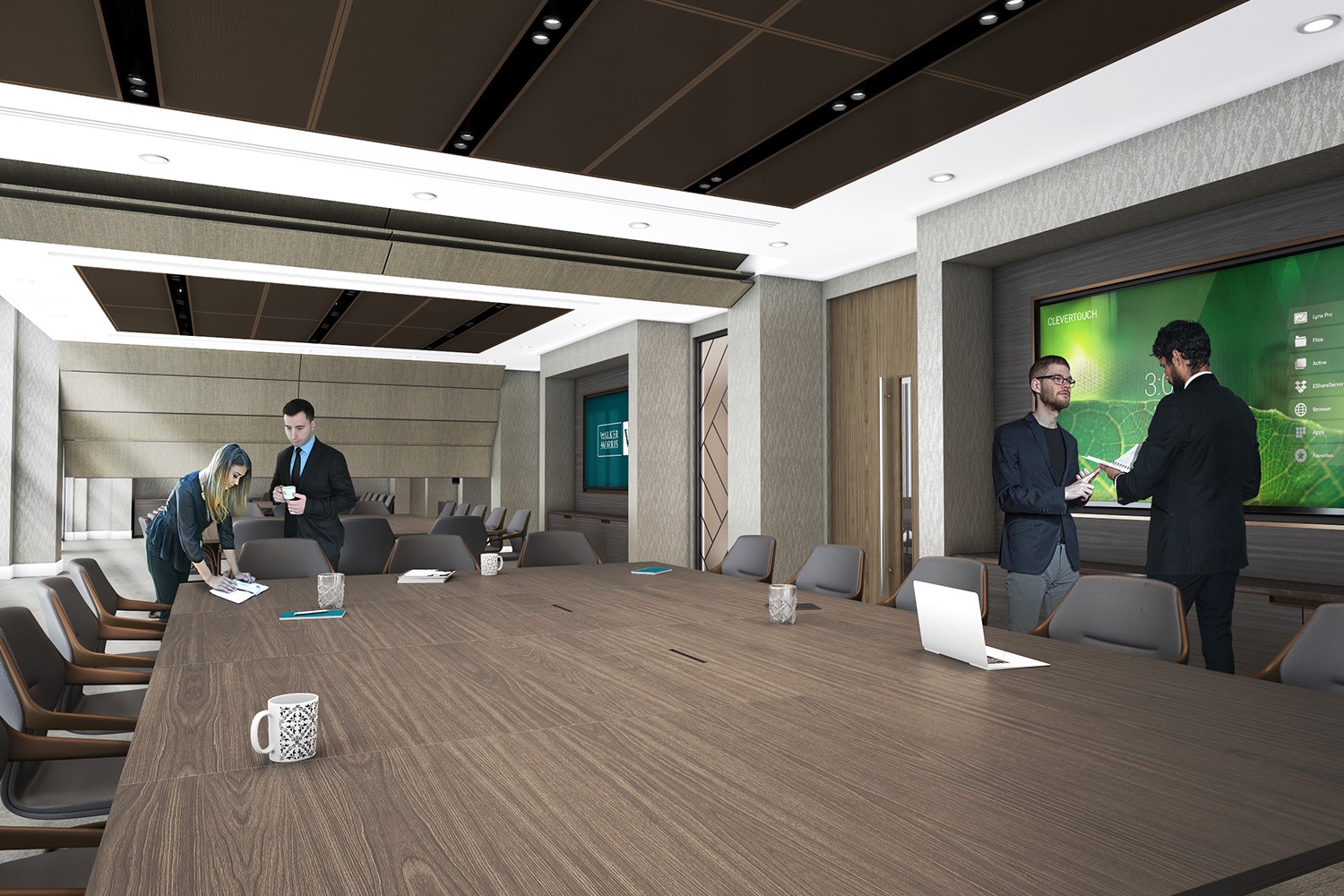 Suggested AV Solutions For
Board Rooms
Start your project today
To discuss your audio visual needs for your next project contact us. We will work with you to devise a solution to meet your requirements and needs.
Call 01274 200280
Email sales@uniav.com
Send us a message
"*" indicates required fields