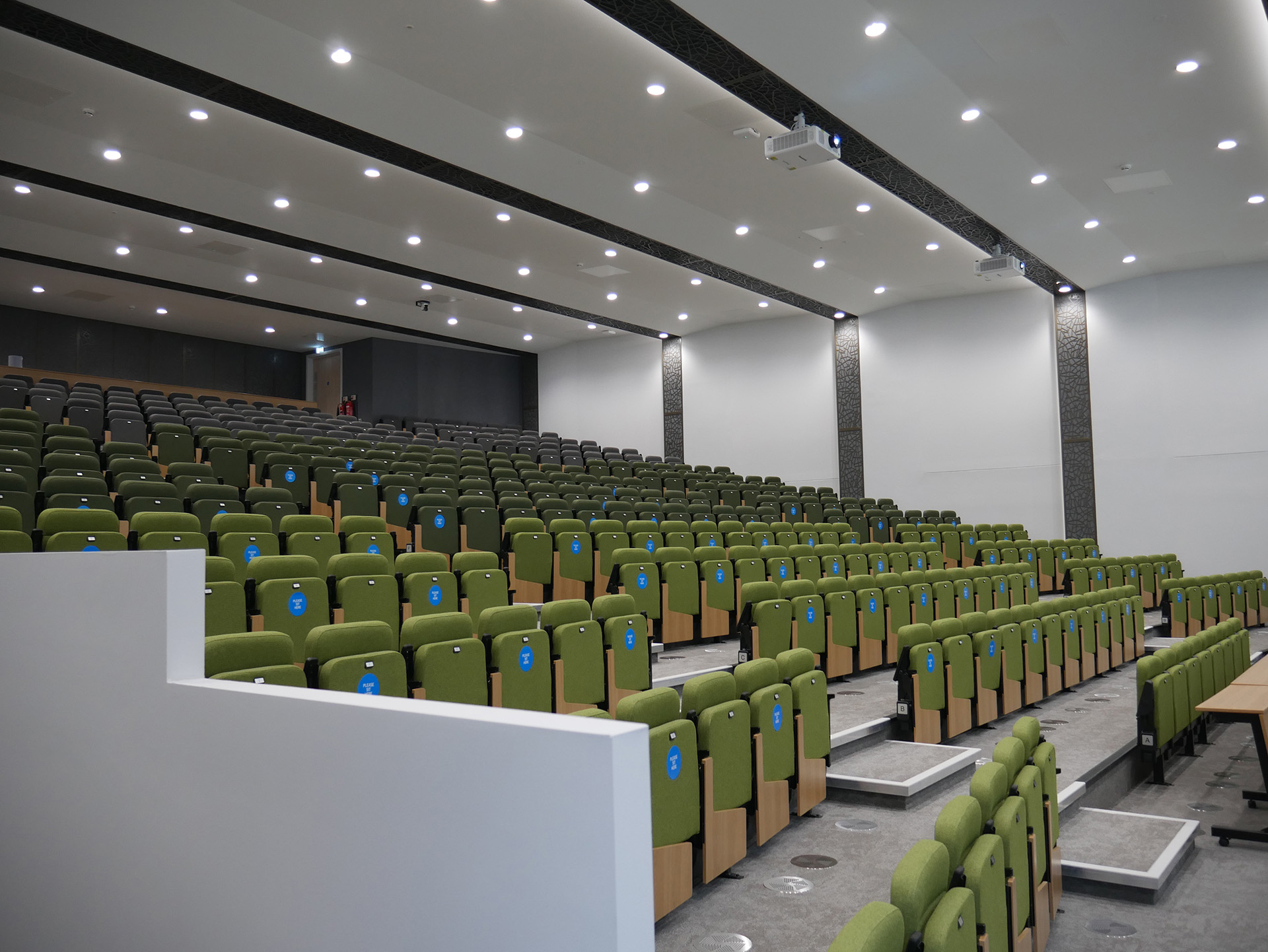 Environments:
Auditoriums & Event Spaces
Audio Visual Technology that provides the WOW.
Audio Visual Technology that provides the WOW
"Wow!" should be the response you give when walking into an auditorium or event space. This is where we get to showcase our craft, our skillset and our knowledge on a massive scale and in the most spectacular of ways.
An auditorium/event space should be versatile and allow the presenters to engage with the audience in a simple manner and allow them to communicate key messaging in an impactful manner.  Modern auditoriums and event spaces should provide two way communication between the presenter and the audience with audience involvement, voting buttons, Q and A sessions.
Universal AV ensures the audio-visual technology and solutions available at the front of the room, or the presenting station, are easy and simple to use.  This allows the keynote speaker to have a level of comfortability and provide a confidence knowing that the technology just works, enabling them to communicate their message.
AV Solutions for Auditoriums and Event Spaces
Projection
Projection provides a simple and powerful way to provide an impactful visual display.  Projection could take many forms from a single projector, multiple projectors through to blended projection.
Hearing Loops
All auditoriums and event spaces should be equipped with hearing loops or assisted listening devices.  An induction loop is an audio solution that has been designed to provide hearing assistance to those with an impairment. It is vital in any audio visual integration of an event space or auditorium.
Audio Solutions
Universal AV look at all aspects of audio to ensure you implement the best solution for the space. We use a calculator to determine the number of speakers needed, we have integrated desks with speakers and microphones to ensure each member of the audience can hear and be heard.  We install solutions for presenters that are easy to use, and finally we take into account the acoustics of the room.
Control Systems
Anyone coming into this space to present is usually an academic, or a guest speaker and expects to be able to present simply at the touch of a button.  Control systems are powerful tools that if integrated correctly appear simple to use and provide the speaker with confidence to do what they are there for.
Commercial Displays
Depending on the space size, commercial displays can be used as an alternative to projections. This could be one large display or several smaller ones as a videowall. There are multiple solutions for displaying content in an auditorium, LED is another option.
Sectors We Work With
Corporate
Universal AV provides award-winning auditorium and event space audio-visual solutions to the corporate sector. We work with businesses to enhance training and development, as well as helping them to take company events to the next level.
Hospitality
Universal AV work with every type of hospitality venue you can think of, from stadiums to cinemas, to bars, to enhance their audio-visual technology.  We provide state-of-the-art equipment, and the knowledge to operate it without lots of technicians present.
Architectural and Construction
Universal AV's talented audio-visual integrators work with architects and contractors, to incorporate world-leading AV solutions into auditorium and event space builds. We'll work with you every step of the way, from the initial meeting to ascertain the needs of the space, right up until the build is finished.
How Universal AV Can Help Transform Your Auditorium Needs
We will work with you to assess the needs of your space before design commences, asking all the relevant questions to ensure the system installed is intuitive and dynamic. These are vitally important to making a space work for you. Contact us on 01274 200280 or email sales@uniav.com to discuss your needs.
Suggested AV Solutions For
Auditoriums
Start your project today
To discuss your audio visual needs for your next project contact us. We will work with you to devise a solution to meet your requirements and needs.
Call 01274 200280
Email sales@uniav.com
Send us a message
"*" indicates required fields