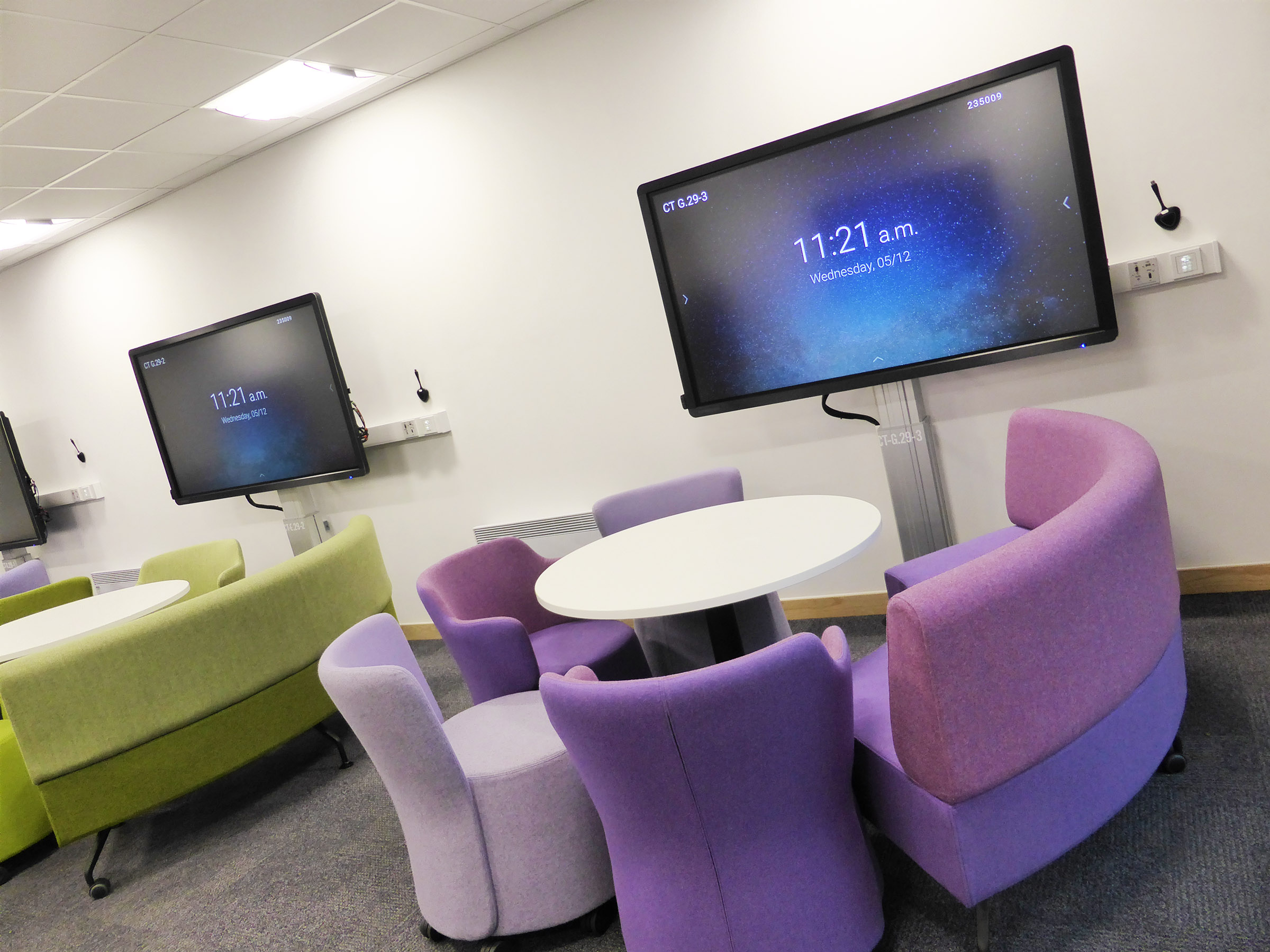 Environments:
Collaboration & Huddle Spaces
Audio Visual Technology helping you collaborate at every level.
What Are Collaboration & Huddle Spaces?
We are collaborating all of the time and often do not realise this is what we are doing. It can be sat across desks with a colleague over a coffee, it could be an informal meeting around a table, or it could be in a more formal collaborative space/huddle space or huddle room. What is certain is that some of the best and most innovative ideas are born out of these collaborations and the use of effective audio visual solutions is aiding this.
From an audio visual point of view, audio visual technology should be incorporated to allow for visual collaboration, however locality of these spaces can sometimes prove challenging to integrate the technology. A specialist in audio visual integration would always advise on the best way to make use of the space whilst incorporating kit.
AV Solutions For Collaboration & Huddle Spaces
When creating a collaborative work space for collaboration, flexibility is key, there should be no barriers. The technology should be there to assist and not hinder the collaboration process. Sharing content from a laptop can be facilitated with wireless screen sharing to display screens, which are also used for digital signage. Innovative furniture can provide a relaxed setting for a coffee break, but can also contain hidden connectivity to allow ideas to be shared and captured.
Collaborative work spaces and environments or collaborative learning spaces could include:
Huddle Spaces (For smaller meetings and groups to share ideas informally)
Collaborative rooms (Where more formal technology might be in place such as Teams/Zoom and provide a larger group collaboration environment)
Collaborative Teaching Spaces/ Collaboration spaces(On a much larger scale but whilst using the same tools. Collaboration could be taking place between academics, students or guest lecturers via video conferencing).
In these collaborative work space environments or collaborative learning spaces, simplicity combined with audio visual technology and audio visual furniture is key.  We integrate audio visual solutions with some pretty funky furniture making the environment welcoming and practical.
Typical AV Solutions For These Environments
BYOD
Collaborative and huddle spaces lend themselves to a BYOD (Bring your own device) meeting.  Huddle spaces/Collaboration/Teams rooms are all designed to have an element of pull up a chair, get round a desk, collaborate and share information with many of those participants all bringing their own devices. They are designed to be more informal meeting areas.  Advantages of users working bringing their own devices ensures they are able to concentrate on the meeting as the technology is second nature to them, increased engagement and no training is needed.
Video Conferencing
Video Conferencing in these spaces is now also deemed as being essential. The manner in which we work has changed and participants in meeting expect to be able to dial in those needed at any given moment. Future proofing your collaborative spaces ensures they are able to do this quite simply at the touch of a button, discuss the task at hand and then disconnect.
Benefits of working in this manner
Ability to involve all needed, in person or remotely
Saves time
Reduces costs
Sectors We Work In
Collaborative and huddle spaces were seen in the education environment to begin with as from a pedagogical perspective provided a more inclusive approach to teaching and how the classroom took shape. It was quickly realised that student learning in this manner whilst collaborating amongst their peers gained a deeper understanding of the material in hand and debate and inclusion in class was greater.
The approach taken in education has naturally filtered into the workplace environment with these spaces taking the place of some traditional meeting rooms, providing a more relaxed and informal way of conducting a meeting and collaborating on a project. Employees are encouraged to be more informal, creative and share ideas. This approach has seen a shift in the way office floor plans are set and meetings are approached.
Universal AV also work with Architects during the initial design stages of a build to ensure you have truly integrated AV solutions within the new collaboration space.
How Universal AV Can Help?
Universal AV will work with you to discuss the types of collaborative work space or collaborative learning space you want and need and which audio visual solution best suits your work environment and will help aid the collaborative process.  For more information, contact us.
Collaboration & Huddle Spaces
Case Study Highlight
Leeds University Business School Creating Collaborative Environments to Foster Learning
The University of Leeds was established in 1904 and is one of the largest higher education institutions in the UK. The University is in a world top 100 University and is renowned globally for its quality of teaching and research. Investing in Knowledge and Opportunity is key for the University; ensuring students have the best possible education and experience possible.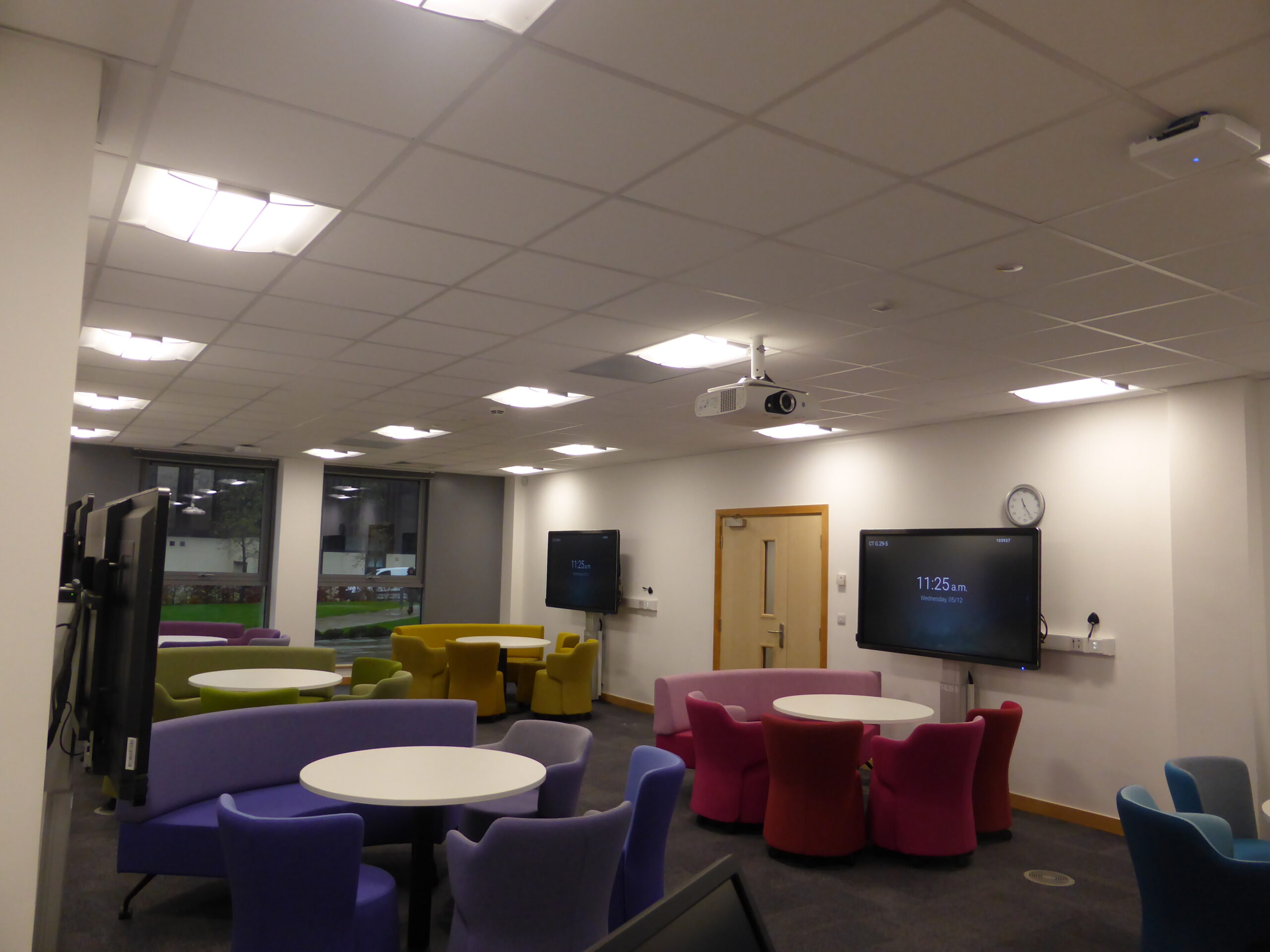 Suggested AV Solutions For
Collaboration & Huddle Spaces
Start your project today
To discuss your audio visual needs for your next project contact us. We will work with you to devise a solution to meet your requirements and needs.
Call 01274 200280
Email sales@uniav.com
Send us a message
"*" indicates required fields