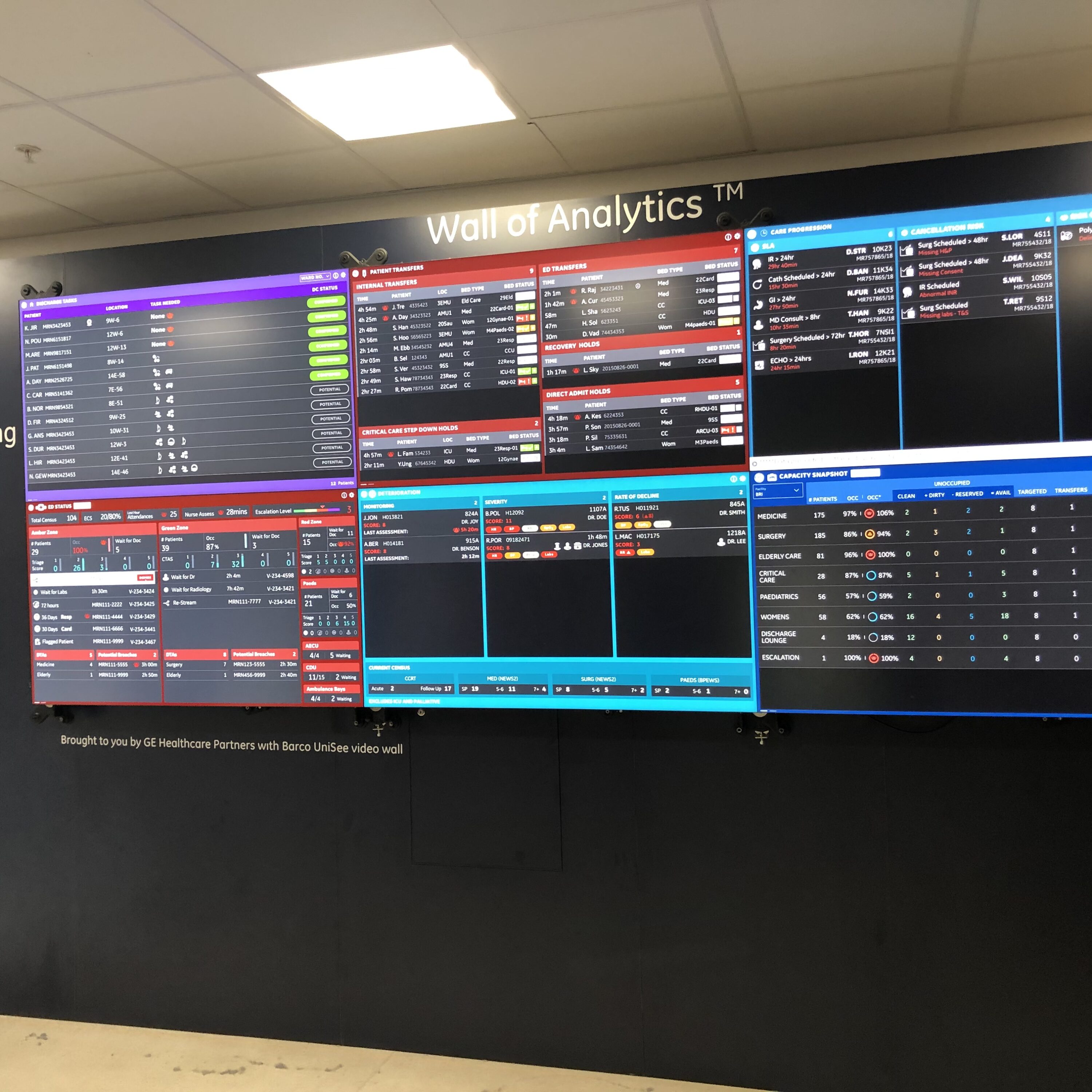 Environments:
Control Rooms
Audio Visual Technology Helping You Stay In Control
The need to make quick, informed decisions based on multiple data streams has always been imperative. Control Rooms, Decision Theatres or Operations Rooms are spaces that provide a central location where multiple disciplines can be brought together to achieve shared goals and objectives.
Universal AV has helped clients install audio-visual control systems for control rooms to monitor an array of information from logistics of goods and vehicles through to key response times for emergency services.
AV Solutions for Control Rooms
In control room environments the information to be displayed is detailed by the client; how it appears needs to be accessible and clearly visible. This is where we can help. It is our job to get this information on screen in a precise and clear manner through the use of audio-visual control systems. The use of commercial large format displays, projections or videowalls is perfect for this application. When integrated with multiviewers, switchers, wireless connectivity, interactive touch technology and streaming products, Universal AV can design systems which will treat your multiple data with the urgency it deserves.
Control solutions are invaluable when looking at control rooms. How the client needs the solution to work, will there be several inputs needed, will they need to switch easily are really important factors when looking at a solution. Simple programs can be designed by Universal AV to ensure you can control your solution simply, so no time or data is lost.
A control room usually heavily features a large-scale display. This is usually a commercial display videowall, however, as costs have reduced, we are also seeing LED feature heavily in this area.  No one solution is right as we will work with you to determine how you wish to work and the room dynamics to determine the best visual solution to meet your needs.
Sectors We Work With
Universal AV provides award-winning control room solutions to the corporate sector, transforming outdated control rooms into dynamic communications hubs, that allow businesses to run smoothly. We work with large corporations like Morrisons to provide audio-visual technology that is adapted to their specific control room needs, whether it is transport logistics management or call-centre coordination.
Universal AV's talented audio-visual integrators work with architects and contractors, to incorporate world-leading AV solutions into builds that need state-of-the-art control rooms. We collaborate with project managers and design professionals every step of the way, from the initial meeting to ascertain the needs of the space, right up until the build is finished.
Control rooms are the often unseen hubs of education facilities. Responsible for coordinating the security, and movements of often hundreds of students, it's essential that they have the latest technology. Universal AV provides award-winning audio visual technology to education control centres, to help them to manage the influx of pupils and keep the premises secure at all times.
Universal AV has worked with large players in the healthcare industry such as NHS hospitals, to streamline their control room services. In healthcare environments, cutting-edge control room operations technology can physically save lives. Our state-of-the-art technology allows healthcare operations managers to stay on top of bed shortages, manage machine malfunctions, and keep comms up and running at all times.
Public organisations such as the emergency services need effective control room audio-visual technology in order to function properly. Universal AV has worked with large public sector groups such as West Yorkshire Police, to update their control rooms with relevant, award-winning audio-visual equipment.
Why Choose Universal AV for your Control Room AV Solutions
Our experienced team will work with you to discuss how the information needs to be displayed, where it is coming from and how quickly it needs to be processed and displayed. Real-time information and live stream feeds need to be dealt with instantaneously with low to zero latency. Other factors such as audio and acoustics need to be taken into consideration where privacy is paramount.
We have operated in mission-critical and highly sensitive control room environments where information needs to be treated with the utmost care and consideration. Our dedicated team of in-house engineers provide much-needed continuity and dependability in these instances, often working under NDA conditions.
Get In Touch
Whatever your audio-visual needs, we will work with you to provide a tailored solution. Can't wait to get your control room project started? Call us today on 0124200280, or email us at sales@uniav.com.
Suggested AV Solutions For
Control Rooms
Start your project today
To discuss your audio visual needs for your next project contact us. We will work with you to devise a solution to meet your requirements and needs.
Call 01274 200280
Email sales@uniav.com
Send us a message
"*" indicates required fields