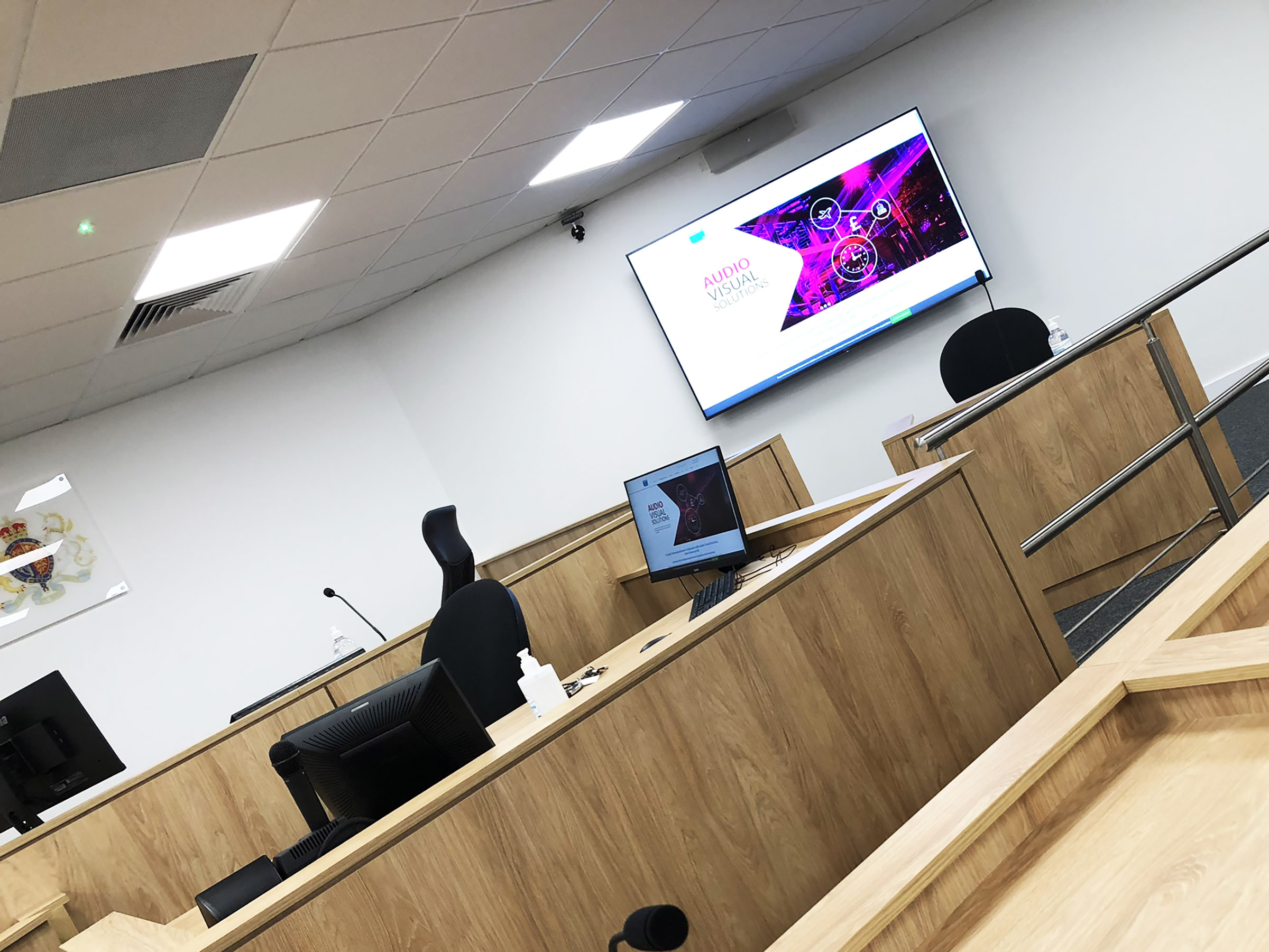 Environments:
Courtrooms
Audio Visual Technology you can rely on when it really counts.
Universal AV has worked with several local authorities and universities to deliver working Coroner's court rooms and moot court rooms (simulation courts).
The audio visual systems and technology for these environments can be quite complex and need to be robust and reliable whilst being intuitive and easy to use. The importance of these proceedings demands that the technology works first time for the judges and court officials.
The requirements are many and cover;
Audio is paramount so that people in the courtroom can be clearly heard.
Visuals need to be clear and viewable by all.
Local and remote participants need to have the same access to the proceedings.
Overspill rooms need to be accommodated so court proceedings can be transmitted to and from other rooms.
Privacy is paramount. Sensitive evidence and statements need to be handled with care and consideration.
Evidence and proceedings need to be recorded and documented.
It is critical in these environments that everyone's voices can be heard, key evidence can be displayed correctly and that privacy can also be deployed in the case of a sensitive witnesses.
The covid pandemic has meant that more cases are now undertaken via video streaming with attendees joining the hearing via a video call or link from another room.
Local authorities have turned to Universal AV for the design of the courtroom audio visual systems required in these spaces. Universal AV has experience in working with the public sector on coroner's courts and moot courts. We work with customers to discuss their requirements, the court environment and available facilities to ensure the customer receives the correct solution. We have experience working in new build and heritage locations where the technology has to be sympathetic to the surroundings.
From voice re-enforcement, video streaming and recording through to full witness box configuration and evidence display we are able to support all requirements.
The technology can vary but includes:
Microphones
Two way intercom
Video PTZ cameras
Visualisers
Digital video and audio recording
Large format commercial displays
Small on desk monitors
Touch screen room control
Interactive touchscreen panels
Language transcribers
Video Conferencing
Courtroom Furniture
Our in-house design team work with the courtroom staff to understand how they want to use the system.
It is important that the technology supports the way they work; they should not have to change to accommodate it. Judges need to simply press a button to have evidence or remote witnesses appear on a screen. The technology should enhance the hearing not distract from it.
We have devised court room audio visual systems that include separate witness rooms, where key witnesses can provide evidence anonymously in a safe and secure environment. The participation can be heard by all but only seen by the judge and there can be no room for error with this.
Universities have approached us to design moot court rooms, so students are able to analyse and simulate a court hearing, providing them with invaluable experience during their academic studies.
Technology in these spaces should be the same as that used in the actual courtrooms.
Courtrooms
Case Study Highlight
Rochdale Coroners Court
Universal AV were asked to reply to the tender notice by Rochdale having already supplied audio visual technology to the Coroners Courts in Manchester. The Coroner had seen this in use and was impressed by the functionality and simplicity in which it could be used.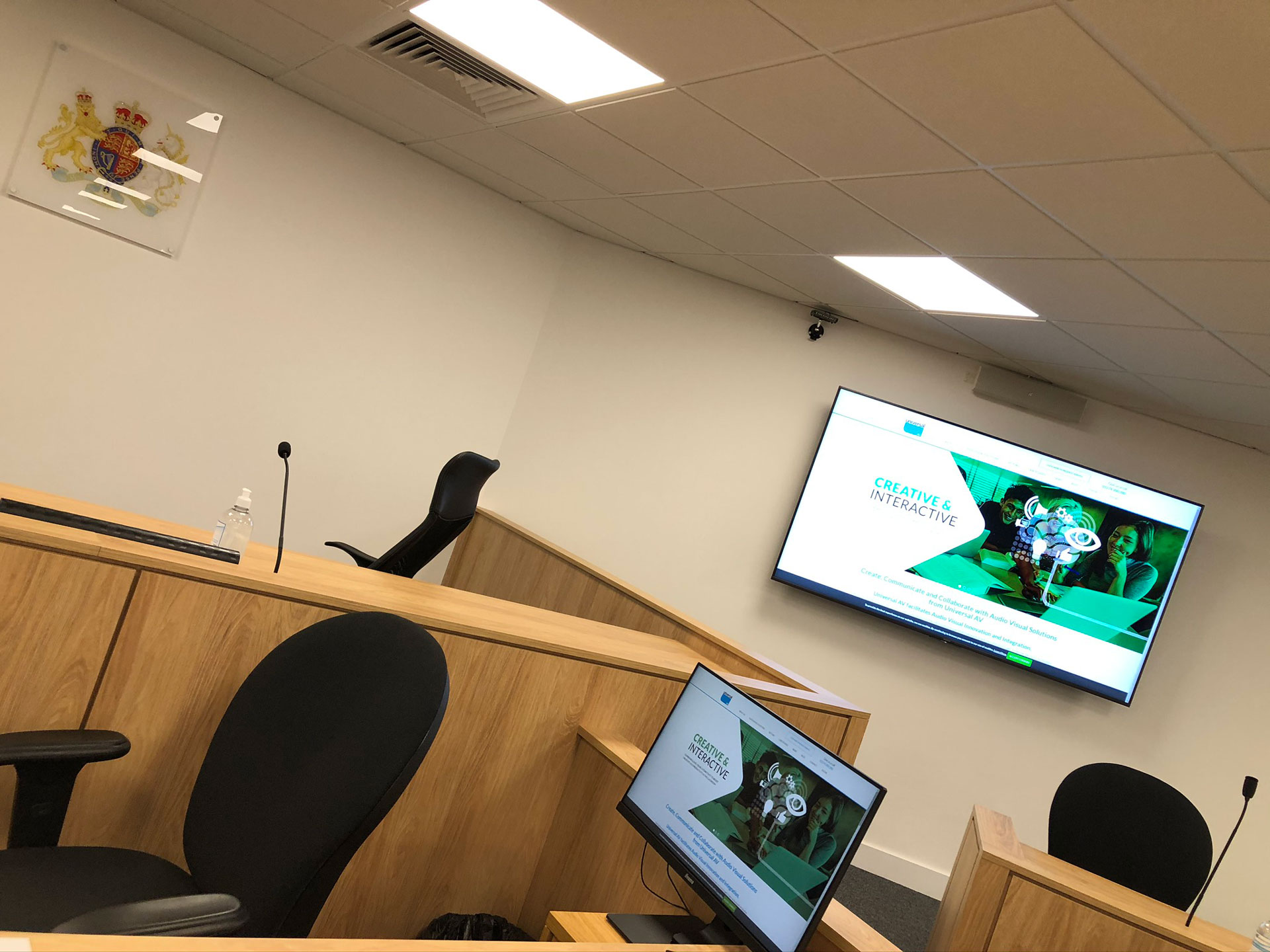 Suggested AV Solutions For
Courtrooms
Start your project today
To discuss your audio visual needs for your next project contact us. We will work with you to devise a solution to meet your requirements and needs.
Call 01274 200280
Email sales@uniav.com
Send us a message
"*" indicates required fields