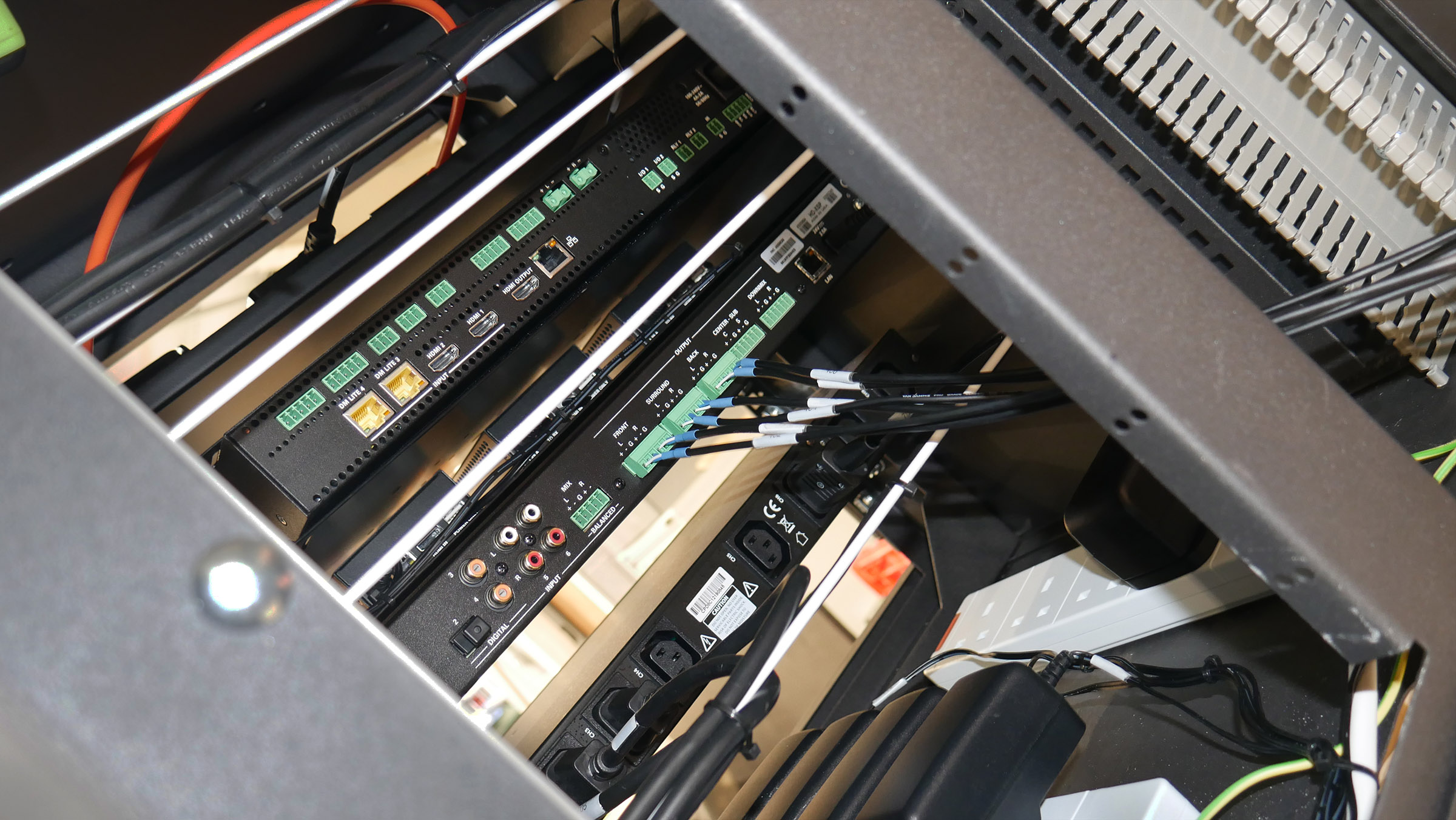 Services:
Installations
Universal AV has a reputation for being a company that can be relied upon. We have even been referred to by clients as a comfortable pair of slippers (we love this); we take the stress out of the project for the customer. We achieve this by using our own professional, skilled and highly qualified engineers. They have vast experience and are approachable and friendly.
Jon Stothard, Worsley Building Manager, University of Leeds.
"When I use Universal I can relax. I know the solution provided will work, the quote will have been comprehensive, with no forgotten elements that alter the price and cause delays. Installation dates will work to suit me and the work will be excellent meaning the snagging will be quick and painless. It is the workplace equivalent of putting on a comfy pair of slippers. Universal AV work hard to ensure I remain relaxed throughout the project."
Our team of integration engineers have many years' experience in delivering fit for purpose integrated audio visual installations. From simple AV installations through to the complex, we always provide solutions that are intuitive to use, and our attention to detail ensures your workspace is left clean and tidy, wires hidden with minimal disruption to downtime for your organisation. Our customers commend us on our organised approach and the tidiness of our installation and cabling, which is something that we are extremely proud of.
Our desire to be the best and push the boundaries of integration is demonstrated in the in-house training we provide for our installation teams. This focuses on manufacturers' products and solutions we use on every project.
We are so particular about our team and the skill sets they possess we set up our own apprenticeship program with Bradford College to ensure we develop engineers. As an AV installer our engineers adhere to all health and safety working practices and Universal AV is one of the few companies able to work under the UKATA – a non-licensed asbestos framework. All our engineers hold ECS / CSCS, PASMA, IPAF, Step Ladder Awareness, Non-licensed Asbestos and First Aid as mandatory qualifications. Combine this with our CHAS accreditation and Construction Line Gold status and you know that your health and safety will never be compromised.
At our regional offices, we have designated workshop space to custom build all of our rack mounted equipment, allied to this we boast in-house programming skills to support the industry leading control system manufacturers of Crestron, AMX and Extron. This allows for competent testing of all equipment to minimise the disruption on site and also allows us to keep the onsite installation time to a minimum.
Our teams work in accordance to our ISO9/14001 standard which ensures that the quality and method of delivery is the same from every engineer or every site. Contact us to see how we can help with your project delivery.
Installations
Case Study Highlight
Leeds University Business School Creating Collaborative Environments to Foster Learning
The University of Leeds was established in 1904 and is one of the largest higher education institutions in the UK. The University is in a world top 100 University and is renowned globally for its quality of teaching and research. Investing in Knowledge and Opportunity is key for the University; ensuring students have the best possible education and experience possible.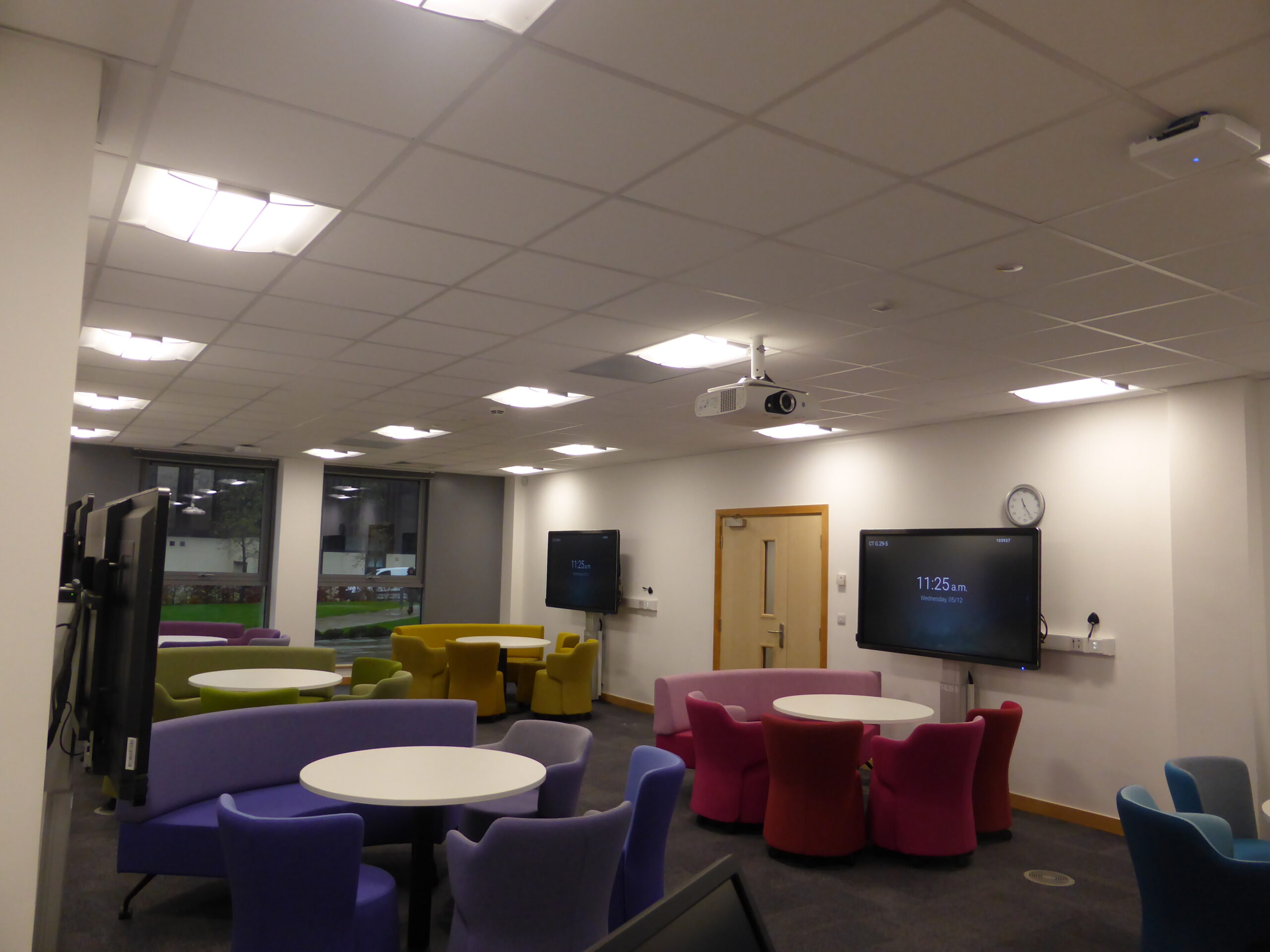 Start your project today
To discuss your audio visual needs for your next project contact us. We will work with you to devise a solution to meet your requirements and needs.
Call 01274 200280
Email sales@uniav.com
Send us a message
"*" indicates required fields