Brief
Opencast contacted Universal AV after seeing an installation carried out by Universal AV at software company, Bede Gaming who are also based in Newcastle. With an office move on the horizon they wanted to speak to Universal AV about what solutions could be implemented in their new space to help with collaboration.  Having already received a quotation they felt their needs were not quite being met and wanted a second opinion.
The Universal Way
Universal AV worked with Opencast to understand what they needed, how they worked already and how they wanted to work in the future.
"For Universal this is really important" comments Duncan Cave, Account Manager at Universal AV Services. "We are often invited into prospective clients to discuss solutions and understanding how they work is key. Getting under the skin of how meetings are held, the platforms they are held on, the network it will connect to or not in some cases is vital in order to propose the correct solution."
Solutions Installed
Solutions were needed for open spaces, collaborative areas, meeting rooms and reception areas. After careful consideration and discussions the following was proposed:
G.10 Events/Social Space
For this space we proposed a Sony FW-100BZ40J 100" large format display screen, Sony's largest screen, providing Opencast with the ability to display bright, 4K content with business-friendly features.  Within the room six ceiling mounted pendant speakers were installed to ensure even sound coverage for the whole area and Audio Technica system 10 microphones used within the space.  A ceiling mounted tracking camera was installed to follow and track the presenter, this could be selected to track by zone, face recognition or manually modes.
For connection to the system we provided a fixed PC input, an HDMI and a Kramer VIA Connect Plus that provided people within the space the option for a wireless connection.
A rack cabinet holding all of the other equipment including the presentation switcher, USB switcher, audio DSP, amp and wireless device is located in the comms room.  The presentation switcher and the USB switcher allow the camera, plus an audio feed from the audio DSP, to be switched to any of the inputs to allow for audio / video feeds into video conferencing applications such as Teams or Zoom via a USB connection, the whole system is then controlled by a wall mounted 12 button Kramer unit.
G.21 Meeting Room, G.16, G.17 & G.30 Cabins
Avocor AVW-6555 and AVG-6560 interactive flat panel displays were installed throughout these rooms to allow users to connect, engage and collaborate with others. The Avocor offers an edge-to-edge 4" thin bezel for the ultimate look. USB-C connection, provides a single cable connection for 4K video, audio, USB touch, Ethernet and power.  A Trust Iris all in one video sound bar was supplied to provide the requirement for video call within the rooms featuring a  120º Ultra-Wide View lens ensures everyone is on-camera, 4K Ultra High Definition resolution at 60 frame per second and four noise-cancelling microphones to make sure everyone is heard.
G.05, G.08, G.20 & G.25 Study Rooms
In the Study Rooms, Sony FWD-50X80J/UK commercial flat panel displays were installed.  Optimised for professional applications, the BRAVIA display delivers richly coloured, high-contrast 4K HDR images, the display's clean, minimal design keeps the audience focused on what really matters and provides a sleek finish to the rooms.  These rooms also benefited from the Trust Iris all in one video sound bars.
Reception
For reception, a Sony FWD-50X80J commercial flat panel display was installed and loaded with a NowSignage digital signage licence, to allow the screen to be used to display dynamic content.
G28 Large Meeting Room
An Avocor AVF-7550 interactive flat panel display was displayed as the F series is completely platform agnostic, working seamlessly with Unified Communications tools and devices to create a collaborative environment that is perfect for this executive meeting space.
A height adjustable trolley provided Opencast with the flexibility to reposition the screen to suit the room layout. The trolley comes with four locking castors and is finished in a black powder coat. Cable management through the base and up through the uprights produces a clean and tidy installation.
As in other rooms a Trust Iris all in one video sound bar was positioned below the screen for video calls. Along with a Kramer VIA Connect Plus to provide the meeting participants with the option for wireless connection.
Status Boards
There was also a requirement for some wayfinding status boards to display the current room and desk booking requirements within the office using the Robin management software. We supplied an Airtame2 to run the Robin platform on and one Sony FW-50BZ30J unit in portrait and two Sony FW-43BZ30J units in landscape.
Installation
Due to early collaboration with architects, contractors and clients installation ran smoothly. First fix electrics and cabling was allowed for, detailed drawings showing where wall plates would go, camera positions, network and power requirements were discussed and agreed.  One of the proposed walls was a shingle feature wall so early sight of this allowed us to work with the builder and designer to reinforce the wall for the size of screen, to also allow for the input and control elements with the wall with a goal of maintaining the overall look of the wall.
Opencast Customer Comment
""It was a brilliant experience working with Duncan and the Universal Team. They understood our needs and produced a wide range of great solutions for our different hybrid spaces. The week before opening our office was hectic with a large number of different groups working to get us ready to welcome our people. The Universal Team were amazing. They were professional, courteous, organised and got their work done quickly and with great attention to detail...."
Daniel Pearson, Executive Assistant
Opencast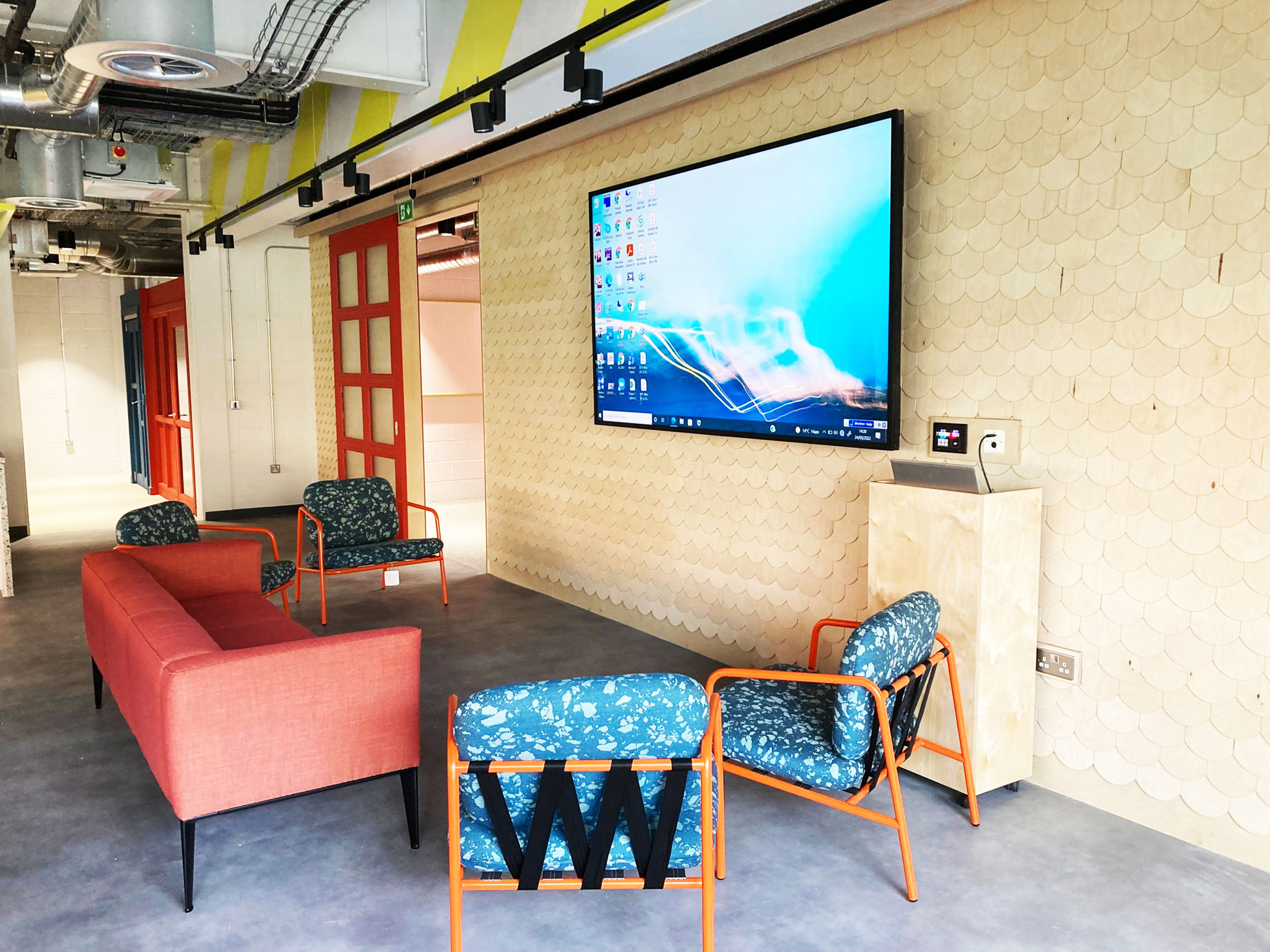 Start your project today
To discuss your audio visual needs for your next project contact us. We will work with you to devise a solution to meet your requirements and needs.
Call 01274 200280
Email sales@uniav.com
Send us a message
"*" indicates required fields