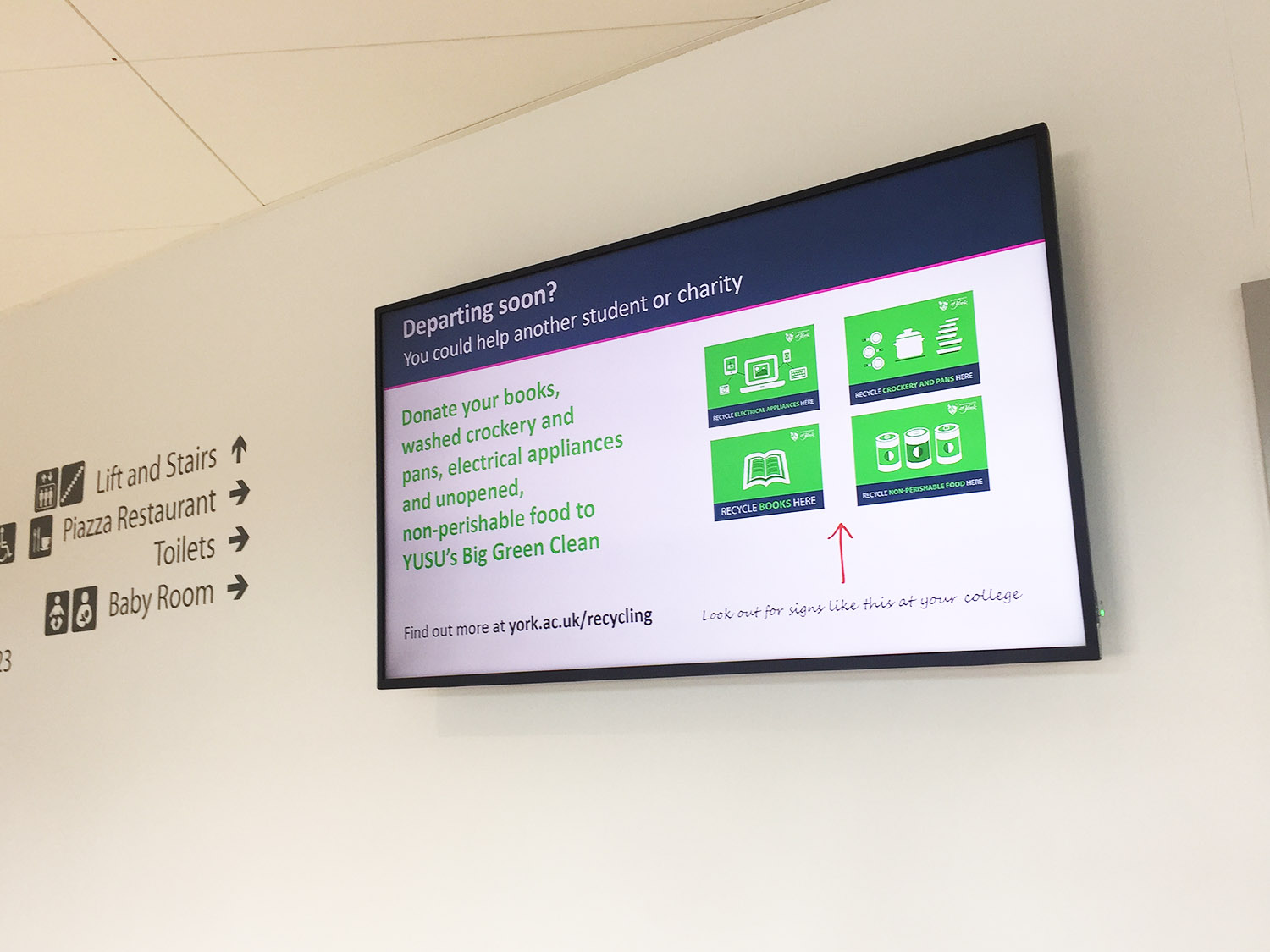 What is Digital Signage?
Digital signage is the use of multi-media content in a single layout or page, to provide an audience with pertinent information. Media can be in the form of video, audio, text, images and internet content. When deciding which content types to use, careful consideration must be given regarding the intended audience; video and imagery can be used to engage the audience and then text can be used to provide key information or messaging. Most digital signage is delivered to the audience via a display screen.
A digital signage system is one or more digital signage screens working in or across an organisation to relay the same or similar content and message. In most cases, there is standard content present in a digital signage system such as a company logo, or video. However, a digital signage system can allow an organisation to tailor content to a local audience. For example, a digital signage screen deployed in a company reception might show a corporate video to impress visitors, whilst another digital signage screen operating on the same digital signage system but deployed in a canteen space can show information about upcoming staff events or internal processes.
How Does Digital Signage Work? Digital Signage is essentially software that can be deployed via either the cloud or an on-premises system. The software will reside on a Digital Signage Media player or a System on Chip integrated in to a display screen. In standalone situations, the Digital Signage Media Player must be able to offer a user interface for media scheduling and media playing capability. In networked (DSN) applications a means to distribute media over a Wide Area Network (WAN) must also be provided. Content is then uploaded via the digital signage user interface and through the management software can be deployed to one or many screens instantly or scheduled to a particular time and date.
Examples of digital signage can be found in universities, corporate offices, factories, GP surgeries and hospitals to name but a few. The University of Leeds engaged Universal AV to provide digital signage solutions across their estate to provide both students and staff with a mix of vital information. A mixture of indoor display screens and outdoor totems allow the University to keep people up to date with all things University of Leeds.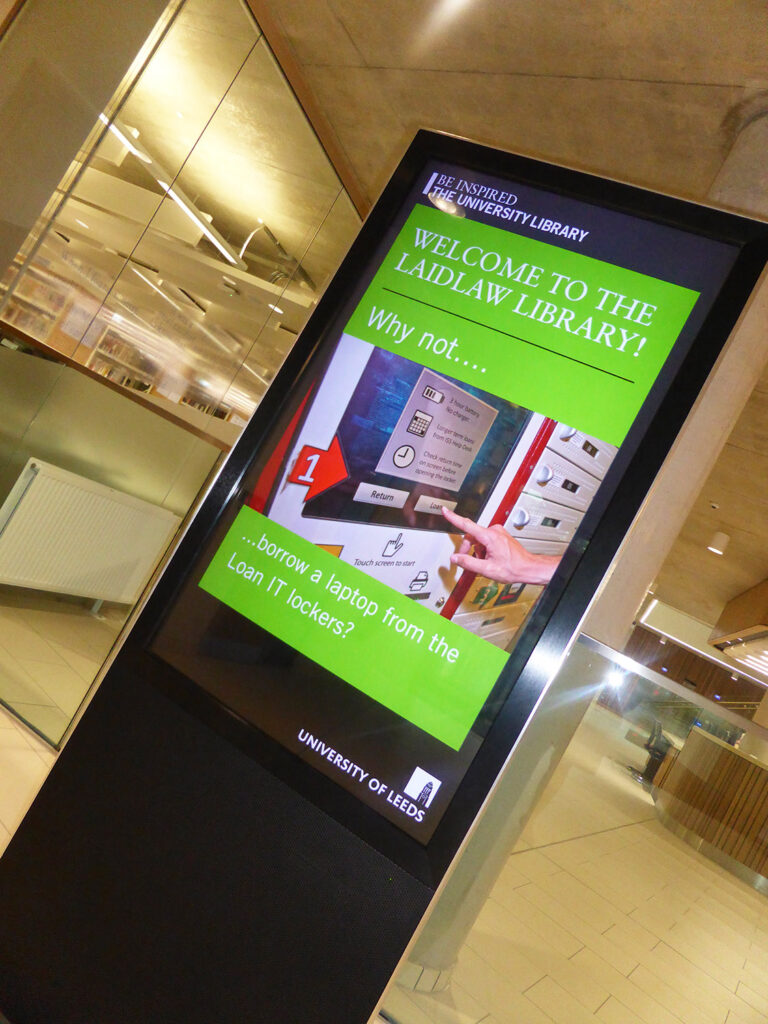 Walker Morris LLP engaged with Universal AV to provide a digital signage system to all public areas in their central Leeds offices. A trigger was provided in the reception area to allow important messages to be sent to every screen.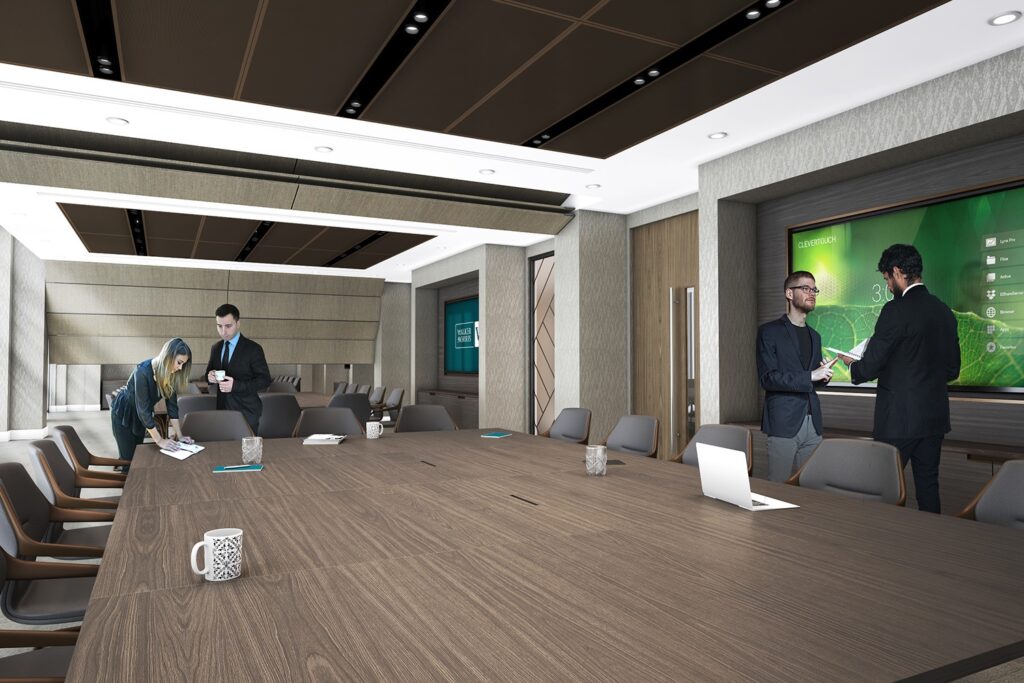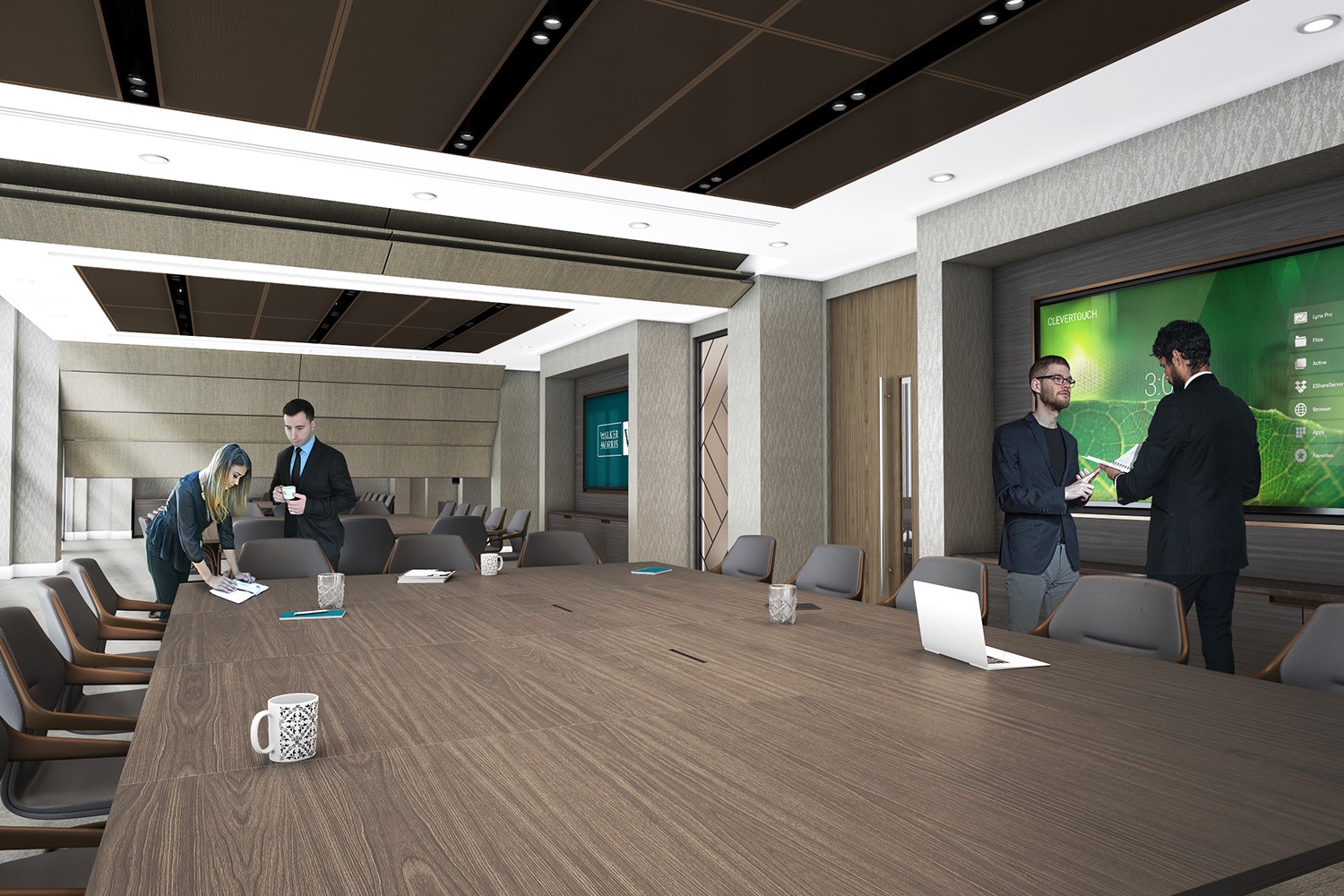 Why is Digital Signage Important?
There are many benefits coming from digital signage to organisations that deploy a digital signage system. In fact, any organisation with a message to share, either with the public or with internal stakeholders can benefit from a digital signage system.
Because digital signage operates on a digital system, the operator is in full control of the content, the display screen, the timings and the schedule. Content can be shared instantaneously and can be changed within a matter of seconds. Content can be in the form of text, video or high quality imagery. This all serves to catch the eye of the audience, ensuring maximum impact.
Content can be shared to one location or to multiple locations, either in a single building, a site or across the globe; as long as there is a network point, digital signage will thrive. There is no limit to the amount of end- points. So the message can be shared to as wide an audience as required. End-points can be grouped to serve particular target audiences, ensuring only relevant information is shared. For example, an organisation will have a different message for its customers and a different message for its staff.
Because digital signage operates on a digital system, content can be shown for specific time periods. Analytics can confirm when content was played and with the use of AI camera, can determine who looked at the content, for how long they looked at it and it can determine their gender, age and other attributes.
Because digital signage operates on a digital system, content can be set up to play to a particular schedule. Organisations can display content only relevant to a particular time or year, such as Christmas. This helps with audience engagement as they are used to seeing up to the minute information which is relevant to them.
The impact of a digital signage system is manifold and is experienced across multiple sectors, such as retail, manufacturing, medical, education, corporate & enterprise, banking & finance, sports and hospitality. These sectors have all used digital signage to advertise their message, replacing old and outdated paper advertising with high impact digital signage.
The importance of a digital signage system is significant. For organisations that use digital signage, it has become an integral part of their communications strategy. The ability to send content to a large screen in a reception area or to an individual's desktop, means information can be shared quickly and efficiently.  The range of delivery points that digital signage can offer means that is a highly effective way of communicating a message. Whether it be a display screen, touchscreen, menu board, a wayfinding station, a room booking system or an advertising screen, a digital signage system will deliver across all of these platforms.
Finding Your Digital Signage Solution
Universal AV work with the industry's leading manufacturers to ensure that we choose the right digital signage system for your organisation. We work closely with our customers to establish their workflows, the type of messaging they use and the demographic audience they want to reach. We can offer hardware based systems, which are robust, secure and have little on going costs. We can also offer software based solutions, often operating via the cloud. These have very little up-front costs and so there are no barriers to entry in to the digital signage environment. Organisations pay a monthly subscription to deliver content to a variety of end-points connected on a network.
Universal AV offer systems that can be completely controlled and managed by the end-user, from the creation and uploading of content to the management and display. We can also offer an off the shelf service, where content is created and tweaked to suit a particular customer requirement.
Easy or complex, Universal AV can offer the digital signage system right for you.
Start your project today
To discuss your audio visual needs for your next project contact us. We will work with you to devise a solution to meet your requirements and needs.
Call 01274 200280
Email sales@uniav.com
Send us a message
"*" indicates required fields