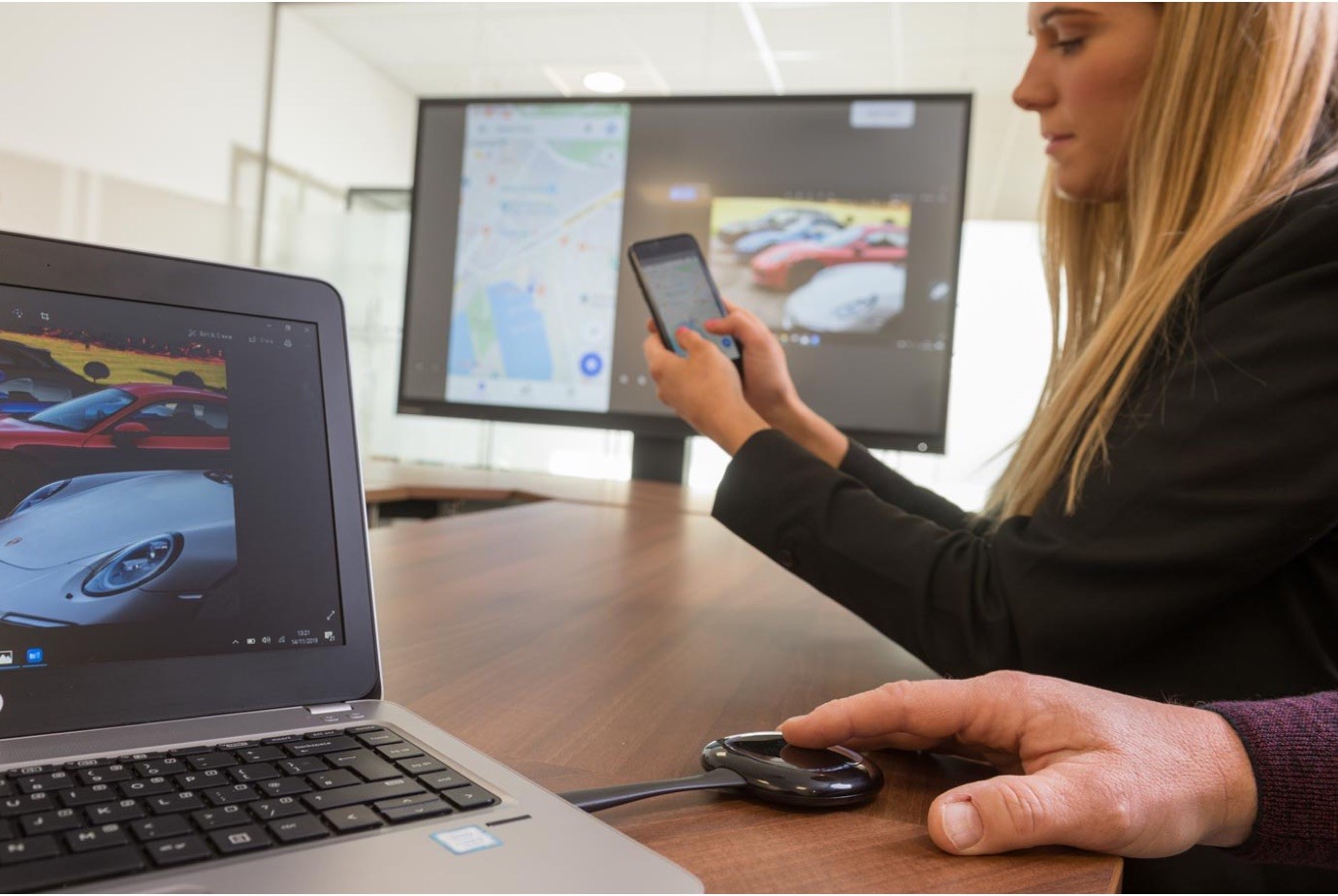 What is a Smart Meeting Room?
Smart Meeting Rooms use audiovisual technology to enhance workflow and boost productivity. The purpose of Smart Meeting Rooms is to enable local and remote workers to come together for a smart meeting to collaborate and communicate effectively. By using smart meeting room technology, participants in meeting can quickly exchange ideas from any location in the world. They are able to simultaneously use a range of technology, such as video, audio and computer based information, to replicate a live work environment.
Benefits of Smart Meeting Rooms?
The advantages of a smart meeting room are numerous. First and foremost, they remove geographical barriers and cross time zones, by allowing both local and remote workers to come together to exchange ideas. Organisations with a global presence can have staff located in London, New York and Sydney meeting together virtually in a smart meeting room.
Secondly, the use of smart meeting room technology often can make the meeting more productive. Technology allows for information to be shared instantly, often leading to a quicker decision making process.
A third advantage of a smart meeting room is that it enhances the workflow once the smart meeting is over. The decision making process can be digitally recorded and shared to be referred back to. As the workflow takes place on meeting room technology it can be accessed by all participants immediately; no more waiting for meeting notes to be transcribed and shared via email.
Another advantage to deploying smart meeting rooms is that it can provide organisations with much needed data and analytics on how their meeting spaces are being used. The use of desk and room booking, meeting and visitor management allows organisations to optimise their meeting space estate. How are the spaces getting booked, who is booking the spaces and what technology is being used for the meeting. These are pieces of information that an organisation can use to get the best out of their investment.
For example, if a smart meeting room designed to accommodate 6 people is constantly being booked for one to one meetings, then the organisation can make decisions about how best to use that space in the future.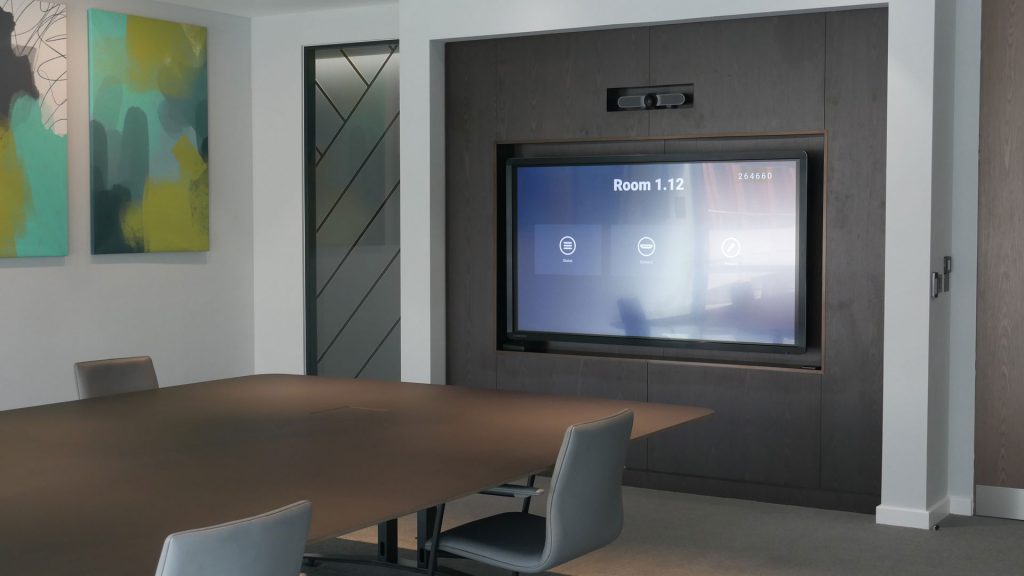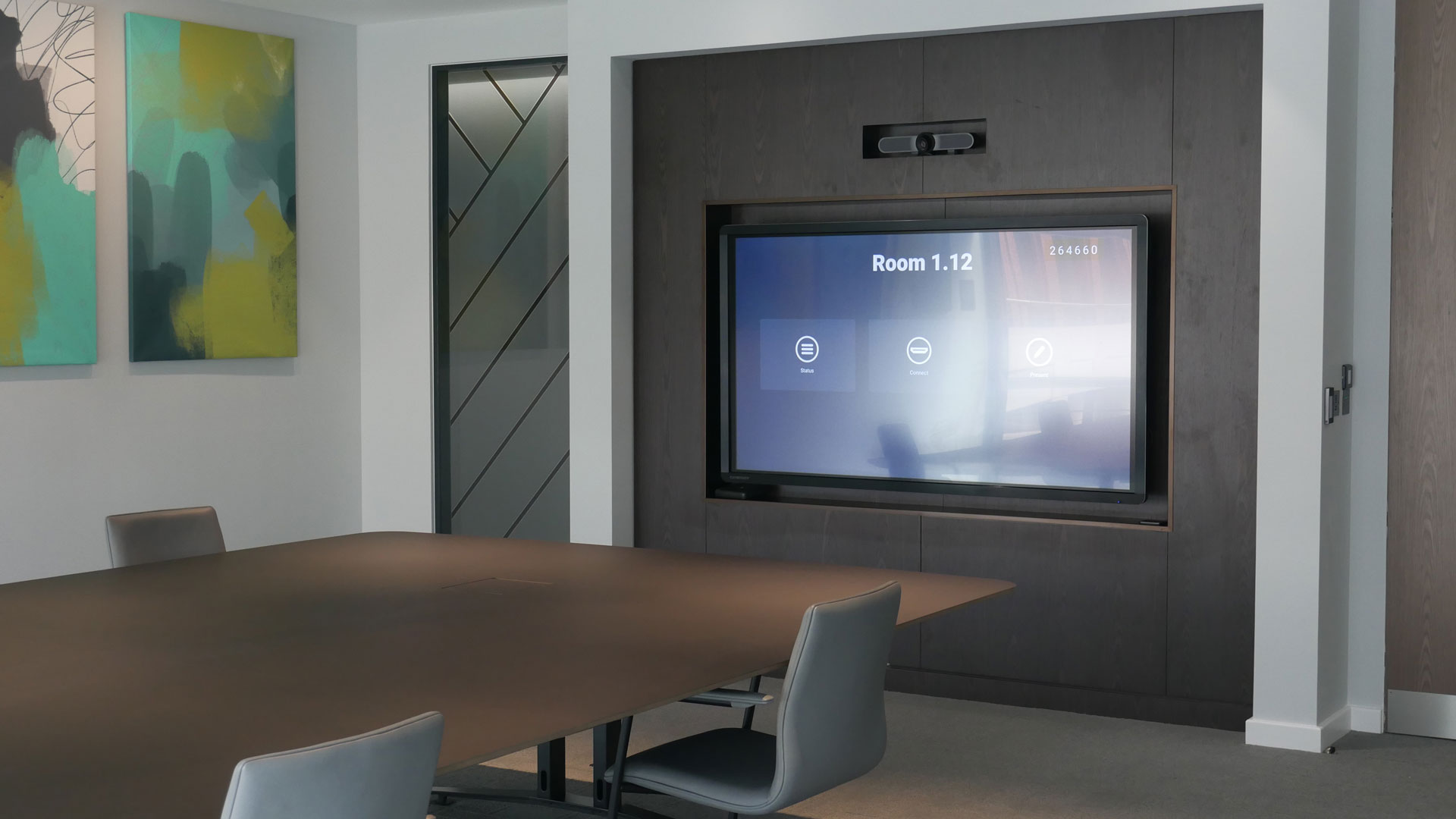 Typical Features and Solutions found in a Smart Meeting Room
A smart meeting room can be any space which allows people to come together either in person or virtually to collaborate and work together. Smart meeting room technology is any technology device that aids this process. The use of Interactive touchscreens is one such technology type. They allow digital documents to be viewed and worked on in a traditional manner. Workers use digital pens to annotate the digital documents in much the same way they would do on a paper document or flipchart.
A video conference system incorporating a camera and microphone are an essential feature of a smart meeting room. These are used to help participants communicate and collaborate as if they were all sat in the same space together.
A Wireless Conference system is another essential piece of smart meeting room technology. Used in conjunction with a video conferencing system, a wireless conference system allows participants to share content from an in room PC or BYOD, which can then be worked on together.
Room/Desk Booking Systems can be deployed outside of a smart meeting room to allow people to see easily the status of a room. This can be viewed via the panel or integrated with Microsoft 365, Outlook or Google calendar to allow smart meeting rooms to be booked for people's desktops. An organisation can effectively manage it's smart meeting room estate, making sure spaces are maximised for meeting purposes.
Occupancy sensors are a great addition to any Smart Meeting Room. These can be installed on the ceiling and are designed to control the technology in the room. When someone walks in for a meeting, the occupancy sensor senses their arrival and can be programmed to switch on the lights, switch on the display and even start the meeting. This not only means that meeting can run smoother, but also helps organisations control their energy usage by not having technology switched on in smart meeting rooms that are not in use.
How Universal AV Can Help?
Universal AV are able a range of smart meeting room technologies. We work closely with our customers to understand their workflow and where and how it can be improved. We can then make informed decisions on the best smart meeting room technologies available. We work with some of the industry's leading manufacturers to provide solutions which are compliant with modern industry standards, enabling organisations to benefit from smart meeting rooms which are well designed and fit for purpose, offering a return on their investment.
We take time to understand how our customers work and how they wish to work and select smart meeting room technology to enable that journey.
Start your project today
To discuss your audio visual needs for your next project contact us. We will work with you to devise a solution to meet your requirements and needs.
Call 01274 200280
Email sales@uniav.com
Send us a message
"*" indicates required fields