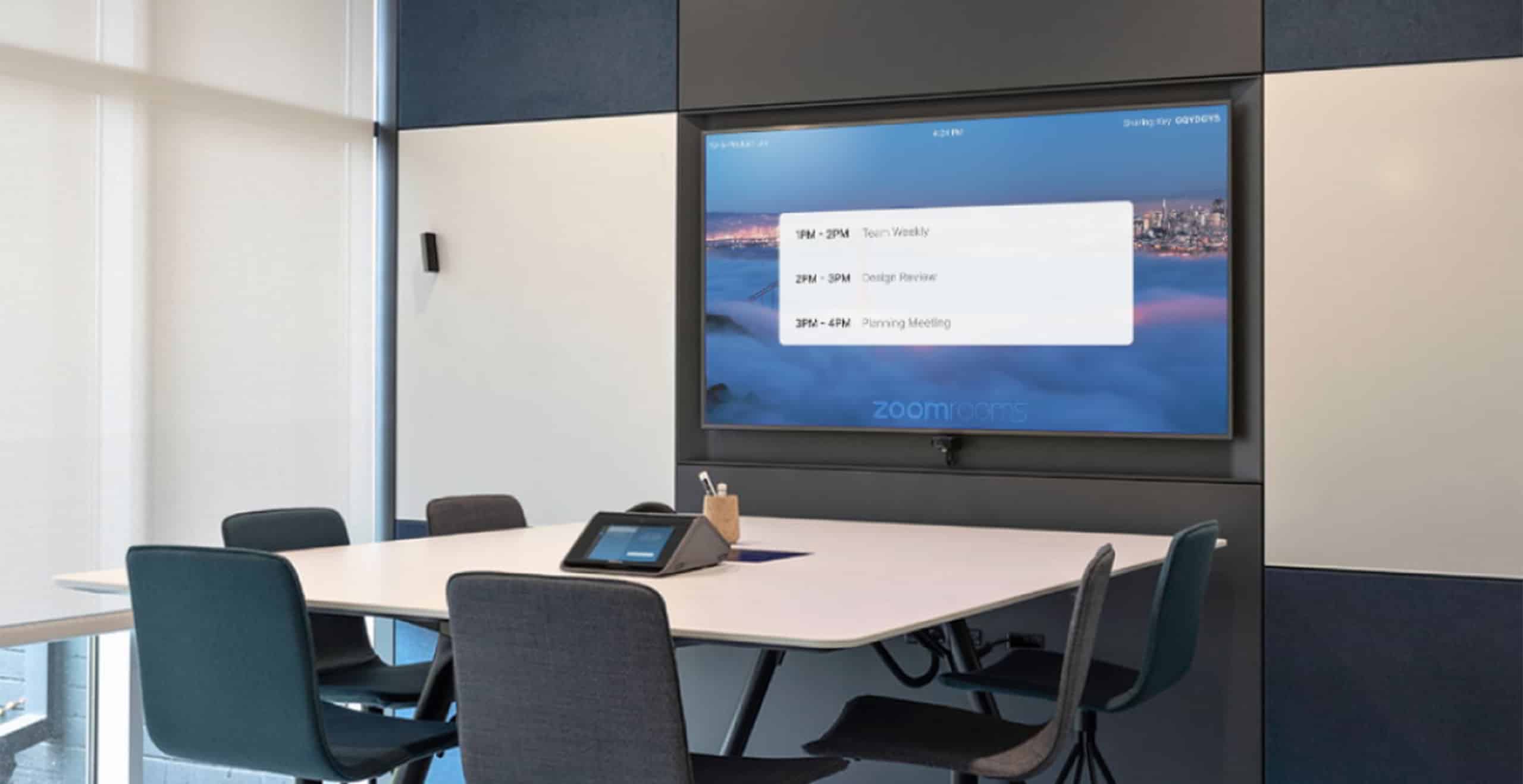 what are zoom rooms and how do they work?
what are zoom rooms?
Zoom quickly became a household name during the pandemic, with the workplace and families alike using the video conferencing solution to host remote meetings and the family quiz.  Easy to use for remote workers all you need to access the communications platform is the internet and a laptop or PC with a camera and speakers.  Creating an account is easy and at the touch of a button and entering of a code an online meeting can be held with multiple users.
A Zoom Room is a meeting room in any organisation that has the ability to facilitate a zoom conference call via integrated audio visual solutions.  Zoom rooms can be used for in room attendees only as a means to share information and collaborate, or invite remote participants in too.
Zoom Rooms take Zoom meetings to the next level. A Zoom room is a physical conference room software and Zoom hardware which makes meetings start simply. Zoom Rooms use pre-configured hardware room kits to run Zoom Meetings with just a tap of a button.
what are the benefits of zoom rooms?
Zoom hosts many benefits as a platform including:
HD video and audio
In built collaboration features
End to end encryption
Ability to record the meeting and transcripts
One touch start meeting functionality
Easy collaboration for in room and remote participants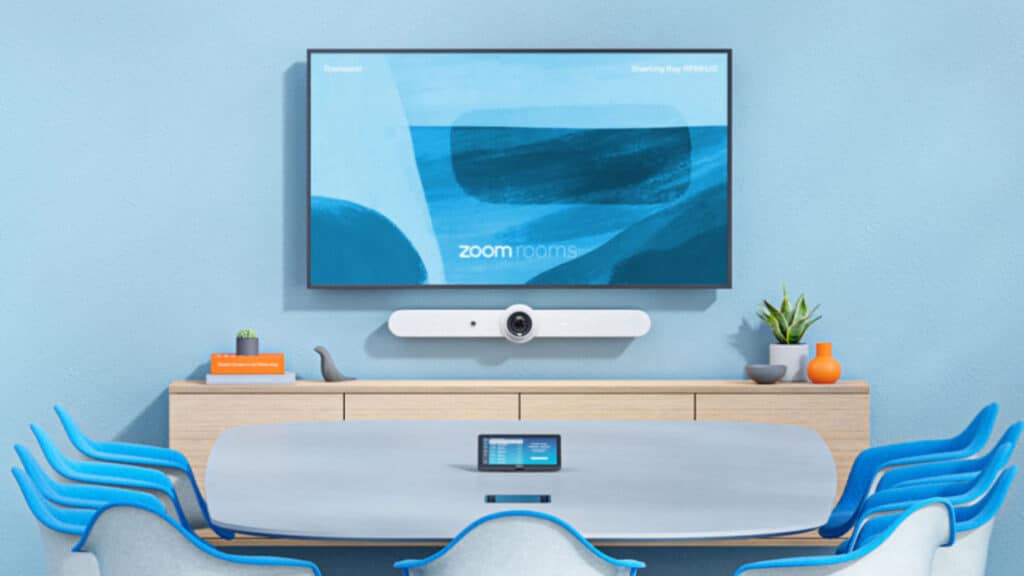 av solutions for zoom rooms
A Zoom Room relies on AV technology to provide an effective meeting. Zoom works with multiple leading manufacturers and ensure their products are compatible with the Zoom platform.
The required audio visual equipment is:
Touch screen control panel which hosts the Zoom software platform
Display Screens – depending on the size of the environment and the content to be shared. Is a touchscreen required?
Cameras – suitable for the size of room. Small spaces usually need a wide angled camera to capture all participants from close range. A larger room will need a Pan/Tilt/Zoom (PTZ) camera to cover a larger space. Are multiple cameras required to capture the speaker and the group? A multiple camera solution will often provide a more immersive experience which helps reduce presence disparity and promote positive user experiences, engagement and reduce meeting fatigue.
Audio is a fundamental part of any Zoom Room installation. The audio delivers the key message and if it is not clear then any video based meeting solution becomes problematic. Universal AV will assess the environment using sound mapping to determine the best audio products to use; where microphones need to be located to provide optimum coverage and pick up. In addition, Universal AV will determine if a room needs acoustic treatment to offer the best solution. We are able to supply either wall or ceiling mountable acoustic panels, available in a range of finishes to blend in with the aesthetic appearance of the space.
how universal av can help
To start a Zoom Room project, your first call should be to Universal AV. Our dedicated and experienced staff will come to your site and take time to assess how your organisation operates, how they meet and how they want to meet. We can then determine if a Zoom Room is appropriate to your business. We then guide you through the solutions available, making informed recommendations to offer you the best solution.
Contact us and we can discuss which approach works best for your organisation.
Start your project today
To discuss your audio visual needs for your next project contact us. We will work with you to devise a solution to meet your requirements and needs.
Call 01274 200280
Email sales@uniav.com
Send us a message
"*" indicates required fields