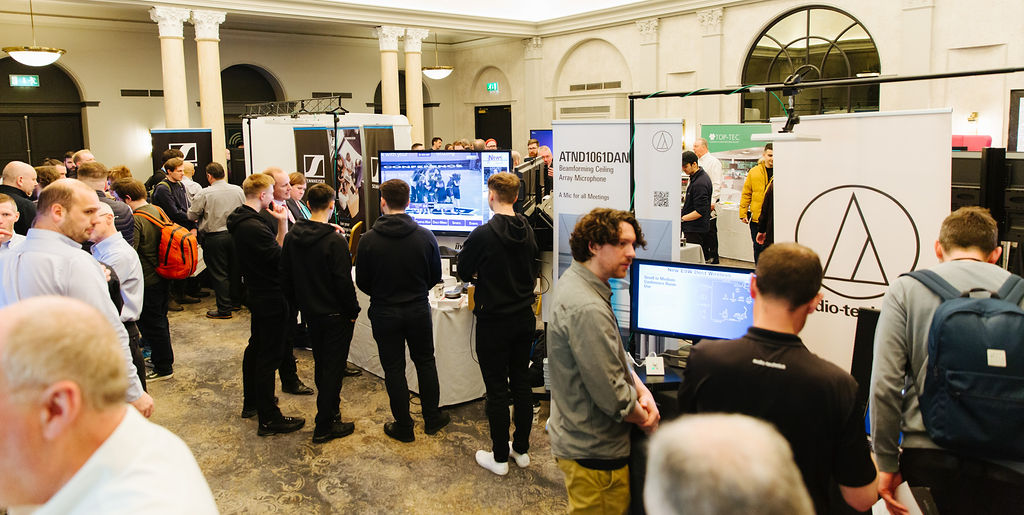 Universal AV align with Global Manufacturers to Showcase Audio Visual hybrid working solutions in the Leeds City Region.
Audio visual technology and solutions are often not really understood by those outside the industry so we believe as a company in the local region it is important for us to showcase what the industry has to offer and the solutions needed to help streamline workplaces and HE institutions, and bring the technology to you.
March 2nd 2023 saw the team take up residence at The Queens in Leeds, across 3 meeting spaces and showcase a range of solutions from large scale projection and display through to the meeting room technology that allows you to share your work or make a call at the touch of a button. We had it all and from lunch onwards, we opened our doors to customers, and those in the region for a spot of lunch, technology, networking and drinks reception. For those that missed it all, take a look below at just how good the event was and what you missed.
Starting with the A's…….
Ascentae
Ascentae is a technology distributor of essential workplace solutions. With technologies all focused on tackling the challenges of hybrid working and hybrid learning, enabling transformation in the way organisations can embrace change, collaborate and manage their workplace the stand and solutions were always busy. Ascentae's aim is to be a trusted advisor with a deep and proven understanding of the current workplace solutions delivering innovative and intuitive technologies through a valued partner network such as Universal AV.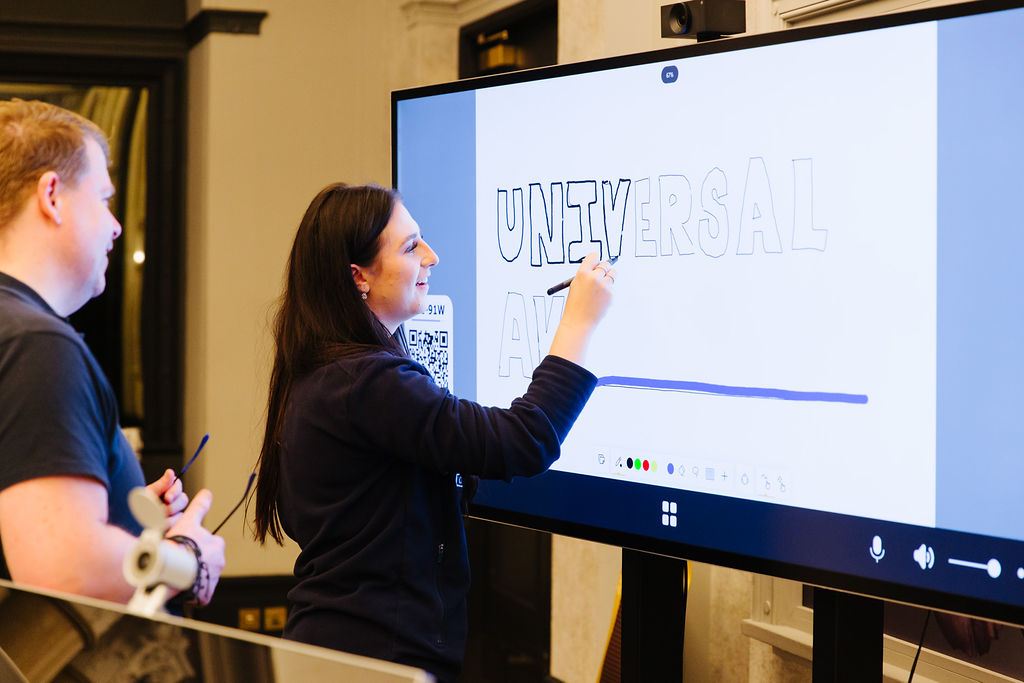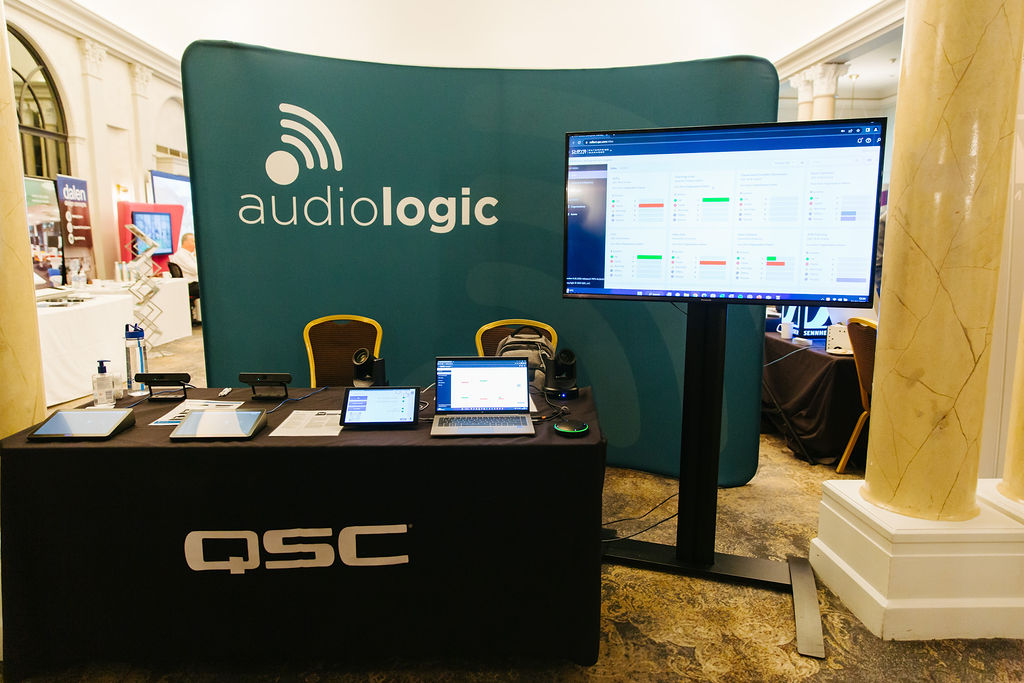 Audio Logic
Q-SYS helps you move away from single-purpose AV hardware in favour of centralised, scalable software-based AV solutions.
Q-SYS enables the best meeting experience in every space, with our certified Microsoft Teams solutions. The Q-SYS solution has a wide range of Teams-certified audio, video and control to optimise the Teams Rooms experience even in your highly complex high-impact spaces.
Audio Technica
Audio-Technica were showcasing the latest in ceiling array microphone technology. Offering 6 dynamic beams from 32 capsules and programmable priority and exclusion zones, the ATND1061DAN ensures that whoever is speaking in the room will be heard clearly. They also showcased their new installation speakers and innovative, digital zoners from Optimal Audio and the latest acoustic products from Artnovion.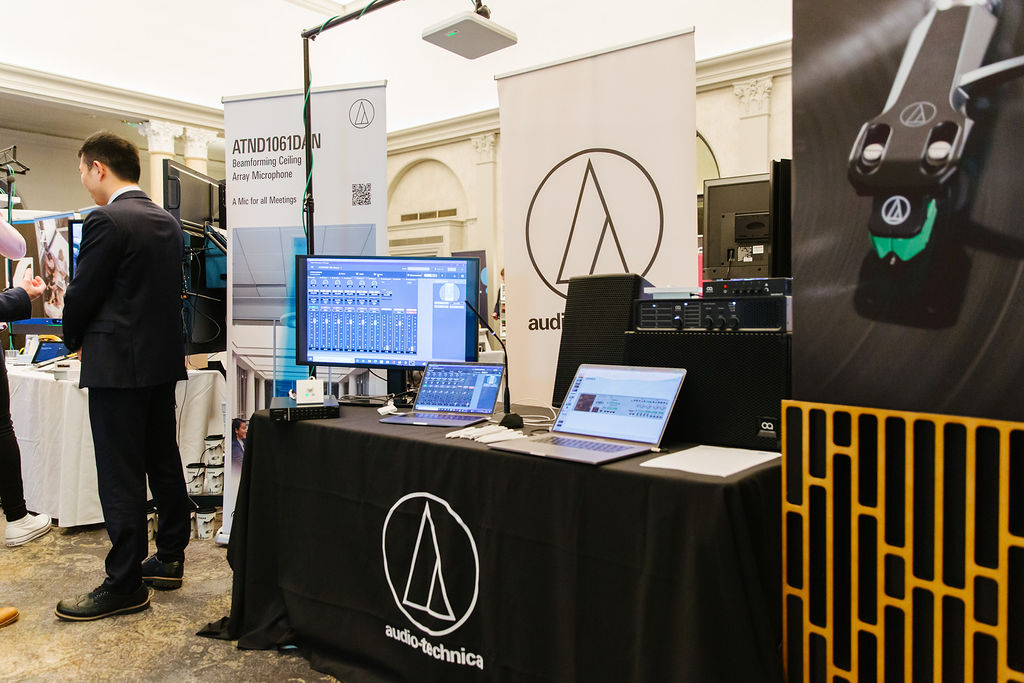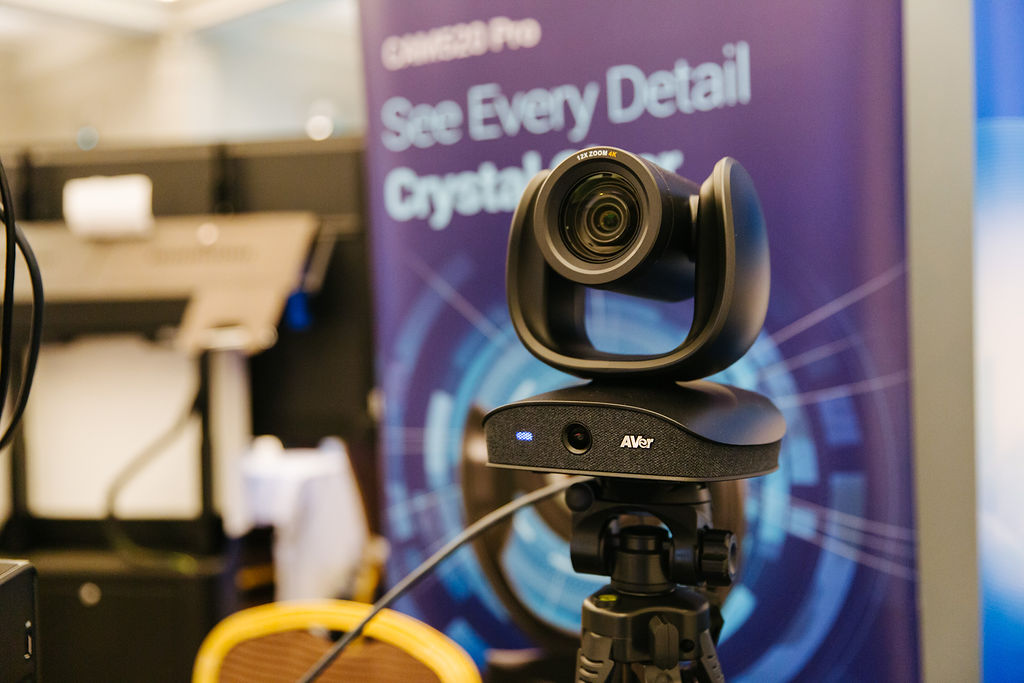 Aver
Brought 3 cameras to the Party.  CAM570 – Perfectly Tracks and Captures Attendees.  A 4K dual lens audio tracking camera for medium and large rooms.
VB342PRO – The high quality 4K PTZ lens delivers unprecedented vivid images and clear details. Intelligent AVer AI features come together to create a crystal-clear AI powered meeting experience.
DL10 – Equipped with high portability and a lightweight design, anyone can use the DL10 to directly connect to his/her laptop via USB port to start distance teaching anywhere.
Barco
ClickShare CX-50 – Premium wireless conferencing for large meeting rooms and boardrooms.
In the hybrid workplace, you need to ensure that your teams are continually in close collaboration with one another. ClickShare CX-50 is a premium agnostic wireless room system designed to facilitate exactly this. Connecting you in less than seven seconds and allowing users to participate in completely wireless and productive hybrid conferences.
The Universal meeting room showcasing this solution was always super busy.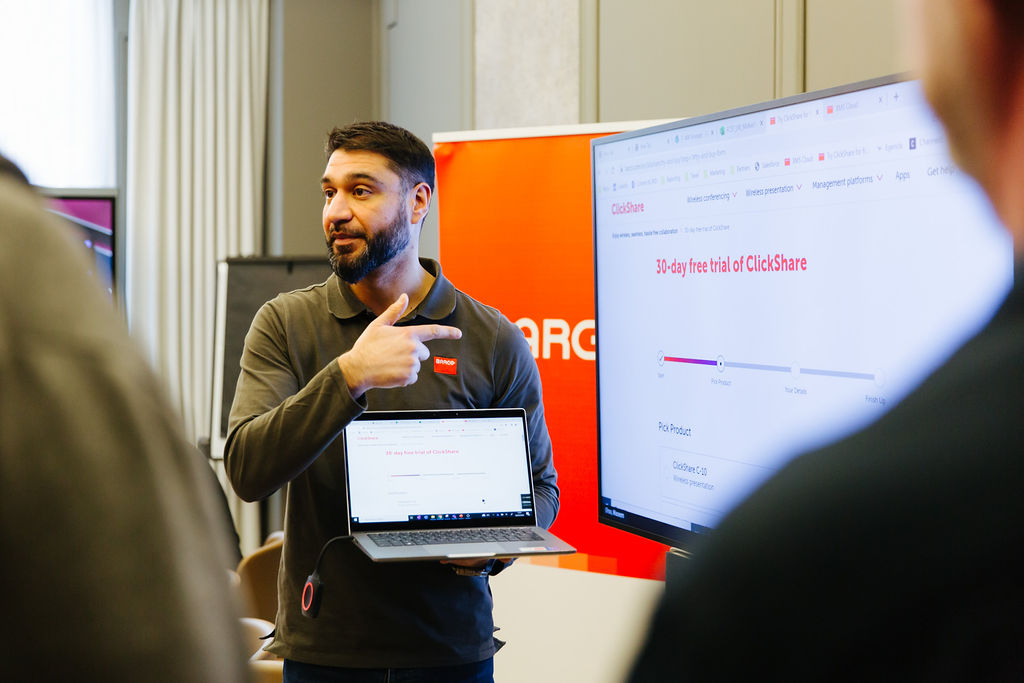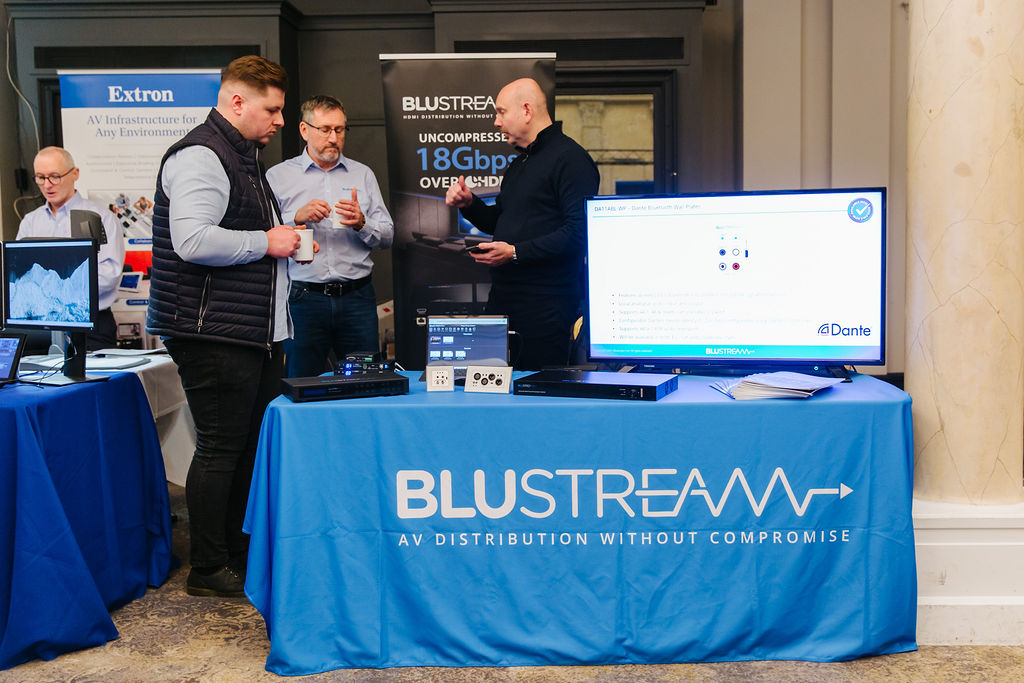 Blustream
Blustream is the audio visual industry's award winning option for advanced AV distribution. Their products have been designed and engineered by a global team of AV specialists with over 30 years experience. As an official HDBaseT™adopter and alliance member, Blustream is firmly positioned at the forefront of this advanced technology. Through integration of the latest pioneering chipsets their engineers have developed, what they would describe as, the world's most innovative range of AV distribution products.
Clevertouch
Solutions for every organisation
Visitors can take a journey through the Clevertouch future destination office, and immerse themselves in the newest meeting room solutions offered by the partnership combination; Logitech, Intel, VideoWindow, DisplayNote and Clevertouch.
Standardising the end user experience with simple to use technology is the key to this partnership, and the combination of products featured will  demonstrate exactly that.  Clevertouch exhibited their award-winning enterprise and Further/Higher Education solutions for in-room and remote or hybrid meetings, plus Microsoft Certified MTR solutions alongside their digital signage CMS and room management solutions.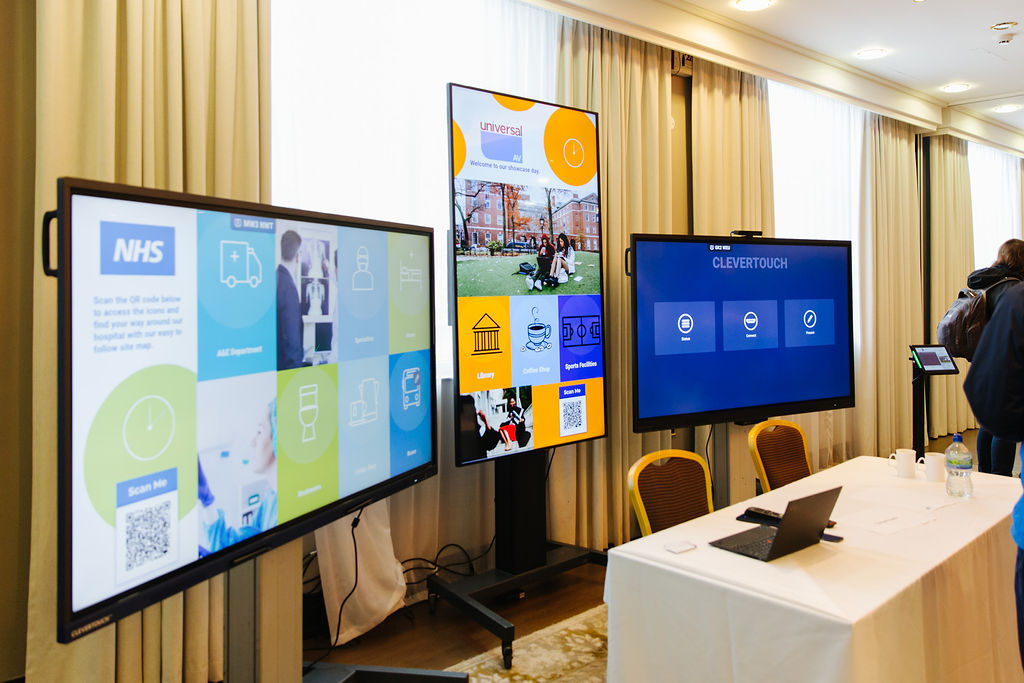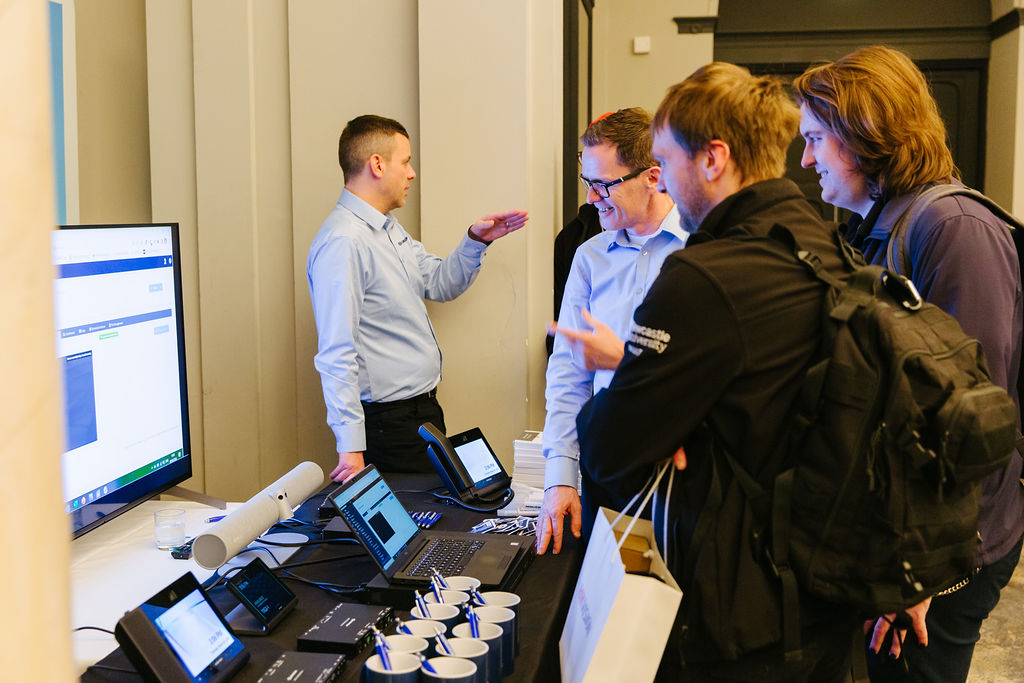 Crestron
Crestron is a global leader in workplace technologies, engineering and transforming corporate automation and unified communication solutions for enterprise organisations across FTSE 100 companies, campuses, government, military, hospitality and more.  Crestron Showcased:
Flex
Soundbar
AirMedia
HD-PS Switch
Room Booking
1Beyond Intelligent Video
Dalen
Such a long standing partner for Universal, we were delighted to welcome back Dalen, and were excited to see their latest and greatest solutions.
TOP-TEC – The education brand specialises in creating audio visual integrated and collaborative furniture solutions for the education market.
Dalen Design Concepts – The corporate brand focuses on providing collaborative solutions for corporate training spaces and meeting spaces.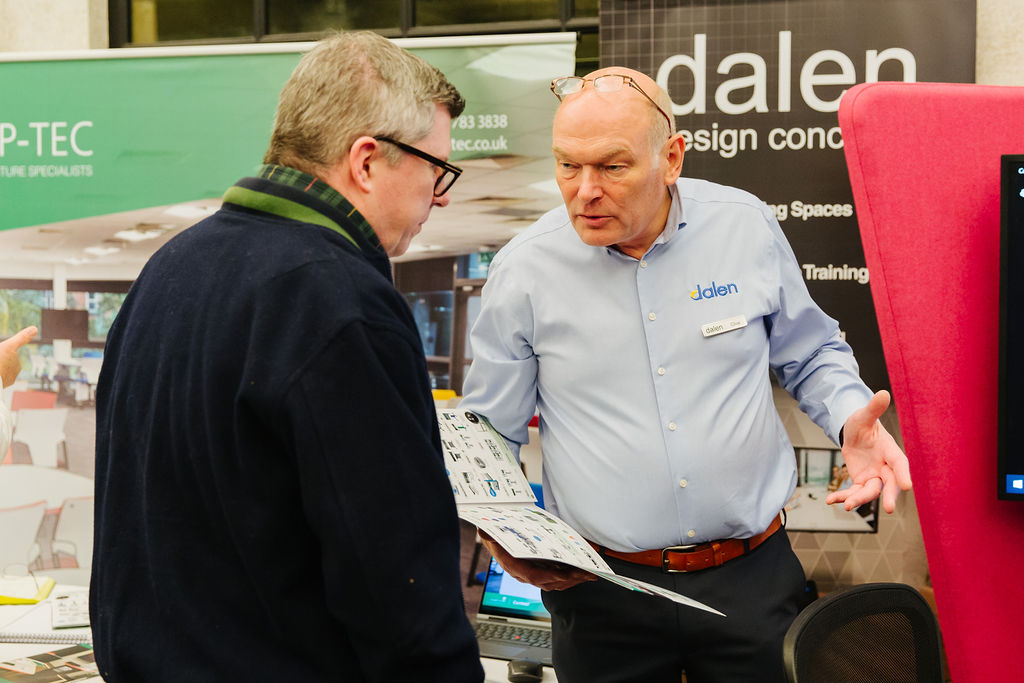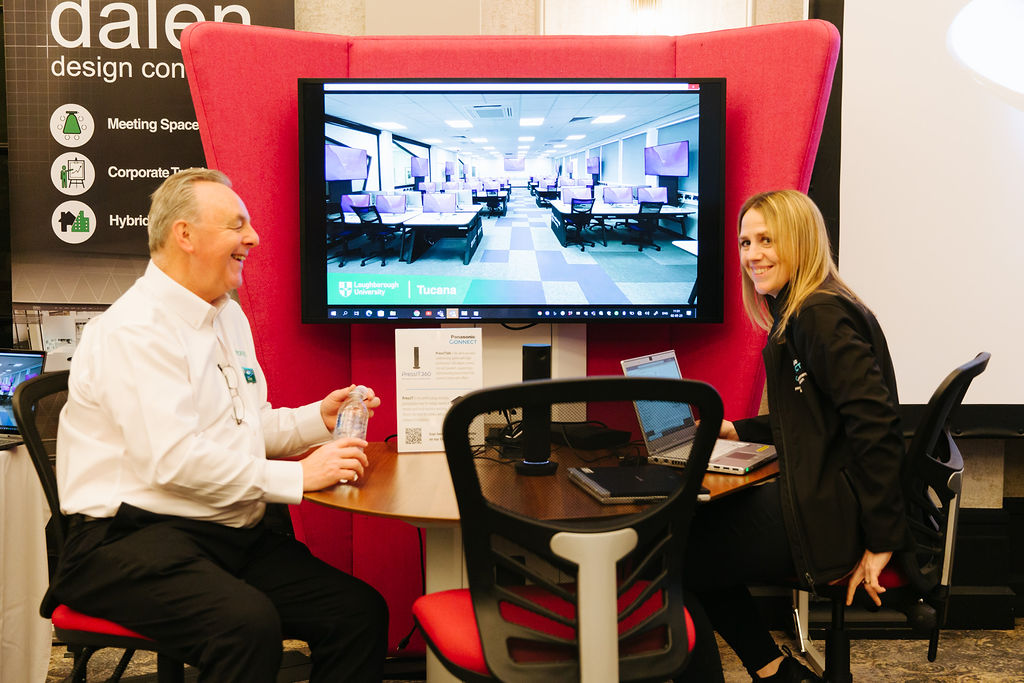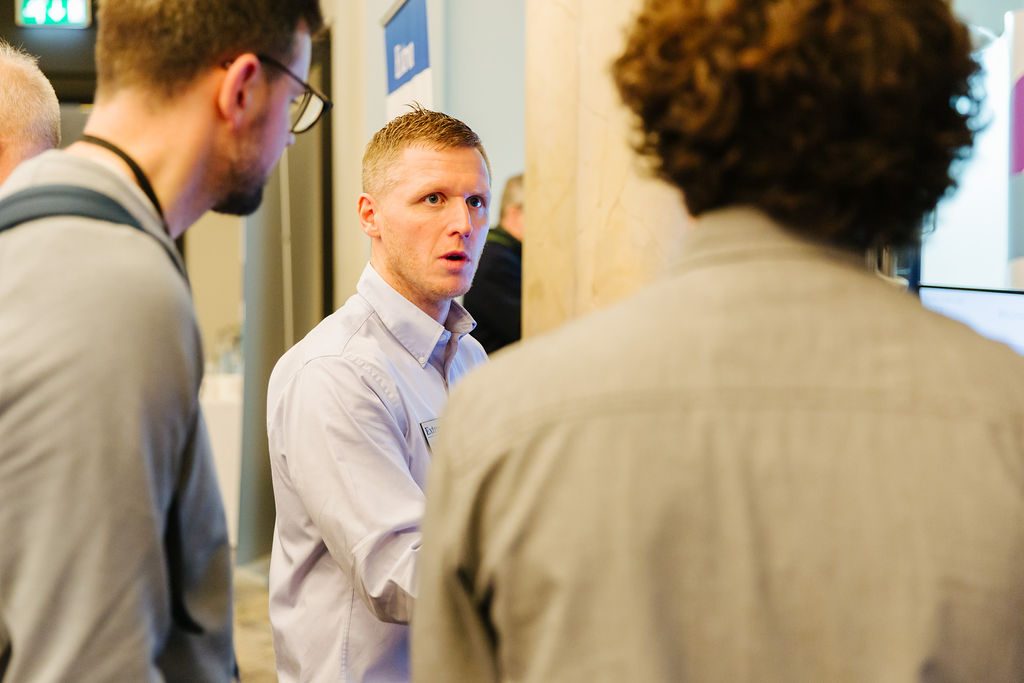 Extron
Extron and Universal's partnership goes back a long way and Extron wanted to showcase varying solutions for different environments.  They showcased:
Room Scheduling with WayFinding
NAV
Extron in MS Teams solution
MediaPort 300
HikVision
Hikvision were a new addition to the Universal event. We really wanted to showcase different options for large format displays.  HikVision manufacture Commercial displays, a range of AV equipment including LED displays (indoor fine pitch and outdoor) LCD video walls, Interactive flat panels and digital signage solutions.
A 108" LED utilising 4 of the latest P.125 cabinets along with a 110" 1.8mm bezel LCD video wall gave Universal customers the opportunity to see both technologies running side by side.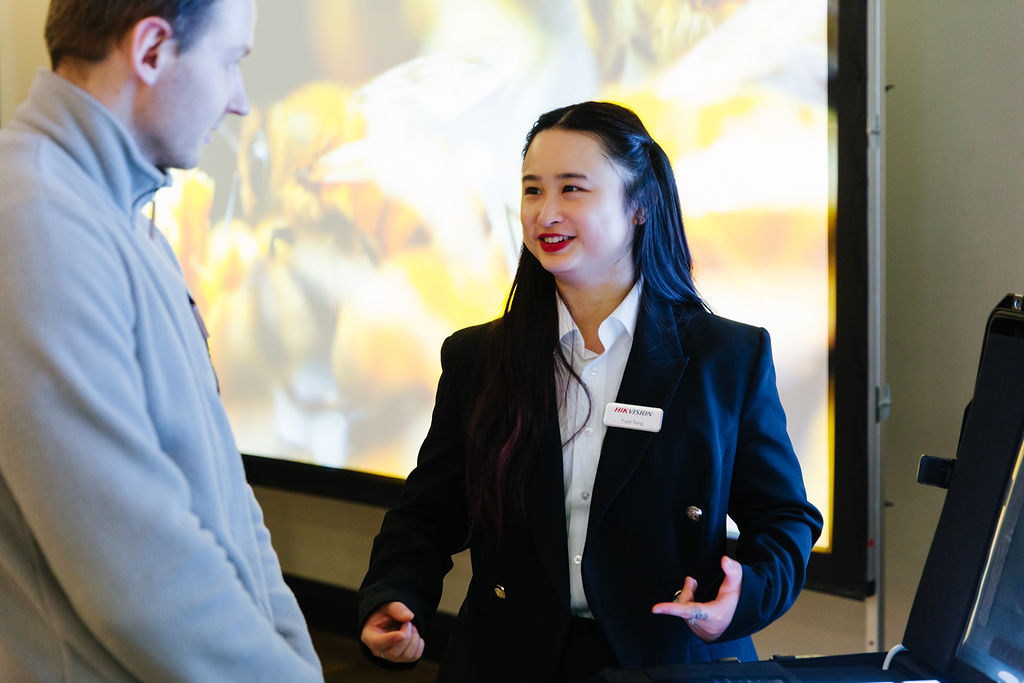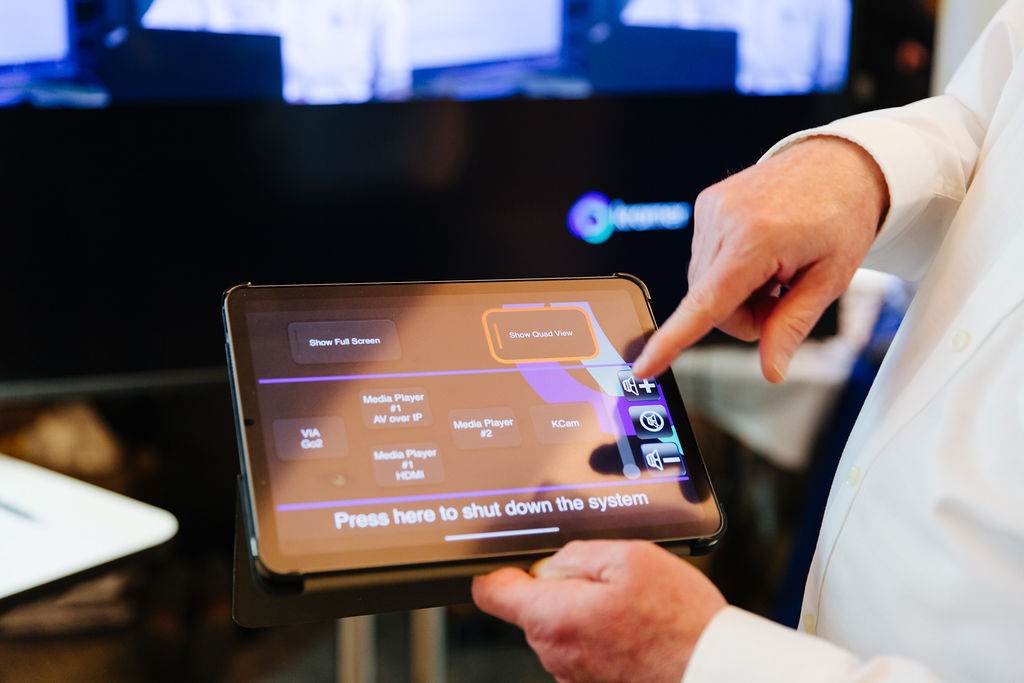 Kramer
Kramer empowers people and organisations to connect and collaborate on ideas. The technology is easy to install and intuitive to use.
Midwich
Being a distributor, Midwich come to the show with an abundance of technology. This year they showcased:
Biamp – the new VBC2500 all-in-one 4K conferencing bar, featuring a 27-microphone array & Biamp's Beamtracking technology to deliver premium AV experiences for small & medium spaces.
Brightsign – the global market leader in digital signage media players! Brightsign was shown on an interactive screen, with a number of pre-loaded templates to showcase its innovative designs & ease of use.
Iiyama – 65" 4K, 20-point touchscreen – perfect for Education or Meeting spaces.
Lenovo – the Lenovo ThinkSmart Core Full Room Kit (including the computing device, controller, camera & microphone bar) – available for Teams or Zoom.
Roomz – a wireless e-ink workspace management solution for meeting spaces, huddle areas & shared desks, with incredible autonomy on the battery (dependant on usage) for 2-4 years.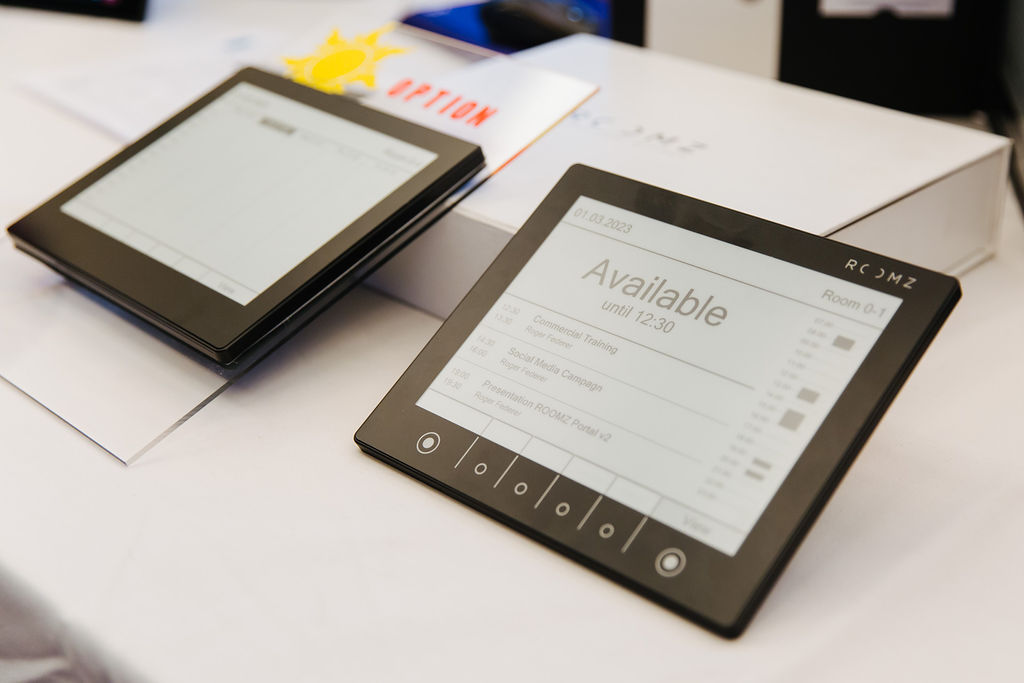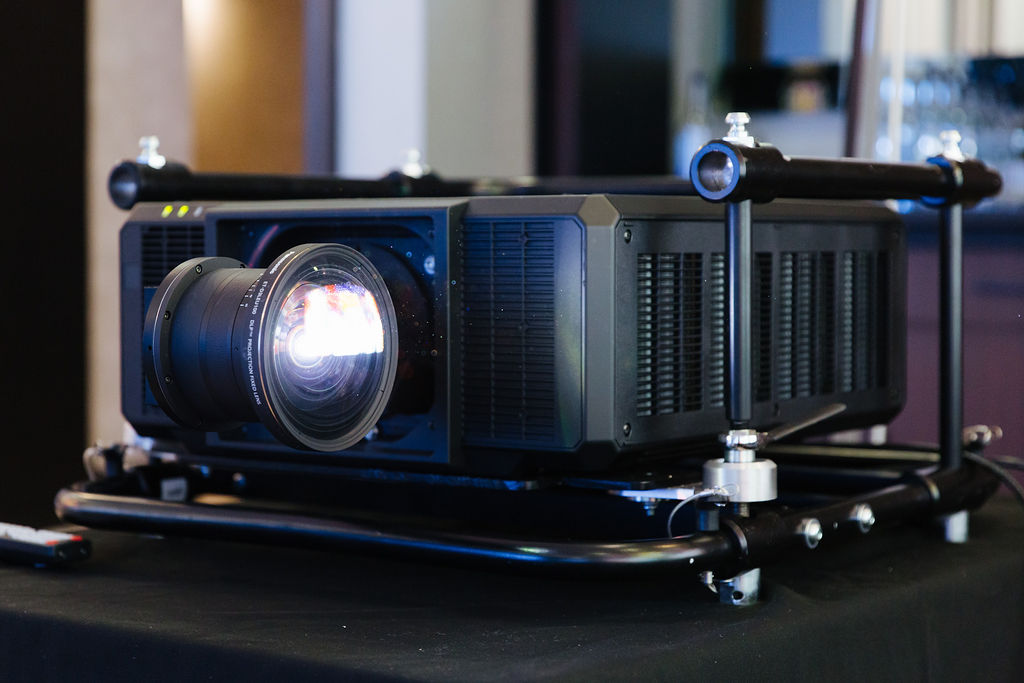 Panasonic
Panasonic Connect is a global manufacturer of Projection, Large Format Display, Professional Camera and Collaboration Solution technologies that aims to provide Audio Visual Solutions from the point of image capture to display. Working with market leading organisations in education, corporate, rental, staging and leisure sectors, we help deliver the highest quality audio visual experiences.
We were delighted that Panasonic showcased a number of new solutions. The REQ Series Projector delivers vibrant 4K images in a compact chassis alongside the recently launched EQ2 4K commercial grade displays. Both these units feature the Intel smart display module for unrivalled functionality. New hybrid working conditions puts collaboration front and centre, Panasonic compliments its visual displays with a range of collaboration tools such as the PressIT and new PressIT360 that also featured at the show.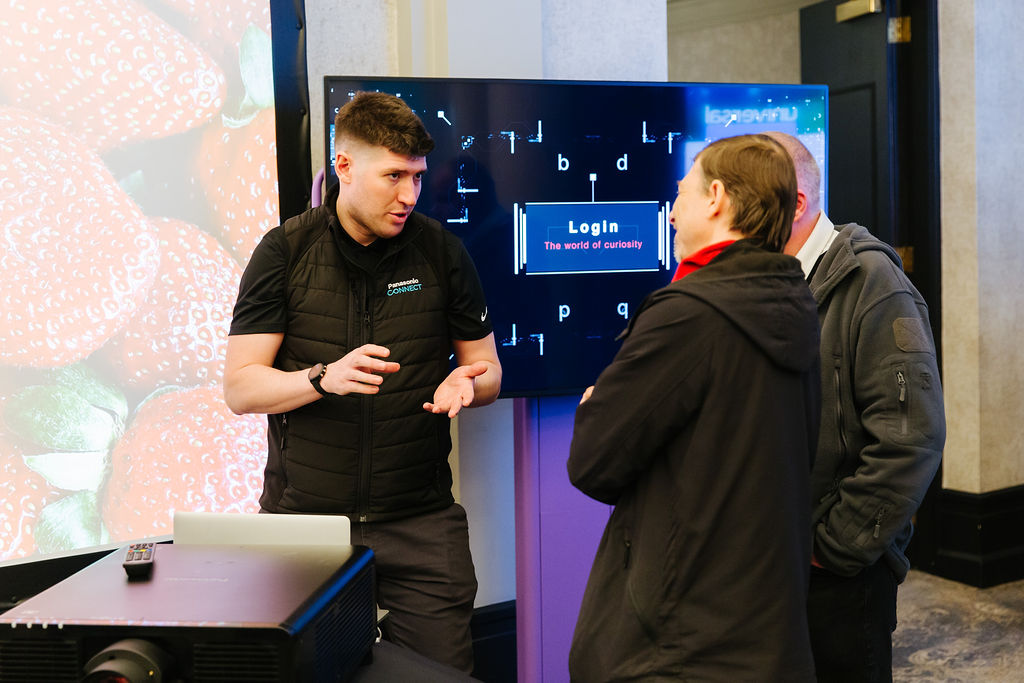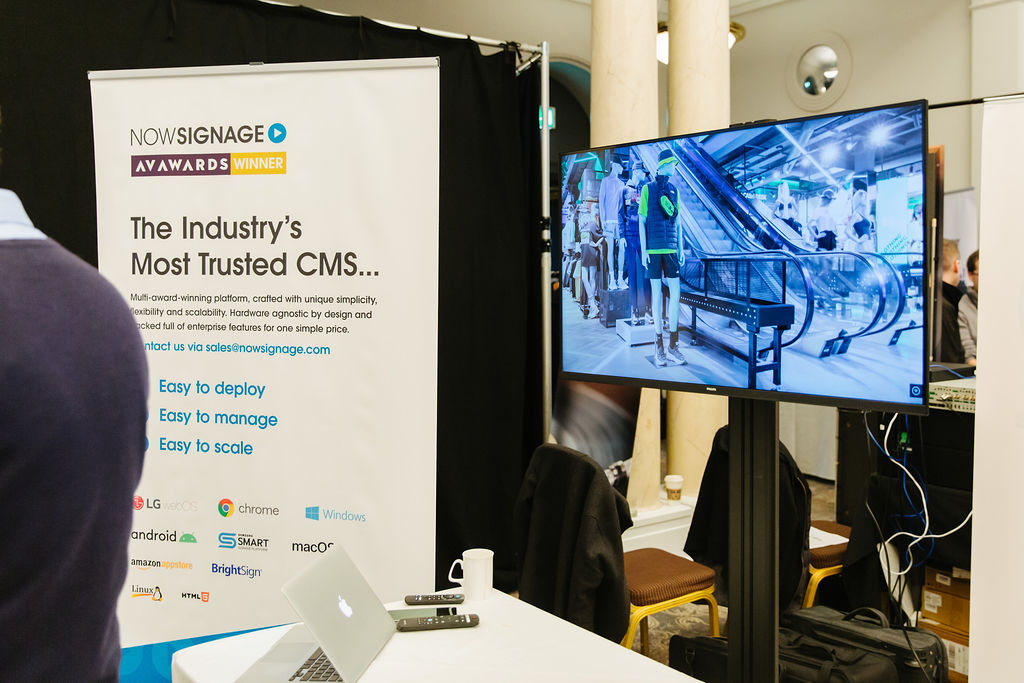 Philips and Now Signage
Now Signage were a collaborative team player at the event. Working with Philips and others to showcase their digital signage solution.
Now Signage is the award wining cloud based platform for digital signage, crafted with simplicity, flexibility and scalability.
Philips Professional Display Solutions deliver advanced innovations that enable to brighter and more connected future, They aim to help create inspiring teaching and learning experiences.
Sennheiser
Sennheiser's mission is to be your preferred partner for audio solutions with the goal of optimising your working and learning environments. From important lectures and presentations, touchless audio meetings with 100% freedom to unlimited, barrier-free information transfer – Sennheiser have been leading the field with innovative solutions for over 75 years. Through the network of Sennheiser global partnerships, you have the freedom and flexibility to design your own ecosystem without restrictions.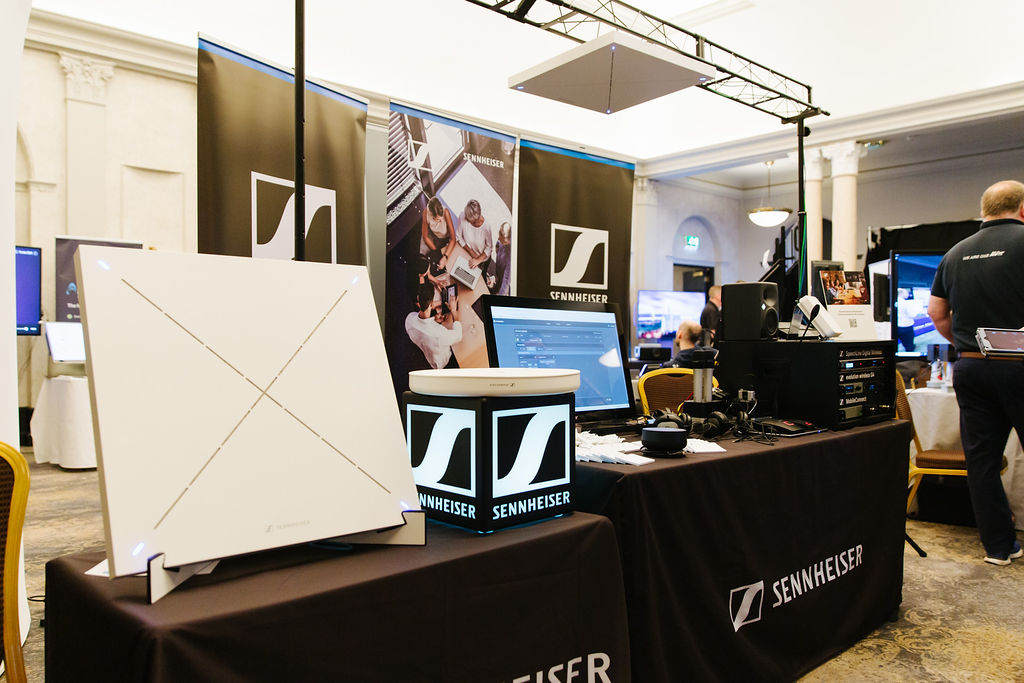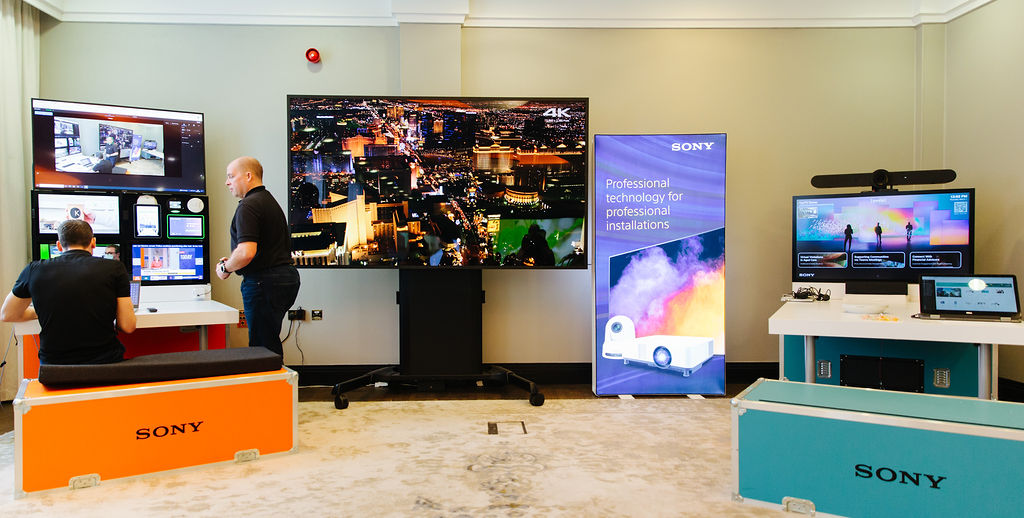 SONY
Along with their high quality, BRAVIA professional displays, Sony demonstrated the AV Award winning TEOS workplace management solution and the much-revered SRG-A12 4K PTZ camera, with built in AI for auto-framing launched at ISE23. Universal AV were the first integrator to have the camera since the launch at ISE and delegates were suitably impressed.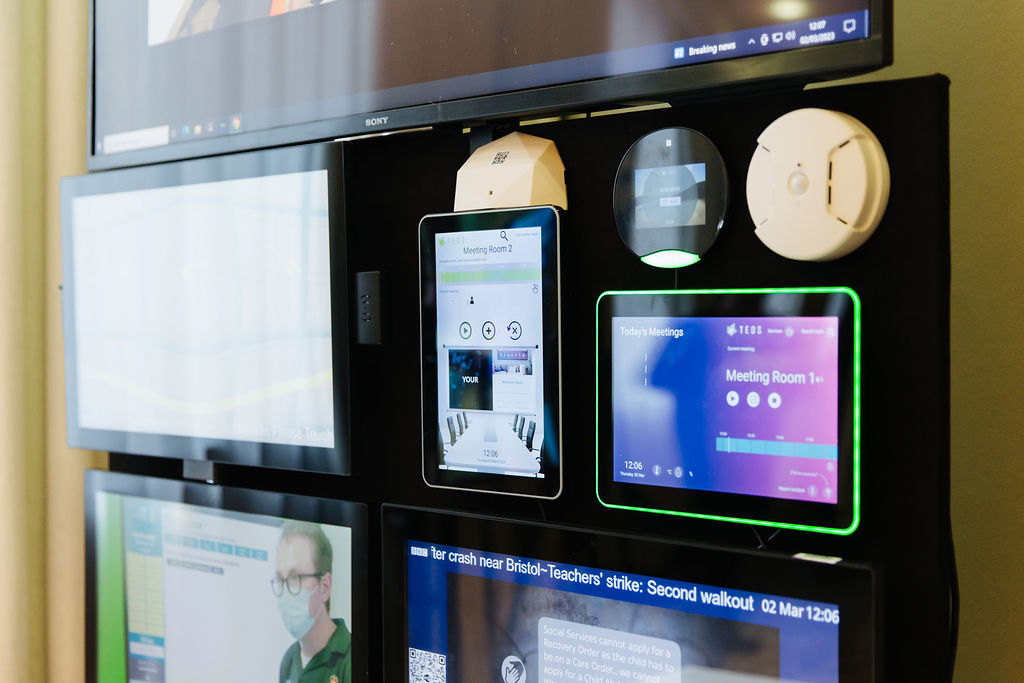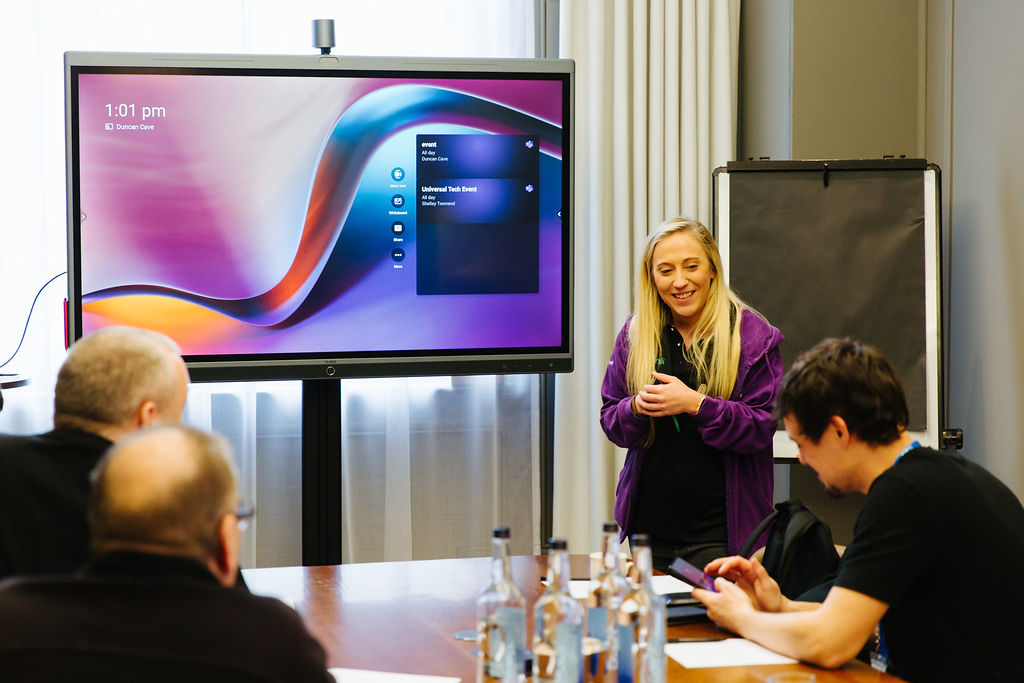 Yealink
Yealink have been working with Universal for a little while now and we wanted to showcase together how simple a meeting room can be.
We showcased the Yealink MeetingBoard MTR Solution. This combines everything in the room, from the computing unit to a wide 65″ touchscreen collaborative display, 4K camera, microphone arrays, speakers and built in Microsoft Teams. This really is a solution in one unit.
So there you have it, a whistle stop tour of what was on show at the event.  For this event, we tried to push boundaries. We did not just want a room full of technology, we really wanted to showcase solutions to the end user and demonstrate the environments those solutions might be used in.
The feedback we received from customers and manufacturers alike was superb.
One customer commented, "It is like an ISE for the North of England, with all the manufacturers you want to see and not having to walk the length and breadth of the ISE exhibition."
Manufacturers were impressed with the scale of the event, how it has grown and the quality of attendees and have already asked how they are able to sign up next year. For us as a company it is purely about showing the solutions that make life easier in work and taking away any barriers. This event provides the perfect opportunity to do this and we are already planning the next one. Watch this space.
Start your project today
To discuss your audio visual needs for your next project contact us. We will work with you to devise a solution to meet your requirements and needs.
Call 01274 200280
Email sales@uniav.com
Send us a message
"*" indicates required fields