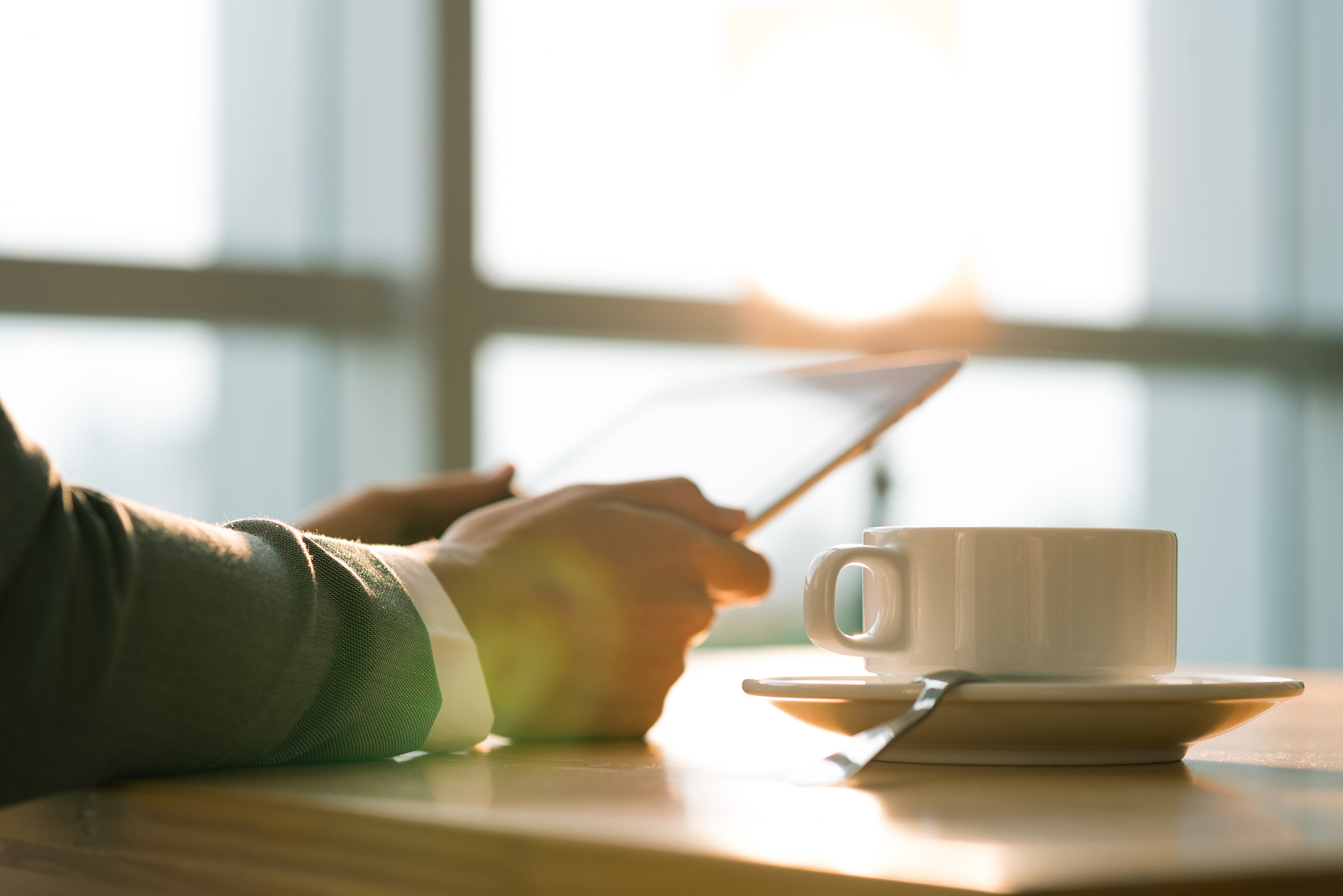 Universal AV Showcase – Hybrid and Digital Solutions for Every Environment
Our last event ran in 2020 the week before the world went crazy and we were confined to our homes to work with only one hours exercise permitted per day outside the home.   Fast forward (not fast at all in real terms but a long old slog) a little over 2 years we were delighted to be able to open the doors on another Universal AV Services Technology Event.
There was an abundance of technology on display from world leading manufacturers all showcasing digital/hybrid solutions to meet any environment needs.
We opened the doors at 12 noon on the 27th April and the delegates arrived in droves, registered and unregistered all were welcomed warmly with no fist bumps in sight and after a spot of light lunch the exhibition was opened.
We wanted to provide a little round up of what was on offer for those in attendance and for those unable to attend. From digital signage and room booking to control systems and large scale projection and furniture we had it all. Take a look at what was on show below:
QSC & Teams – Enabling the best meeting experience in every space.
Many high-value spaces, such as boardrooms, divisible rooms, training rooms, or auditoriums, have been a challenge to outfit with the optimal audio, video and control solution. Q-SYS helps solve this challenge by letting you design to the needs of the room, while maintaining Microsoft Teams Room Certification.
Benefits Include:
Simple Connectivity
Purpose-built for Your Space
Guided Optimization
Harness the Power of Q-SYS Control
Automatic Multi-Camera Switching
Harness the Power of Q-SYS Control
Remote Monitoring & Management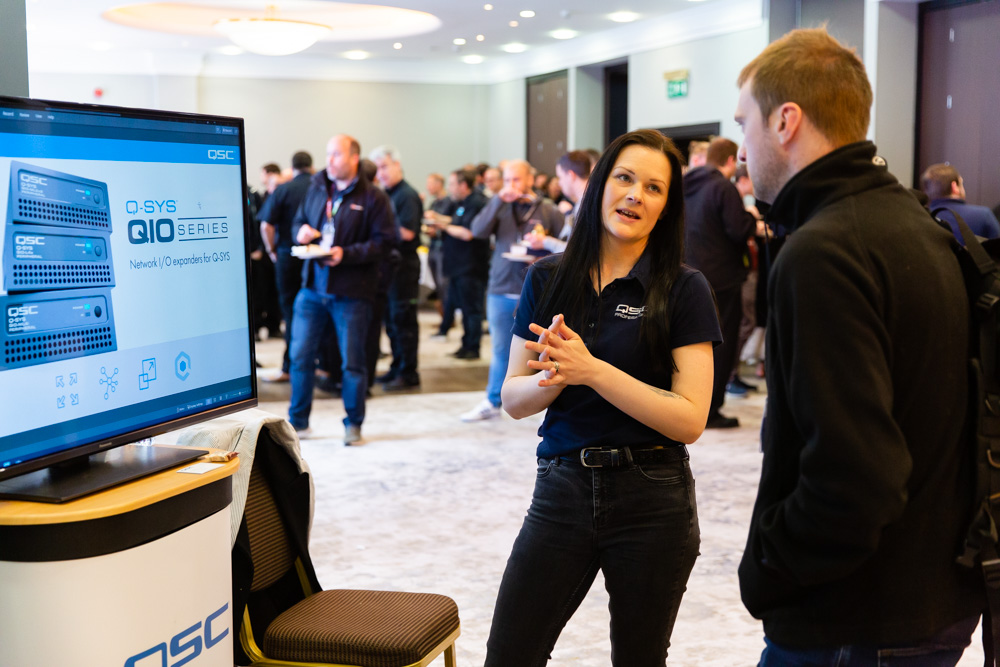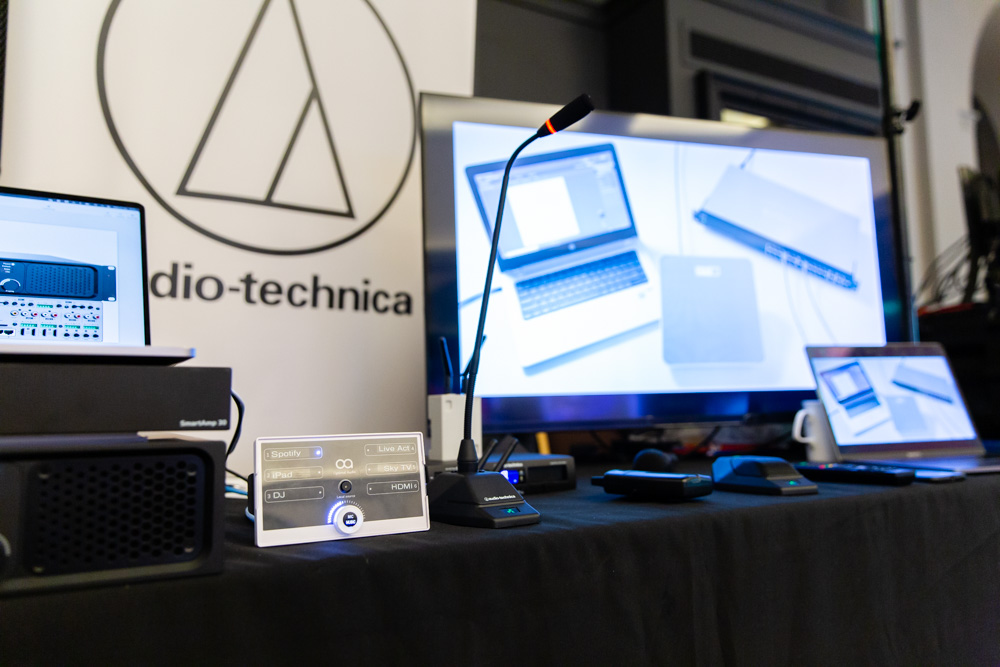 Sound really does matter with Audio Technica
"With the rapid increase in Hybrid Meeting Spaces and the use of video call equipment, it's more important than ever that audio is clear and people can be heard. The ATND1061 ceiling array microphone sits in the ceiling grid and offers 6 dynamic beams, from 32 capsules, that will home in on whoever is speaking, even if they move about the room, whilst 16 programmable exclusion zones block any unwanted noise.
Artnovion acoustic panels help reduce reverb in a room, caused by sound bouncing off hard surfaces, further improving the intelligibility of the system, whilst the custom designs will please even the most discerning of interior designers"
Touch or Not to Touch – CTOUCH have the answer
The CTOUCH Canvas stands out in every meeting room! Its unique CTOUCHABLE™ design invites you to instantly touch the screen. It is designed for business and meets the highest security standards and by simply adding the Teams Go module, you can turn your CTOUCH touchscreen into the most flexible and efficient device for teamwork. Microsoft Teams, Zoom, Pexip or Google Meet, Miro or Jira? The Canvas has you covered!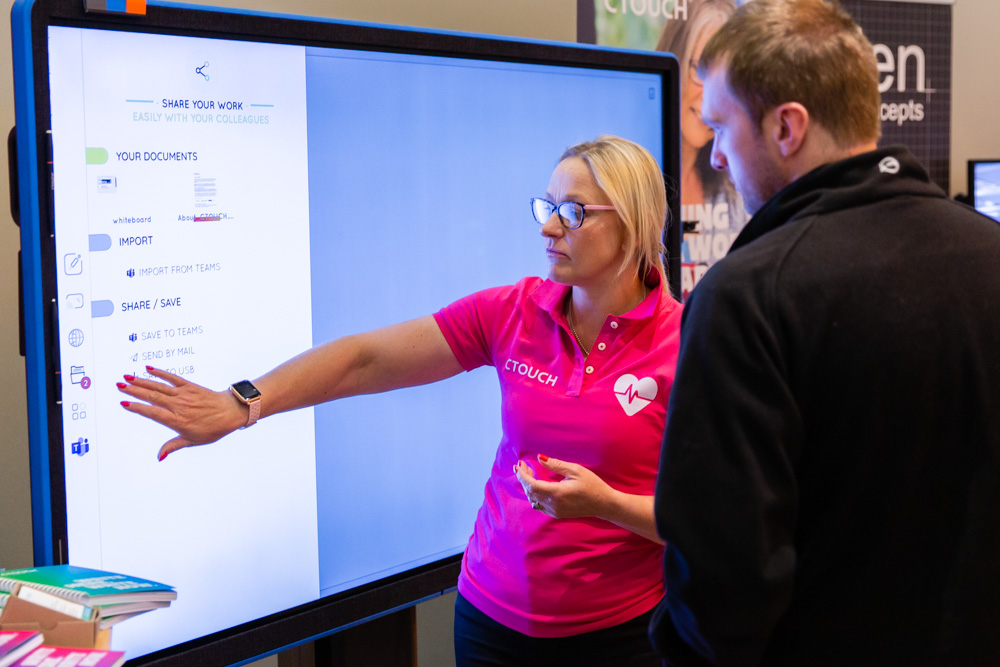 TOP-TEC solutions for education
Showcasing the brand-new Rise, a flexible learning solution designed to give the user the ability to rearrange classrooms on the fly and create different learning environments to suit their teaching style on the day. A must for today's teaching environments.
The unit can be used as a traditional display while the screen is raised and can also be partnered with flexible desks for collaborative group work. The screen can be retracted when it is not needed, providing clear line of sight for students.
Dalen Design Concepts
Fit-for-purpose Synergy meeting spaces were a hit the last time Dalen came to town and this time was no different. The Synergy range can be fully integrated with AV and IT equipment and provides an all-in-one, plug and play solution. Available in a number of table shapes and sizes, the diverse range of tables can provide a solution for any size meeting room.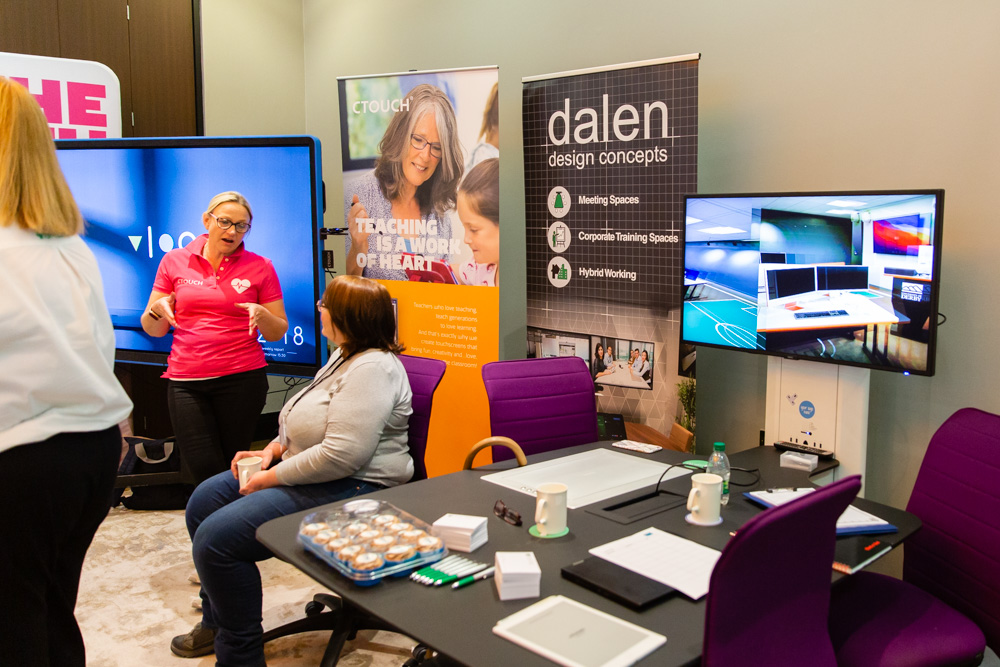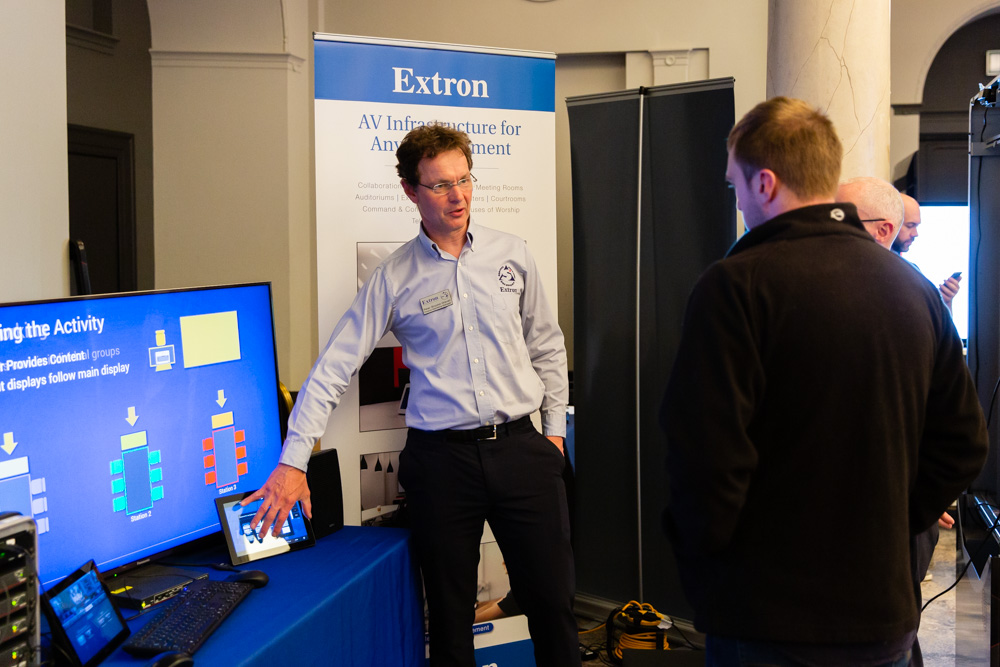 At the touch of a button – Extron
The ShareLink® Pro 1100 is a 4K Wired and Wireless Presentation System that enables anyone to present content from computers, tablets, or smartphones on a display for easy collaboration. It supports simultaneous display of up to four devices.
NAV Pro AV over IP – NAV® is the only no-compromise Pro AV over IP solution for distribution and switching of ultra-low latency, high quality video and audio signals over an Ethernet network at low bitrates. It delivers groundbreaking performance with real-time, visually lossless video over IP.
The Extron MGP 641 is a multi-window processor that scales and presents up to four 4K/60 source signals on a single screen with unequaled image quality. Live input or graphic images can be arranged anywhere on the output canvas, which can be rotated for landscape or portrait orientation.  Fully customizable window layouts, video keying, and window transition effects enhance content presentation. These features allow the processor to deliver content that is ideal for high-end environments and live events.
Kramer talk collaboration with customers
Kramer are dedicated to delivering better, smarter solutions that enhance physical-digital engagement and collaboration. Kramer solutions are based on cutting-edge products and technologies for traditional AV, AV over IP, unified communication and collaboration (UCC) and wireless collaboration, and advanced management and control.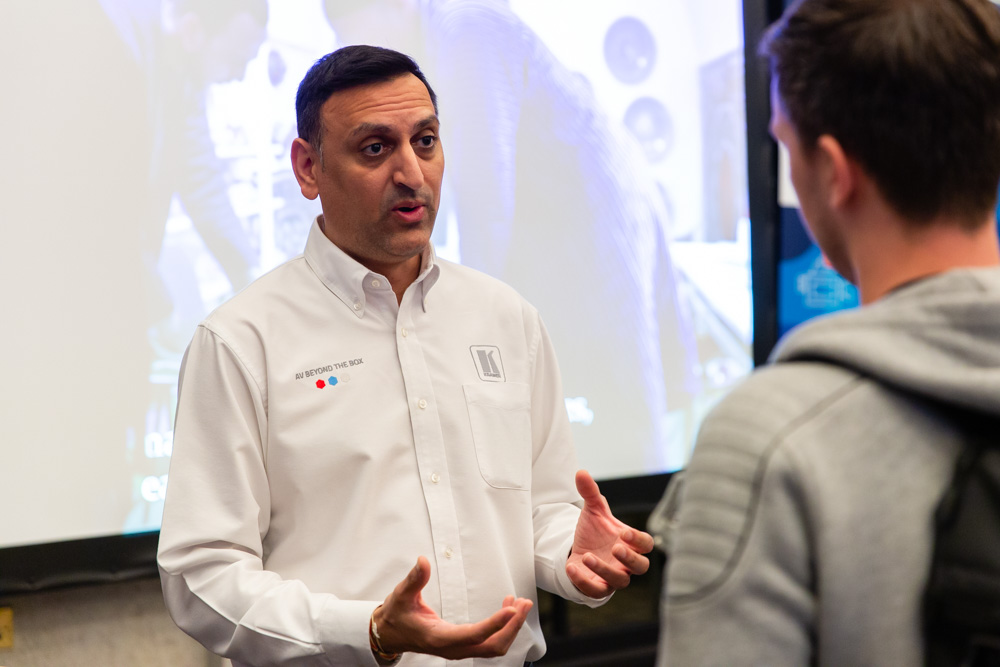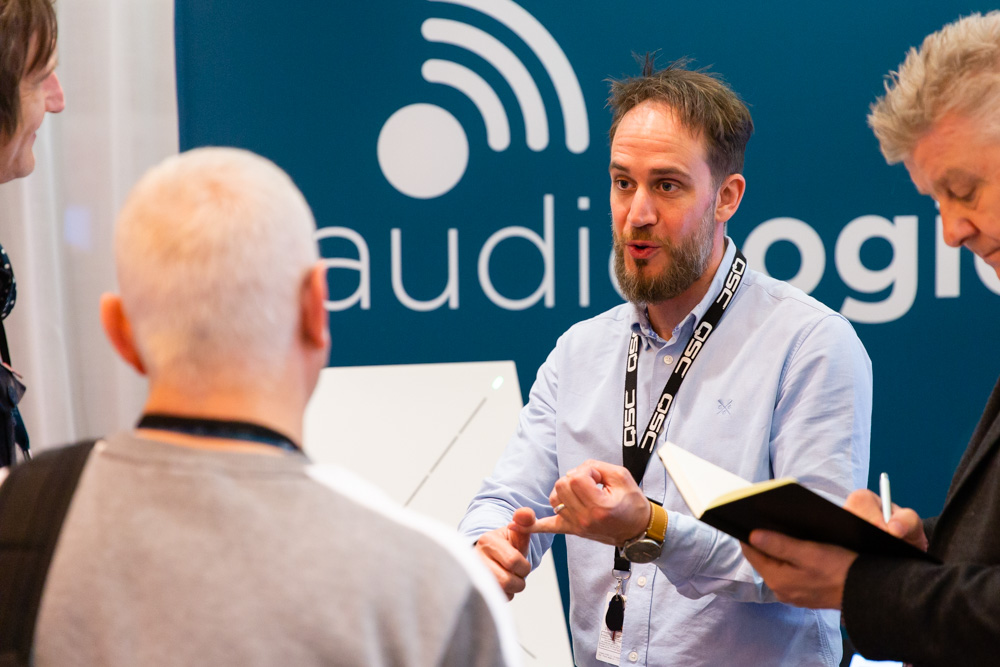 Solstice for any Environment
Solstice is a high performance, in-room meeting collaboration platform that improves the usability and productivity of meeting and learning spaces. Users on any device can simultaneously share high resolution content to in-room displays in one step and can also manipulate the content using a drag-and-drop interface.
Solstice Conference
An agnostic room system that enhances video conferencing with rich content sharing.
Solstice Conference makes meeting and learning spaces interoperable with all major conferencing platforms by wirelessly connecting the conferencing services on users' laptops to the room display and audio/video peripherals.
Solstice Active Learning
Software-based video routing for multi-screen environments. Solstice Active Learning is quick to deploy and easy to use, allowing instructors to drag-and-drop video feeds among multiple displays. Dramatically less expensive, no matrix switcher and no AV programming required. Much faster to deploy, just one ethernet-connected Solstice Pod per display. Incredibly easy to use, use the drag-and-drop app to map rooms and route video.
Midwich – A solution for all.
Midwich showcased two different UC solutions – the first one being a build your own featuring iiyama's 65" 4K interactive screen with 20points of touch, Lenovo's ThinkSmartHub (available for Teams or Zoom), Barco's CX wireless conferencing solution & Huddly's FHD camera with options designed for huddle areas up to large meeting spaces. The second solution a Sharp/NEC's 55" 4K resolution all-in-one Windows Certified Collaboration Display, where a single USB-C cable connects your device with the display to auto sync the built-in camera, speaker, microphone & touch functionality.
Also on display was market leader in digital signage (Brightsign) & a battery powered, wireless e-ink room booking solution (Roomz).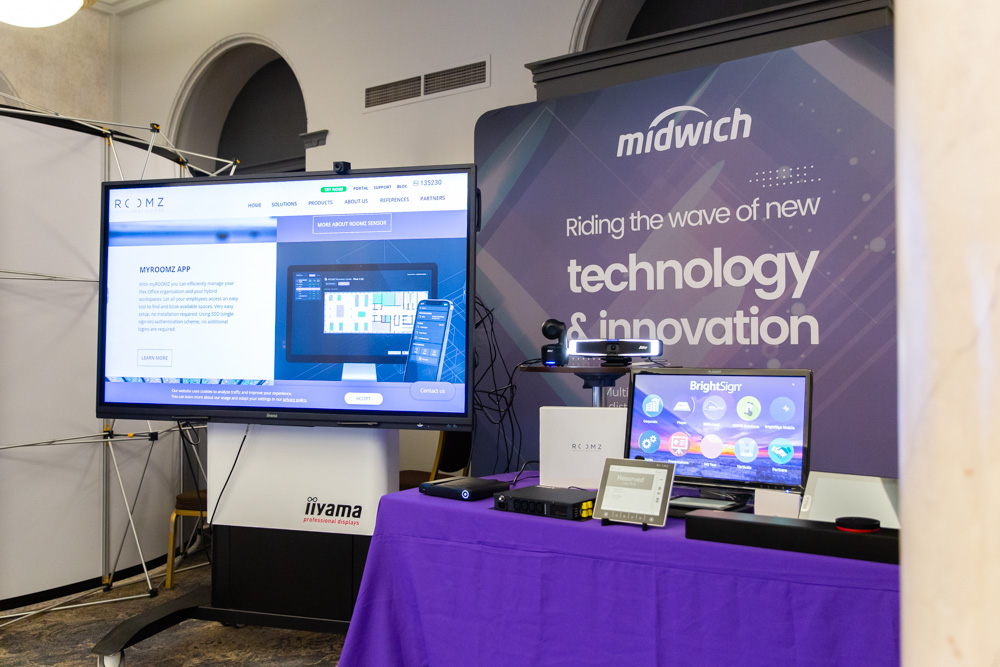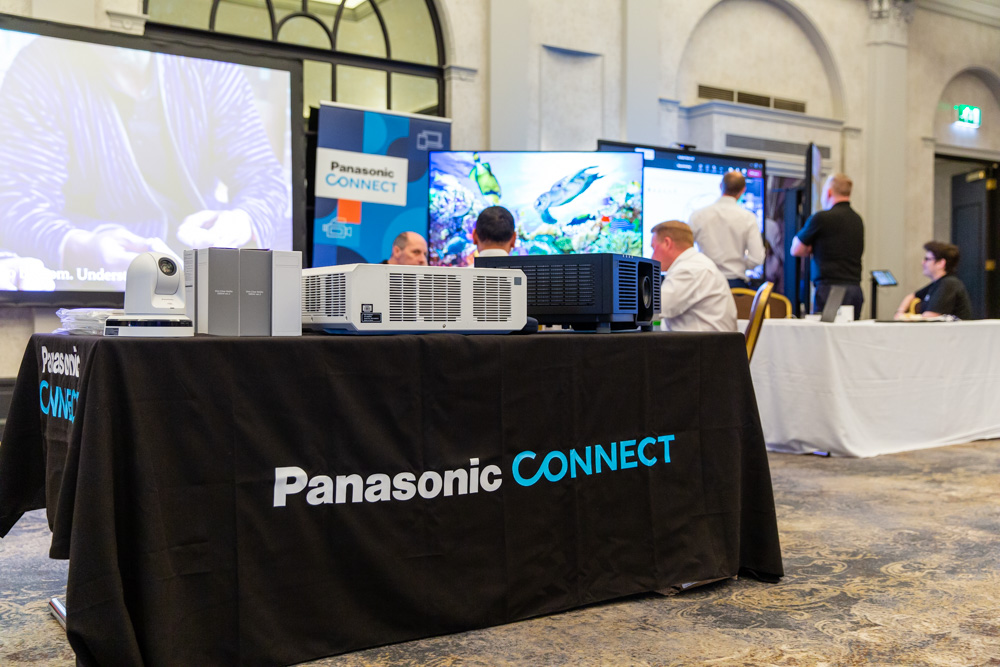 Panasonic
Panasonic needed no introductions.  Panasonic is a global manufacturer of Projection, Large Format Display, Professional Camera and Collaboration Solution technologies that aims to provide Audio Visual Solutions from the point of image capture to display. Working with market leading organisations in education, corporate, rental, staging and leisure sectors, help deliver the highest quality audio visual experiences. Panasonic demonstrated the latest in projection to a captive audience and wowed.
Peerless – Famous for brackets and mobile stands showcased – Xtreme Outdoor Display – There has never been an outdoor daylight readable display built to withstand the harsh outdoor elements like the Peerless-AV® Xtreme™ High Bright. Featuring an IP66 Rated design and a patented thermal exhaust system, Xtreme High Bright Outdoor Displays are fully protected against water, dust, moisture and even insects.
Dual sided Freestanding Kiosk – Designed to support two ultra-thin or thicker commercial displays, this kiosk accentuates the sleek look of the flat panel displays, while providing ample space to integrate a media player, interactive touch system, camera etc., to create a complete interactive kiosk experience.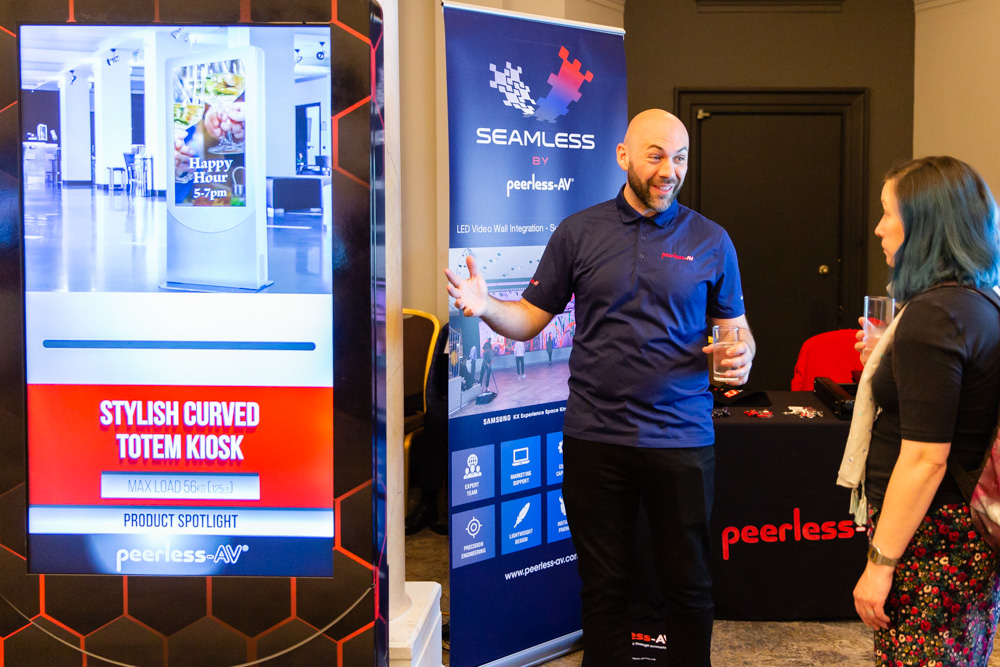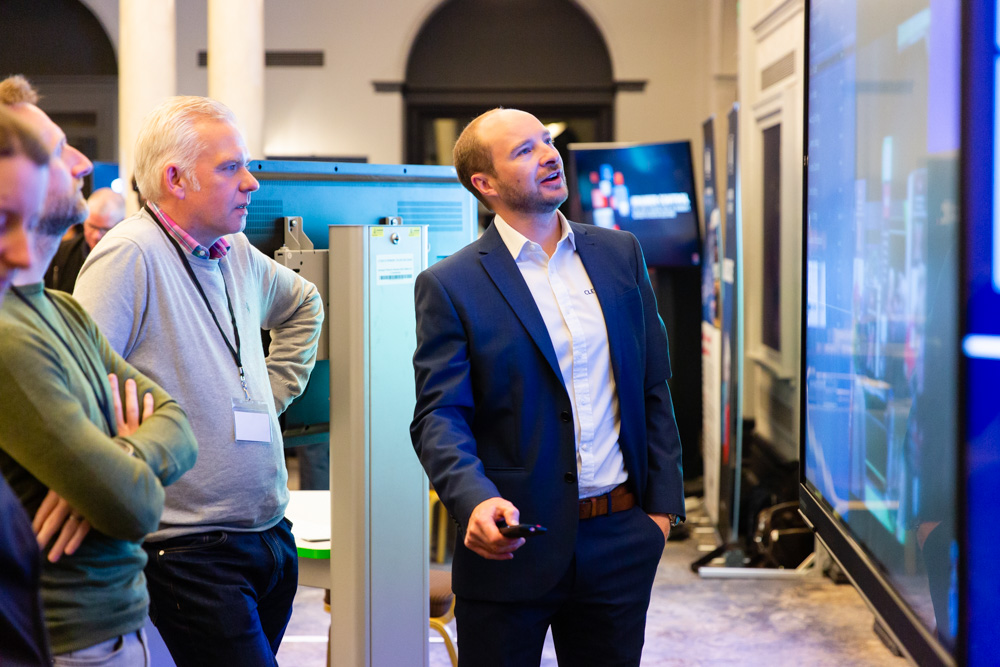 Clevertouch Transforming how you communicate
Clevertouch Live – transform how you communicate.  It provides a one content management platform to control all your display screens.  No setup fees, no subscription fees, no ongoing fees!
Room Booking –
https://www.clevertouch.com/uk/products/room-booking
This room booking solution adds value to your organisation by improving meeting room booking efficiency.  With a centrally managed platform that enables you to book from your desktop PC calendar or live at the source, the room booking solution – Live Rooms – also integrates with the Clevertouch Digital Ecosystem so you can send messages across your digital signage screens, interactive display panels as well as room booking.
CM Series: https://www.clevertouch.com/uk/products/digital-signage/cm-series
CM Series is a large format professional display complete with digital signage and meeting room system integration.  Delivering powerful brilliance with effortless control, CM Series pushes the boundaries of technology, capturing and engaging with audiences.
Clevertouch Interactive Panel: https://www.clevertouch.com/uk/products/interactive-displays
Elevate the way you connect and collaborate. An interactive display combines high-quality advanced technology with a familiar user experience to enrich presentations, meetings, and lessons.
Sony at their best
Sony displayed their latest audio visual technologies and as always it was a fabulous display. Sony develop cutting-edge products and solutions designed to solve the challenges customers face – in business, the office, education, and public events. Delivering the most engaging experiences for the workforce, visitors, students, and audiences.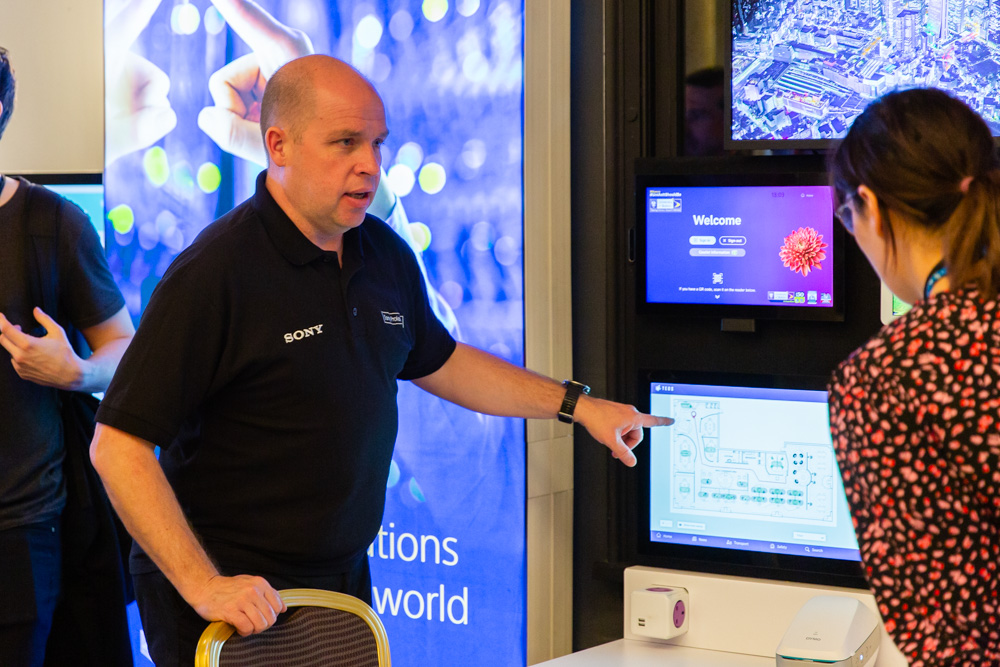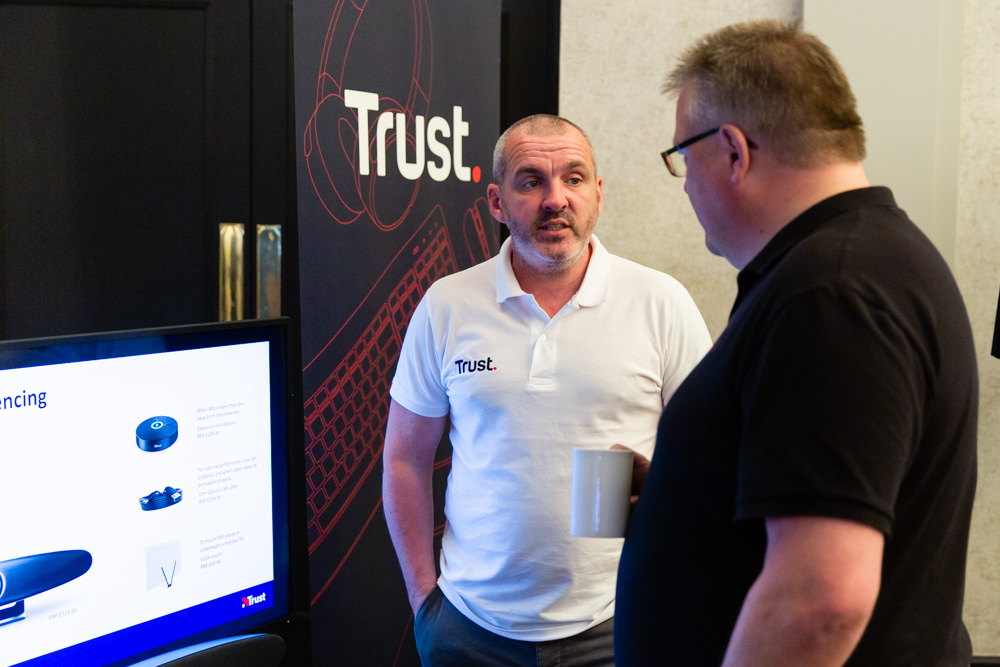 Trust
IT accessories that are designed "for the hybrid style of working"  such as webcams, docking stations, keyboards and other IT accessories.  The star of the show was the TRUST Iris VC unit, that is designed for meeting rooms and huddle rooms. It is Barco Clickshare compatible and designed for meeting rooms up to 8 people.
Wolfvision
WolfVision demonstrated its Cynap range of wireless presentation, multi-platform web conferencing, and collaboration solutions, with the focus on ways of achieving a consistent, easy-to-use,  hybrid working and learning experience for both in-person and remote meeting participants.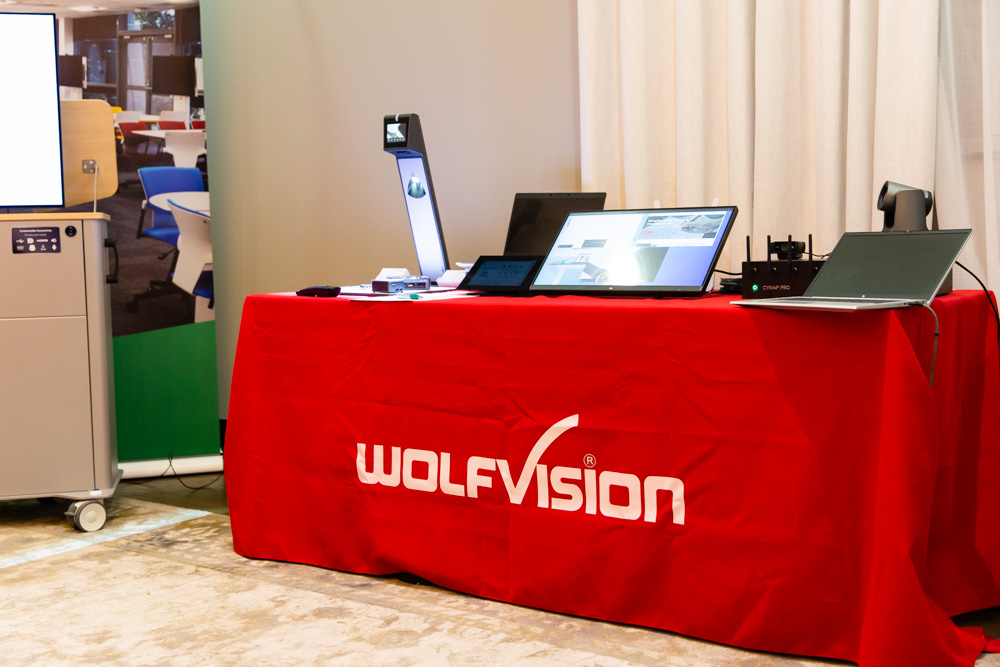 After a hard afternoon networking and receiving product demonstrations delegates and suppliers alike relaxed with networking drinks and informal catch ups. It was such a relief to be able to do this after the last two years and really cemented how successful the event had been for everyone.
There really was a lot on display so lots to round up, as always, we are here to help you tip toe and guide you through the minefield that is Audio Visual to ensure you have working solutions suitable for any environment.
For more information contact your account manager on 01274 200280 or sales@uniav.com.
Start your project today
To discuss your audio visual needs for your next project contact us. We will work with you to devise a solution to meet your requirements and needs.
Call 01274 200280
Email sales@uniav.com
Send us a message
"*" indicates required fields