ISE 2019 The Humble Potato
I have been in this industry since 1997 and I think I have been to ISE at least ten times; twice as an exhibitor and every other as an attendee. Every year ISE has grown and managed to produce a little bit of magic that gets the AV blood pumping; this year had been no exception and it's all down to root vegetables.
Universal AV arrived at ISE 2019 on Tuesday with a well arranged diary of appointments, stand tours and "free time" to explore. All that immediately went out of the window as we arrived early and headed to the Sennheiser stand. One of our key partners over the last ten years, Sennheiser provide leading audio solutions to the business and education sectors. Their emphasis was on "digital transformation" built around products such as TeamConnect 2 ceiling microphone. This new version uses the latest beam forming technology to provide total coverage in a room up to 6 x 4 m. Clients can choose between analogue and digital DANTE output and the solution can be controlled via the Sennheiser control cockpit.
The Control Cockpit is a free browser based software which allows for the set up, control, monitoring and maintenance of your digital audio estate.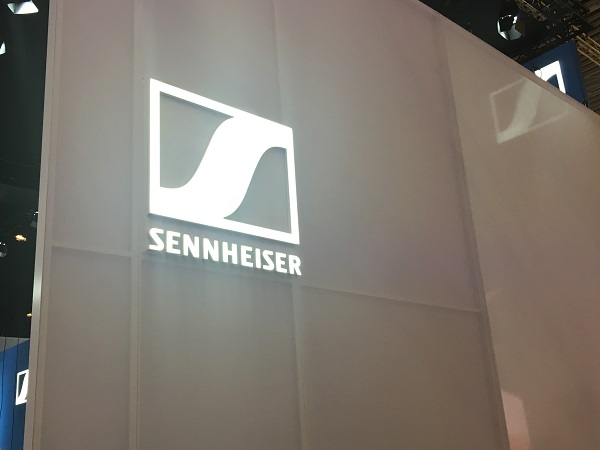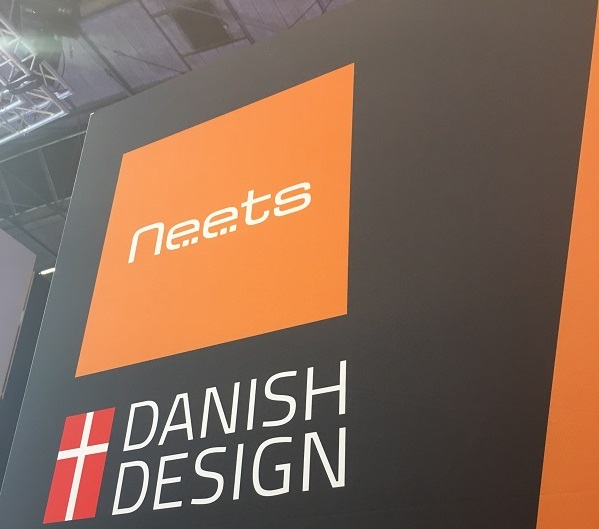 Neets was next on our tour. Neets are an innovative Danish company providing control, distribution and audio products. Their focus this year was on meeting room solutions and they have a strong line up of solutions available.
Welcome to the Room helps presenters start a meeting on time and more importantly without stress. The solution provides an easy to use platform to control all your available AV.
BluStream provide a range of audio visual products based around HDMI distribution. Their emphasis this year was on AV over IP and the low latency rates they can now achieve. Selected as the product of choice for the 2014 Winter Olympics, they bring a wealth of knowledge to their product range.
On the Kramer stand we were met by industry legend Ken Sclater for a personal tour of the Israeli company's latest AV offerings. Everything from 4K AV over IP, wireless BYOD with the VIA range of products and a fabulous range of table top architecture with their T-Bus range of desktop connectivity.
However the prize for the most innovative technology of the day goes to Kramer and their use of the common potato. Designed to show the robust nature of their HDBaseT solutions and the ability to send any AV signal over a two core cable of any quality or even a potato, without the loss of signal or resolution.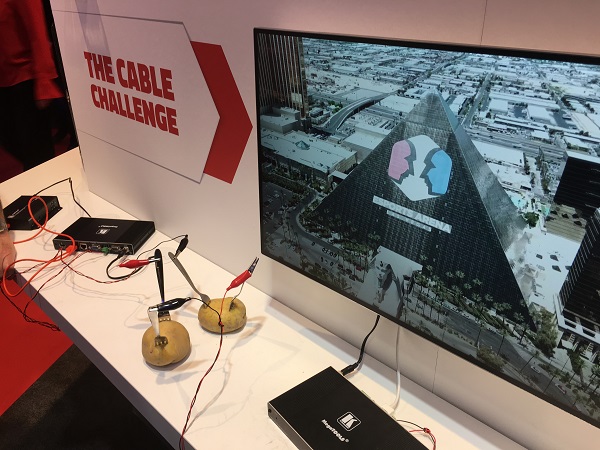 So ISE has once again surprised me and sprinkled a little AV magic in to the Universal AV world. Who would have thought that the potato could become a common tool in the armoury if the AV engineer and once finished with, provide a great opportunity for a quick portion of chips!
Start your project today
To discuss your audio visual needs for your next project contact us. We will work with you to devise a solution to meet your requirements and needs.
Call 01274 200280
Email sales@uniav.com
Send us a message
"*" indicates required fields