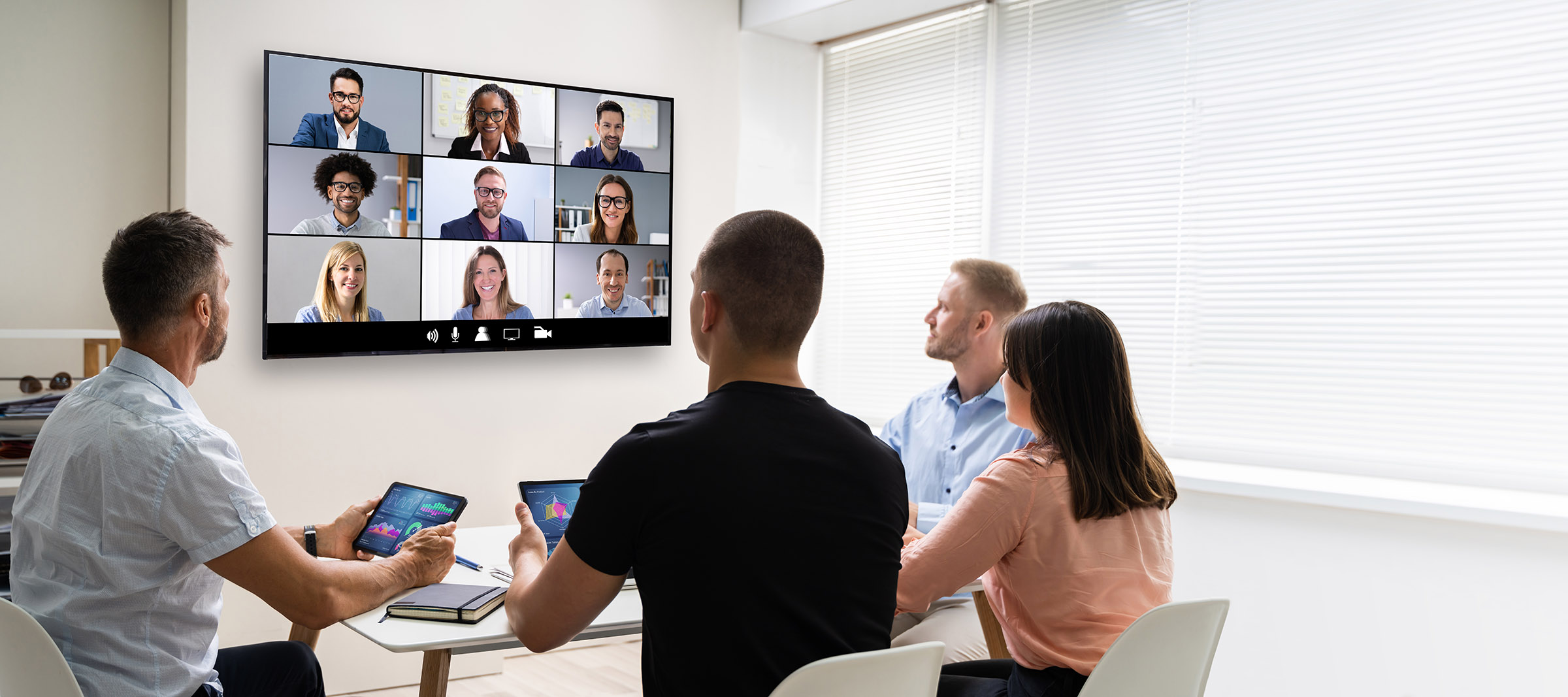 CREATING EFFECTIVE HYBRID MEETINGS
What are Hybrid Meetings?
Hybrid meetings are now in everyone's diary, but what exactly are they? A hybrid meeting is a meeting that takes place between participants in a physical location, such as a meeting room, and participants at a remote location, such as a home worker or someone based at another office. A hybrid meeting using UC software platforms, such a Microsoft Teams or Zoom, to bring these participants together is a single, "virtual" meeting environment. Audio visual technology is used to support and enhance these software platforms to create a near "room experience" as possible. You can read more about this on our website at https://www.uniav.com/environments/meeting-rooms/
Hybrid meetings form the platform for many modern meetings across the globe.  With an emphasis placed on reducing carbon footprints, saving money and increasing employee productivity they provide the perfect solution for many meetings.
The hybrid meeting solution has shifted the focus of the attendees all being in the same room at the same time through the use of technology.  They have reduced the need for travel and ensure anyone with the use of a laptop can participate remotely, promoting inclusion.  The impact of audio visual technology in this arena has ensured that several hybrid meetings can take place in the time frame that it would have previously taken you to travel to and from one meeting.
The hybrid meeting room can take many forms;
Teams Rooms
Zoom Rooms
Google Meet Platforms
All require a similar amount of hardware and audio visual solutions and integration, such as:
Camera Solutions; single or multiple
Sound Solutions; including microphones and speakers
How to conduct a hybrid meeting?
Hybrid Meetings need to be treated like all other meetings, but with a few exceptions. Like any other meeting, a good agenda is required with all participants aware of the aims of the meeting and the expected outcome. The chair is vital in this aim, but it is also their role to ensure that remote participants are included in the discussion and get the opportunity to contribute and have their say. It is all too easy for the remote participants to become forgotten and disengaged. Not being in the room means you cannot catch someone's eye or use body language to indicate you want to contribute, so it is vital that the chair is careful to ensure those on the other end of the camera are not ignored.
If you are using technology to host a hybrid meeting, then technology has to be used throughout. Using a flipchart or whiteboard to illustrate a point is lost at the far end as cameras are often not capable of capturing the information. Using an interactive touch screen, for example, uses electronic ink to capture written notes which can be easily shared with remote participants. This means all participants can see all the content used.
Hybrid meetings are beneficial for many reasons. Not only do they allow for and support remote workers and those who require flexible working from participating, they also bring all key stakeholders and decision makers together which improves and expedites the decision making process.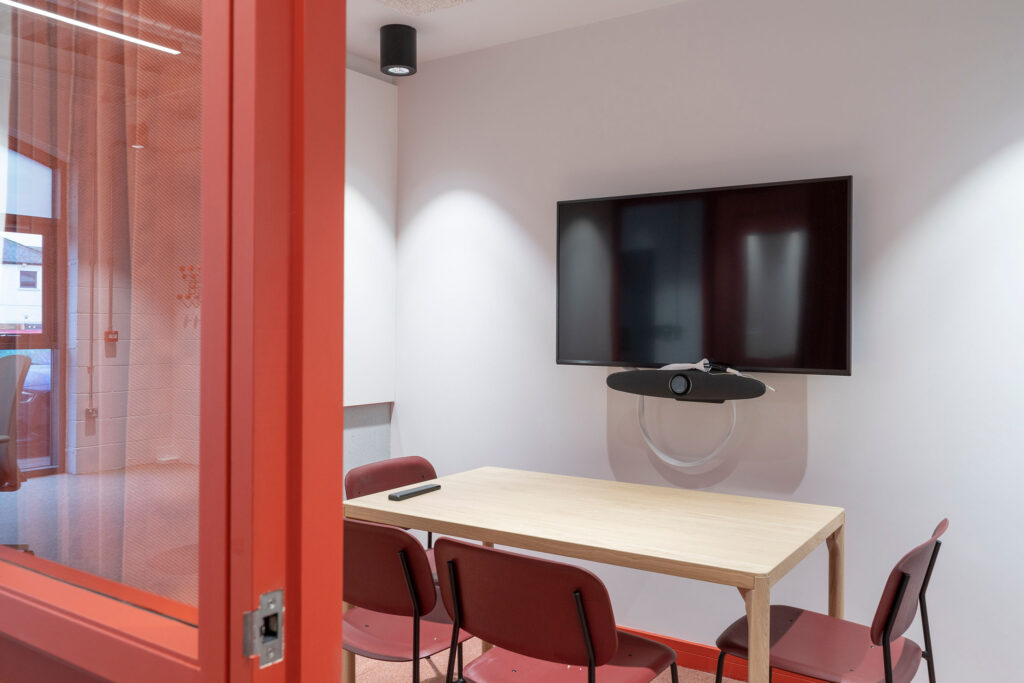 TYPES OF MEETING ROOMS
Hybrid meeting rooms need to be carefully thought out and have the correct audio visual technology installed.  For example, everyone taking part in the meeting needs to receive the same experience and have the same ability to contribute.  Without implementing an effective hybrid approach and giving considerations to each users experience, meetings can lead to presence disparity. Presence disparity is where those attending the meeting virtually have a poorer experience than those face to face in the meeting room.
Universal AV has installed hybrid functionality across a myriad of spaces, from the traditional meeting room/board room through to huddle spaces, training rooms and even University seminar rooms where hybrid learning is an option. We will tailor our approach depending on the type of meeting room. For example, a huddle space will require a different approach to a boardroom. A huddle space is usually all about providing workers with a simple and quick method of meeting in a hybrid environment for collaborative work; sharing ideas and work flows with colleagues regardless of location. The correct audio visual furniture is very important in a huddle space, allowing for people to meet ad-hoc using their own laptops and smart devices to share the necessary information. We would normally design a huddle space using a "plectrum" style table, allowing the participants to focus on the screen at one end. A video bar, combining a wide angle camera, beamforming microphone and speakers would be perfectly suited for up to four participants in a space.
https://www.uniav.com/environments/collaboration-huddle-spaces/
https://www.uniav.com/solutions/av-furniture/
Board rooms are usually meant for more structured meetings and so the audio visual design will need to reflect this. A board room meeting will almost always involve more in room participants and so cameras and microphones need to be able to cover larger areas. These would normally be separate units, allowing them to be positioned in the optimum place for maximum coverage.
https://www.uniav.com/environments/board-rooms/
AV SOLUTIONS FOR HYBRID MEETINGS
A hybrid meeting put simply is only enabled due to the solutions and technology we have at our finger tips.  Utilising the correct audio visual solutions however is key to hosting successful meetings.
Display Screens
There is a whole discussion that can be had around this. For example, as an organisation, do you use Microsoft Teams, are you wanting to display people on screen in a 21:9 front row manner?  If so then the commercial display selected needs to be capable of this.
Will the screen be used purely to see people or do you wish to content share? Do you wish to content share and see people on the same screen or will you need two, do you have room for two? These are all questions we would ask to ascertain the solution fit for the space. One screen, 2 screens or even possibly projection.
Cameras and Audio
Being able to see remote participants is all well and good but you need to be able to hear them and just as importantly they need to be able to hear you.  This is where an integrator will look at the makeup of the room and what is needed from it. For example if the room is large and the furthest participant form the screen is quite a distance then a camera would need to tracking and zoom and strategically placed microphones would need installing to pick up sound.
Acoustic Panels
As well an ensuring voices are captured the rooms needs to ensure that the slightest sound is not carried.  Universal would look at the room structure and make up, carry out acoustic texts and ensure any acoustic panels are incorporated to provide perfect sound capture for the remote participants.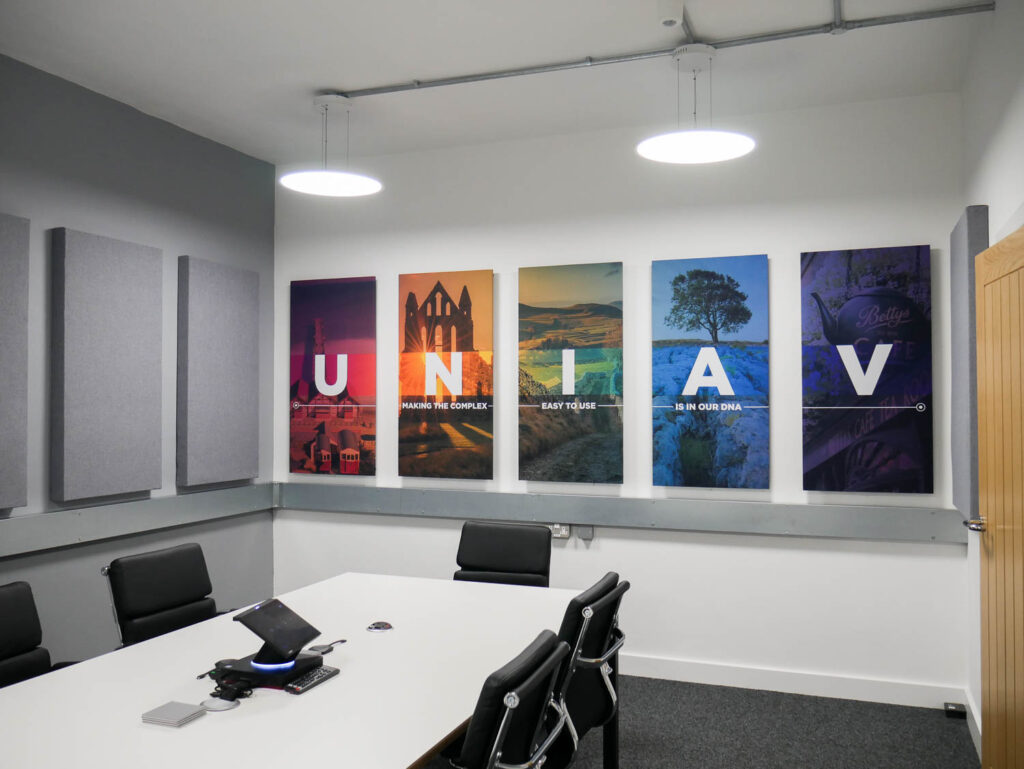 Although Universal AV is able to help with audio visual solution installation for your hybrid meeting spaces we would also encourage you to look at when you should use hybrid meetings as a platform and how to structure them.  This helps promote positive user experiences, engagement and stops meeting fatigue.
When Should a Meeting be Hybrid?
Not all meetings are suitable for a hybrid format.  In our experience we would say the following make the perfect hybrid meeting:
Dissemination of information with the ability for all to ask questions
General updates
Smaller team meetings where decision making is crucial
Meetings which we find do not lend themselves to a hybrid manner are:
Detailed debates, discussions with multiple attendees both in room and remote – in this scenario the remote participants can often feel like they are looking into the room and observing a discussion as opposed to being part of it.
Conceptualisation meetings – these can lend themselves to being gathered around a desk or screen, contributing and collaborating and remote participants would not feel the benefit.
Long, detailed meetings with varying sources of data – Remote participants in these meetings can often feel disengaged from the meeting and materials.
HOW UNIVERSAL AV CAN HELP
Universal have installed hybrid solutions into the corporate environment, public sector and education.  The solution lends itself to a whole host of applications and providing the correct audio visual solutions are installed provides effective hybrid working practices.
If you think you need a hybrid meeting space, an easy way to start is to ask yourself a couple of simple questions; where is my workforce based? Where are my customers based? If it is in more than one location, then you will need a hybrid meeting space of some description. That is when Universal AV can guide you and advise you in adopting the correct technology for your environment.
Contact us to see how we can create hybrid working spaces throughout your organisation.
Start your project today
To discuss your audio visual needs for your next project contact us. We will work with you to devise a solution to meet your requirements and needs.
Call 01274 200280
Email sales@uniav.com
Send us a message
"*" indicates required fields