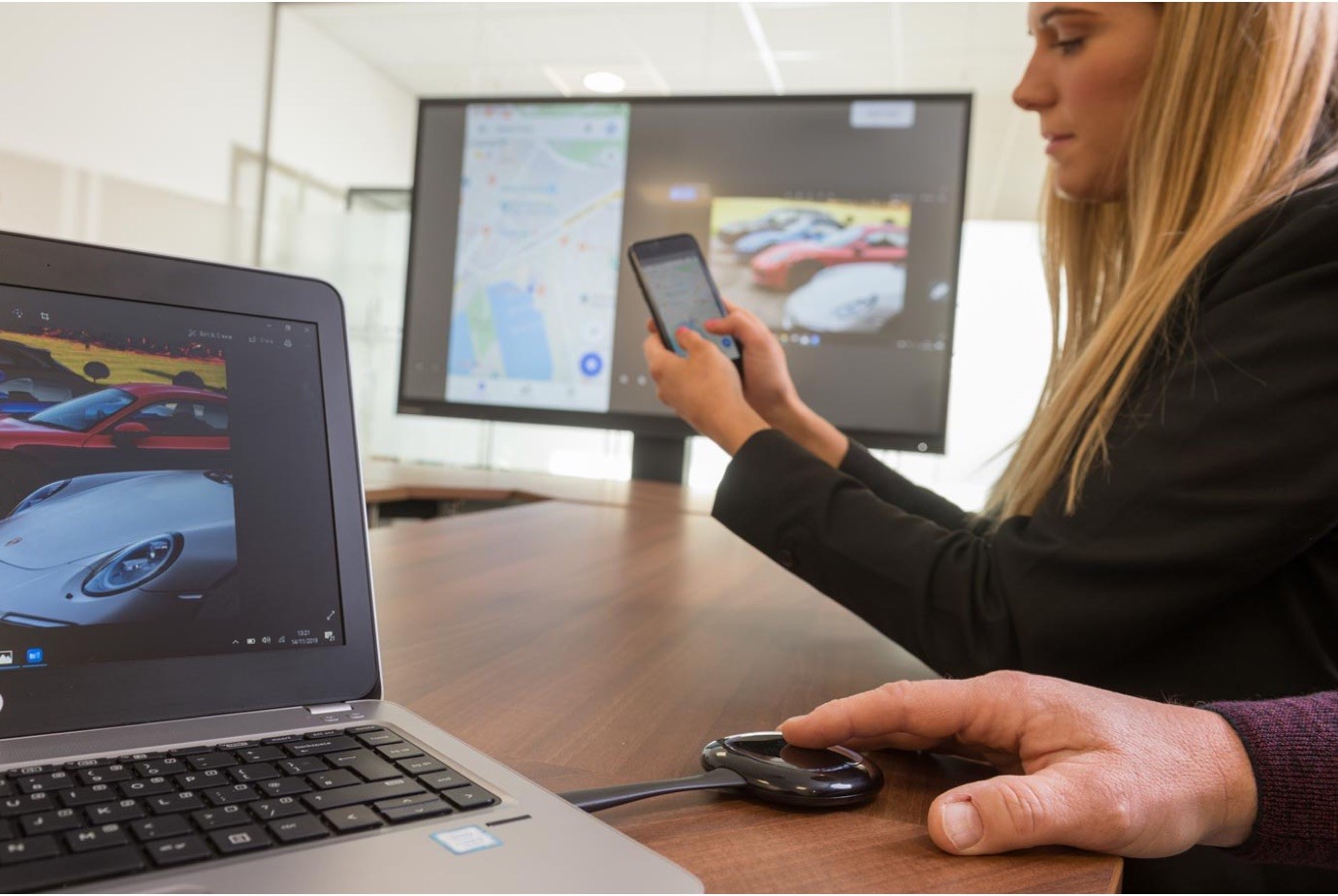 What Is BYOD?
What is BYOD? – Bring Your Own Device or BYOD for short, means that participants in a meeting or teaching environment can use their own smart BYOD device to engage and contribute to the meeting. BYOD meaning a laptop, tablet or smartphone. These are connected to the room equipment either via a wire or wirelessly.
Using BYOD makes the process easier, allowing participants to focus on the meeting and not be distracted by the technology.
Why is BYOD Important?
With the adoption of the flexible workplace or hybrid working on the top of most organisations agenda, the concept of Bring Your Own Device or BYOD is becoming increasingly important. To enable workforces to operate in this hybrid manner, many organisations have invested heavily in audio visual technology. The best way to help users adopt this technology is by encouraging BYOD. People are able to use a device which they are familiar with and through simple steps, such as an app, they can connect to their work environment.
BYOD promotes individual engagement of new technology because they are familiar with that technology. As a result, little or no training is required to use the technology which ultimately increases flexibility and encourages the hybrid working environment.
Advantages of BYOD?
BYOD has had a massive impact across all sectors. For example, Architects using BIM tools are able to visit a site using their BYOD, access drawings and plans, mark up changes and then connect the same device back at the office to work on the information from their site visit on an interactive touchscreen. This can then be collaborated on by a larger group of co-workers, all connecting with their BYOD and sharing content.
In Education, students can use their BYOD to connect to University networks to access on-demand learning resources, share content to screens in group learning scenarios and even access important information about student life.
Medical practitioners are using BYOD to come together and share information in a Multidisciplinary Team Meeting (MDT) so professionals from one or more clinical disciplines can make decisions about the treatment of individual patients.
Disadvantages of BYOD?
A disadvantage to BYOD is that in some cases it can pose a security threat to an organisations network. This is usually as a result of poor planning and product selection.
Another disadvantage can be a general reluctance of individuals to use their own technology to participate in work related activities.
In both cases, alternatives can be offered. For Universal AV Services Ltd, security is a major consideration. We take time to understand our customer's infrastructure and work with their IT teams to provide safe network deployments. This can be in the form of on premises or cloud based solutions.
Individuals can be issued with "work only" smart devices that they can use for a variety of tasks, thus allowing them to become familiar with the technology.
BYOD Solutions
BYOD solutions are varied and can be found in any sector. Universal AV work closely with our customers to select the right products for them. The recent trend for Collaboration and Huddle Spaces has lent itself to the adoption of BYOD solutions. These spaces are often multipurpose, providing display screens with digital signage to provide information for staff and then, quickly be repurposed for a meeting where staff wirelessly share content off their BYOD laptop.
Universal AV work with some of the industry's leading manufacturers to ensure that our customers have access to the best software and hardware solutions, either proprietary or industry standards such as Apple AirPlay, Google Connect and Miracast.
We take time to understand how our customers work and how they wish to work and select technology to enable that journey.
Start your project today
To discuss your audio visual needs for your next project contact us. We will work with you to devise a solution to meet your requirements and needs.
Call 01274 200280
Email sales@uniav.com
Send us a message
"*" indicates required fields