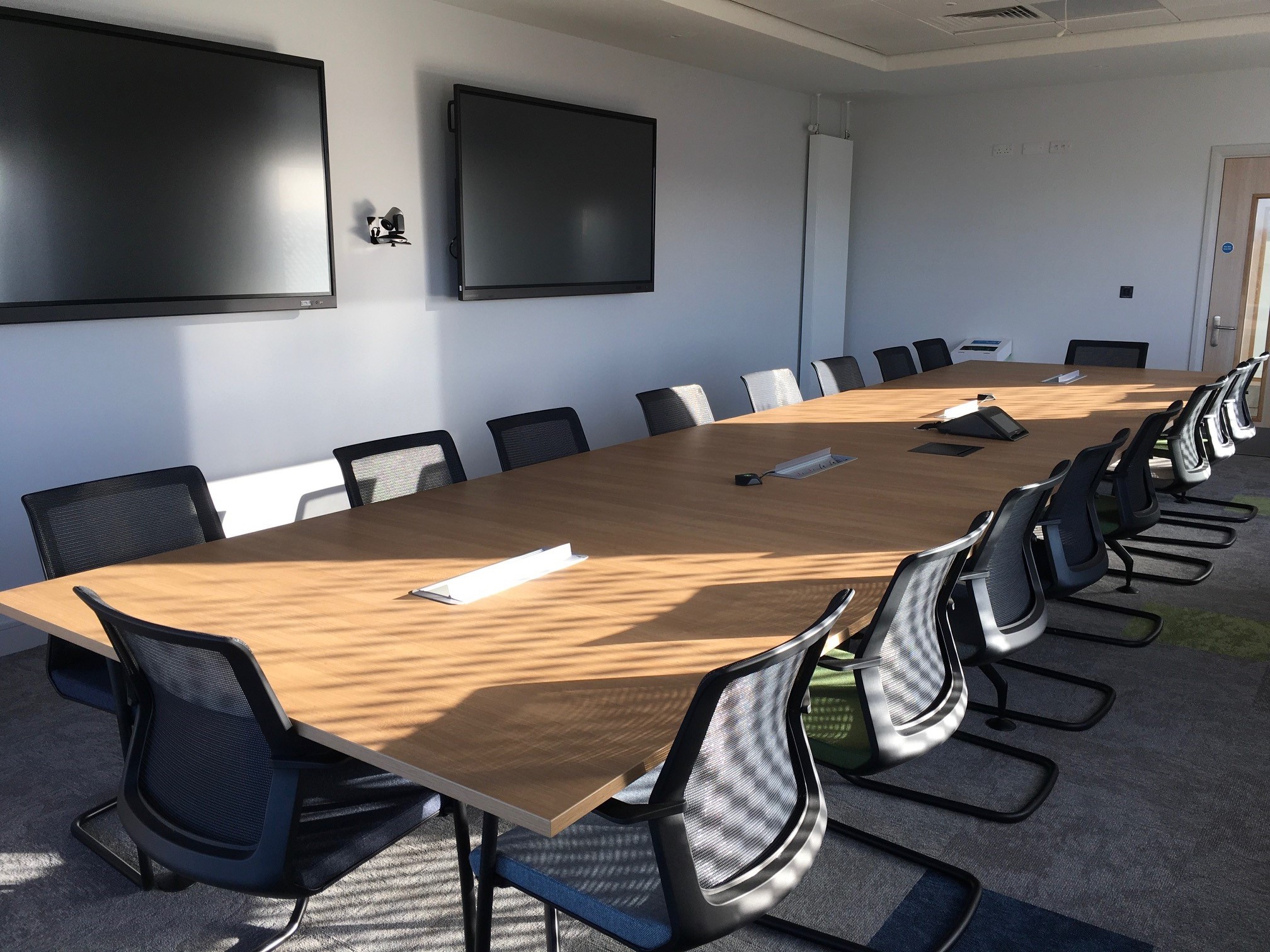 4 Key Questions When Looking at Meeting Room Technology
During the pandemic, many of our forward-thinking customers consulted with Universal AV Services on how best they can use technology to support the new hybrid working model. With so many organisations working with a mixture of on-site and remote staff, never before has technology been so crucial to the working environment.
When consulting with our customers, we ask four fundamental questions to determine the type of technology they need.
1. What Platform?
The big question here is if the customer uses Microsoft Teams, Zoom or another Unified Communications platform. It is an important question, as manufacturers have produced technology optimised to work with a specific platform. For instance, Poly offers a variety of room collaboration options for Microsoft Teams users that range from personal office to large conference rooms or multi-purpose rooms, while ensuring the simplicity and high-quality audio and video experience. Likewise, Crestron Flex solution offers a platform that natively supports the Zoom Room software. Choose either a standard system with single display support or an advanced system with features such as dual-mode technology, intelligent cameras and dual display support.
2. How You Work?
It is important to understand how a company is working and how they plan to work in the future. This can determine the type of solution required, but likewise, the solution can determine how people can work in the future. For example, before the pandemic most of our customers were "building based" and the idea of a Teams Room or Zoom Room was most appealing. Users could walk in to the meeting room, log on to the resident PC and begin their meeting using the pre-installed software. During the lockdown, many of our customers were issued with laptops and multi-user PC's were banned for hygiene reasons. However, users still need to connect and still need to meet up in rooms. The Solstice Pod from Mersive Technologies allows for a user to walk in to any meeting room with their own laptop, tablet or mobile device. They connect wirelessly to the Solstice Pod, which interrogates the users calendar and automatically sets up the call using the software installed on the user's laptop. The Solstice Pod allows for the control of the in-room camera, microphone and audio system providing a Teams Room, Zoom Room experience without the need for the resident PC. The option of a wired or wireless connection provides great flexibility, whilst enabling other users in the room to collaborate and share data from their own devices without having to directly "join" the call.
3. Where In The Room?
There are different options available for different locations and rooms. We consider the size of the room, how it is constructed and how it is going to be used before we start looking at solutions. How big is the room? Solutions are available for huddle spaces, medium and large meeting rooms and custom spaces. The Poly X30 and X50 are all-in-one solutions with an integrated camera, beamforming microphones and audio support, perfect for smaller spaces. They are compact and stylish and provide a simple user interface. For larger rooms, the G85-T offers a two camera solution and uses external microphones and speakers to provide better coverage.
The fabric of the room is also important. Does it have a standard ceiling, are the walls plaster or glass, what fabric is on the floor? What furniture is on the room? What are the ambient light conditions of the room? Hard surfaces such as glass walls do not lend themselves well for a video call. Universal AV Services can suggest lighting and acoustic treatments which will greatly enhance the experience at the near and far end.
4. Budget?
Budget is usually an awkward subject to discuss, but knowing how much a customer has to potentially invest in a solution will allow us to better determine the options available. Universal AV Services work with some of the leading manufacturers of Unified Communication technology and are best placed to provide a solution that fulfils both requirement and budget.
Universal AV Services provides our customers with a complete service, from consultation, design, integration and after care. Bespoke warranty packages give our customers the peace of mind that their investment will be looked after and will serve them into the future.
To book your consultation, email sales@universal-group.ltd
Start your project today
To discuss your audio visual needs for your next project contact us. We will work with you to devise a solution to meet your requirements and needs.
Call 01274 200280
Email sales@uniav.com
Send us a message
"*" indicates required fields